(hit "refresh" to get the most recent version of this page; click on photos for larger images)
Post Office
Port Hueneme, CA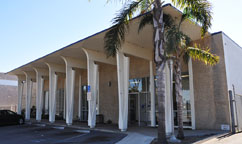 This Post Office appears to be from the 1960s. [map]
Redding Civic Auditorium
Redding, CA
The Redding Civic Auditorium was designed by Van Bourg, Nakamura & Associates with Smart & Clabaugh and built in 1970. For more, see this website. [map]
J&S Market
Redding, CA
Santos & Associates
Redlands, CA
The J&S Market appears to be from the 1950s or 1960s. By 2018, the name had changed to BJ Supermarket. [map]

I believe the Santos & Associates tax preparers office building was built in 1967 for the Tossie's Chicken To-Go restaurant. [map]
Acme Auto Sales
Rialto, CA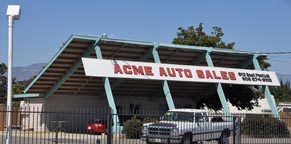 The Acme Auto Sales structure was built in 1963 for the Rialto Car Wash. By 1969, it was housing a taxi service. It began housing Acme Auto Sales in 1972. This photo is from 2013. By 2016, the structure was housing another used car dealership. [map]
multi-tenant building
San Carlos, CA
This multi-tenant building in San Carlos appears to be from the 1950s or 1960s. Does anyone know what was here originally? [map]
retail building
San Carlos, CA

This retail building was built in 1962. It has housed Bedroom & More since around 2011. This may have been a Hide Away Bed Center originally. [map]
Quik Stop
San Leandro, CA
former Quik Stop
Hayward, CA
These two Quik Stop locations were built in 1966 as the first two locations of the chain. The Hayward location now houses Hayward Food & Liquor. [San Leandro map]; [Hayward map]
Quik Stop
San Carlos, CA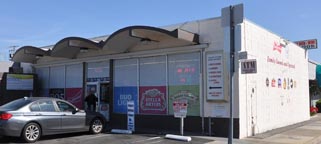 This remodeled Quik Stop now houses the Holly Market. [map]

If you know of any other Quik Stop locations, I'd love to hear from you.
Water Education Center [gone]
San Leandro, CA
The Water Education Center building originally housed East Bay Pure Water. The building was owned by the City of San Leandro and was vacant when these photos were taken in 2008. By 2012, the building was gone.
Kundert Medical Clinic
San Luis Obispo, CA
The Kundert Medical Clinic was designed by Frank Lloyd Wright and built in 1956. It was used original as an ophthalmologist's office. The building now houses Kenneth Tway's cardiology office. For more, see this website. [map]
Eckert's Moving & Storage
San Marcos, CA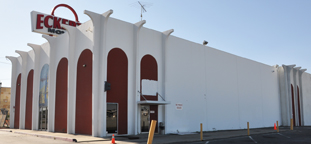 The Eckert's Moving & Storage warehouse was built in 1972. [map]
Fiesta Hall
San Mateo County Event Center
San Mateo, CA

The Fiesta Hall at the San Mateo County Event Center was built in 1948. It was known as the Hall of Flowers and was the first building constructed for what was then the San Mateo County Fairgrounds. At some point, the building was given a 1960s looking facade makeover. For more, see this website. [map]
RoadsideArchitecture.com

Copyright. All photos at this website are copyrighted and may only be used with my consent. This includes posting them at Facebook, Pinterest, blogs, other websites, personal use, etc.

Tips & Updates. If you have suggestions about places that I haven't covered, historical info, or updates about places/things that have been remodeled or removed, I'd love to hear from you: roadarch@outlook.com.