(hit "refresh" to get the most recent version of this page; click on photos for larger images)
Alta Dena Drive-Thru Dairy
Compton, CA
Alta Dena Drive-Thru Dairy
Orange, CA
former Alta Dena
Drive-Thru Dairy
Bell Gardens, CA
Alta Dena Drive-Thru Dairy
Pomona, CA
former Alta Dena Drive-Thru Dairy
La Mirada, CA
Alta Dena Drive-Thru Dairy
Glendora, CA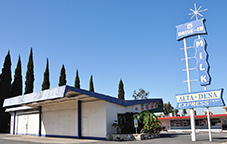 Alta Dena Drive-Thru Dairy
La Canada Flintridge, CA
The Alta Dena Dairy was founded in 1945. The company's first drive-through dairy store opened in 1951. I believe the drive-thru stores shown here were built in the 1960s. There are still an estimated 100 locations left. However, except for the ones shown here, most of them are pretty bland boxy buildings. If you know of any other interesting locations, please let me know. [Compton map]; [Orange map]; [Pomona map]; [Glendora map]; [La Canada Flintridge map]

This sign in Bell Gardens appears to have been built as an A-shaped Alta Dena Dairy sign. However, the Rockview Farms panel appears to be vintage. This location has been closed since around 2017. There was also one of the farm-like buildings in Downey, CA which operated as a Rockview Farms. I don't know what the relationship was between the two companies. [map]

The La Mirada location was housing an auto repair business when these photos were taken in 2013. The building appears to be vacant now. [map]
Dutch Mill
Lakewood, CA
Crystal Water Mart
Alhambra, CA
As far as I know, this is the only Dutch Mill Dairy location. A small sign near the entrance makes me suspect it was built as an Alta Dena store. This photo is from 2013. Around 2015, the building's roof was painted red. In 2018, the arrow sign's neon had been replaced with a backlit plastic panel. [map]

The Crystal Water Mart may also have been built as an Alta Dena store. [map]
More Alta Dena Dairy Stores:
Newhall
Rockview Dairy
West Covina, CA
This Rockview Dairy has been Touhey's Drive-thru Dairy since it opened in 1970. It is also known at Rockview Dairy #29. [map]
Rockview Dairy
Whittier, CA
This Rockview Dairy features a barn-like building, vintage sign, and fiberglass cow. It was built in 1964 and is known as store #36. [map]
RoadsideArchitecture.com

Copyright. All photos at this website are copyrighted and may only be used with my consent. This includes posting them at Facebook, Pinterest, blogs, other websites, personal use, etc.

Tips & Updates. If you have suggestions about places that I haven't covered, historical info, or updates about places/things that have been remodeled or removed, I'd love to hear from you: roadarch@outlook.com.