(hit "refresh" to get the most recent version of this page; click on photos for larger images)
Alhambra City Hall
Alhambra, CA
The Alhambra City Hall was built in 1961. [map]
Roy's Motel & Cafe
Amboy, CA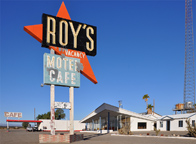 Roy's
Barstow, CA

The Roy's Motel & Cafe complex in Amboy started as a gas station in 1938. It expanded into a cafe and motel in the 1940s and 1950s. This sign was built in 1956. This motel lobby building and neon sign shown above were built in 1959. With the opening of I-40 in 1972, business declined dramatically. The entire town was even put up for sale on eBay in 2003. It did not find a buyer. In 2005, Albert Okura, the owner of the Juan Pollo fried chicken chain, bought the property. The complex is gradually being restored. In 2019, the Roy's Motel & Cafe sign, which had not been lit since the 1980s, was restored. For more, see this website. [map]

The Roy's sign in Barstow simulates the Amboy sign. It is installed at a former Arby's restaurant. The sign was installed in recent years when the restaurant became a Juan Pollo location. It is now known as Roy's Cafe. [map]
Anaheim Convention Center
Anaheim, CA
The Anaheim Convention Center was built in 1967. There have been additions and remodeling over the years. However, the building remains basically unchanged externally. For more, see these websites: 1 and 2. [map]
Post Office
Anaheim, CA

This Post Office was built in 1962. [map]
Lee's Carpet Outlet
Bellflower, CA
2012:
2020:
The Lee's Carpet Outlet building was constructed in 1955. This photo is from 2012. By 2017, the business had closed and the property was surrounded by chain link fencing. By 2019, the building was housing Tacos El Fogon. Does anyone know what was here originally? [map]
Del Angel Funeral Home
Bellflower, CA
The Del Angel Funeral Home, also known as the Funeraria del Angel, was built in 1954. [map]
former Berkeley Art Museum
Berkeley, CA

The Berkeley Art Museum was designed by Mario Ciampi and built in 1970. The Museum closed in 2015 and will reopen at a new location in 2016. For more, see this website. [map]
Firehouse No. 4
Berkeley, CA
Firehouse No. 4 was built in 1962. It was designed by Ratcliff & Ratcliff. For more, see this website. [map]
RoadsideArchitecture.com

Copyright. All photos at this website are copyrighted and may only be used with my consent. This includes posting them at Facebook, Pinterest, blogs, other websites, personal use, etc.

Tips & Updates. If you have suggestions about places that I haven't covered, historical info, or updates about places/things that have been remodeled or removed, I'd love to hear from you: roadarch@outlook.com.