(hit "refresh" to get the most recent version of this page; click on photos for larger images)
Montana Avenue Branch Library
Santa Monica, CA
The Montana Avenue Branch Library was designed by Weldon J. Fulton and built in 1960. [map]
Van Nuys Library
Van Nuys, CA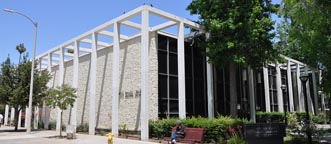 The Van Nuys Library was designed by Glenn L. Arbogast. It opened in 1964. [map]
Fletcher Hills Branch Library
El Cajon, CA
2014:
2018:
The Fletcher Hills Branch Library was built in the 1960s. This photo is from 2014. In 2015, the building was repainted red and yellow. [map]
Covina Public Library
Covina, CA
The Covina Public Library was built in 1963. [map]
Pico Rivera Library [gone]
Pico Rivera, CA

The Pico Rivera Library was built in 1961. The City's website claimed that this was the only round library in the country. These photos are from 2008. The building was demolished in 2012. A new library will be built on the site.
Norwalk Public Library
Norwalk, CA

The Norwalk Public Library was built in 1969. The mosaic panels were created by Ben Mayer. [map]
Riverside Public Library
Riverside, CA

The Riverside Public Library was designed by Bolton C. Moise, Jr. and built in 1965. The building features concrete screens. [map]
Crenshaw-Imperial Library
Inglewood, CA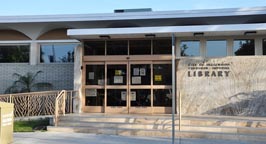 The Crenshaw-Imperial Library was probably built in the 1960s. [map]
Main Library
Inglewood, CA
The Main Library was designed by Charles Luckman & Associates. It was built in 1972. [map]
RoadsideArchitecture.com

Copyright. All photos at this website are copyrighted and may only be used with my consent. This includes posting them at Facebook, Pinterest, blogs, other websites, personal use, etc.

Tips & Updates. If you have suggestions about places that I haven't covered, historical info, or updates about places/things that have been remodeled or removed, I'd love to hear from you: roadarch@outlook.com.