(hit "refresh" to get the most recent version of this page; click on photos for larger images)
O.C. McDonald Company
San Jose, CA
The O.C. McDonald Company was established in 1906. This building appears to be from the early 1950s. The top line of text on the sign flashes at night between "Oh" and "See." For more, see this website. [map]
School of Visual Philosophy
San Jose, CA
The School of Visual Philosophy moved into this building in 2014. The building was probably built in the 1950s or 1960s. The light fixtures inside appear to be original. In 2019, the school had moved. The building is now vacant and boarded up. Does anyone know what the original occupant was? [map]
former Four'n 20 Restaurant & Pie Shop
Meridian Ave.
San Jose, CA
former Four'n 20 Restaurant & Pie Shop
Kooser Rd.
San Jose, CA
The Four'n 20 Restaurant & Pie Shop chain was established in the late 1960s. The building design was by Nyber & Bissner. The restaurants featured sit-down dining and a drive-thru window. The focus was on pie. The two San Jose locations were built in 1970 and 1971. In addition, there were four locations built in the Los Angeles area and three in the New York City area. None of those buildings survive.

The San Jose locations had closed by 1974. The buildings housed Photo Drive Up locations in the 1980s before becoming Wolf Camera stores. The Meridian location now houses Wright Lighting & Fireside. In 2017, the Kooser building was vacant and surrounded by chain link fencing. I fear the worst. The building was still behind fencing in 2019. For more, see this website. [Meridian map]; [Kooser map]
Samaritan Apothecary Pharmacy
San Jose, CA
The hexagon-shaped Samaritan Apothecary Pharmacy was built as part of the Samaritan Medical Center in 1968. [map]
Auto Center West
San Jose, CA
The Auto Center West complex of auto related businesses was probably built in the 1960s. These two barrel roofed buildings are on opposite ends of the lot. [map]
The F&W Liquors building was constructed in 1966. [map]
702 Minnesota Ave.
San Jose, CA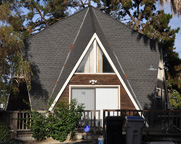 This building at 702 Minnesota Ave. appeared to be vacant in 2014. It previously housed Duran Design. Does anyone know what business this building housed originally? [map]
This Elks Lodge appears to be from the 1950s or 1960s. For more, see this website. [map]
Magic Sands Mobile Home Community Center
San Jose, CA
The Magic Sands Mobile Home Community Center was built around 1962. For more, see this website. [map]
San Jose Mercury News [gone]
San Jose, CA

2014:
2017: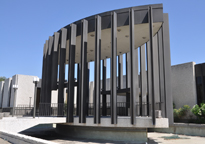 The San Jose Mercury News moved to this building in 1967. The building was designed by Warren B. Heid. This metal structure, the loggia, and sculpture were installed in a fountain at the entrance. The sculpture known as the Loggia Pendant was created by John Jagger. In 2014, the company moved downtown. The sculpture was removed just after these 2014 photos were taken. It was placed in storage while the City decides where to display it. The building was sold to Super Micro which plans to build a huge complex on the property. This building was demolished in 2018. For more, see this website.
Center for the Performing Arts
San Jose, CA
The Center for the Performing Arts was built in 1972. It was designed by the Frank Lloyd Wright Foundation. The building looks somewhat like Frank Lloyd Wright's Grady Gammage Auditorium. For more, see these websites: 1, 2, 3, and 4. [map]
More San Jose:
Mister Donut
NOTE: There are many more San Jose mid-century modern buildings in other sections (Banks, Churches, etc.) at the links below.
RoadsideArchitecture.com

Copyright. All photos at this website are copyrighted and may only be used with my consent. This includes posting them at Facebook, Pinterest, blogs, other websites, personal use, etc.

Tips & Updates. If you have suggestions about places that I haven't covered, historical info, or updates about places/things that have been remodeled or removed, I'd love to hear from you: roadarch@outlook.com.