(hit "refresh" to get the most recent version of this page; click on photos for larger images)
Lemonade
Palo Alto, CA
This round building was constructed in 1964. Since 2016, it has housed a Lemonade restaurant. It previously housed a La Boulange. Does anyone know what was here originally? [map]
Hewlett-Packard Labs Building
Palo Alto, CA
This Hewlett Packard Labs Building opened in 1960. It still houses Hewlett-Packard. The two murals that flank the entrance were created by Mary Henry. [map]
Santa Clara County Superior Court
Palo Alto, CA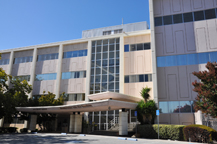 This Santa Clara County Superior Court building appears to be from the 1950s or 1960s. [map]
Hewlett-Packard Scientific Instruments Building [gone]
Palo Alto, CA
The Hewlett-Packard Scientific Instruments Building was built around 1962. In recent years, it housed Facebook. After that, the building has housed Theranos, Inc. These photos are from 2014. The building had been demolished by 2015. For more, see these websites: 1 and 2.
Stanford University Hospital
Palo Alto, CA
The Stanford University Hospital was designed by Edward Durell Stone and built in 1959. [map]
former Friend Paper Company
Pasadena, CA
The Friend Paper Company building was built in 1964. It was designed by Whitney Smith and Wayne Williams. Around 2007, the building's facade was saved and integrated into retail space. A new condo building was added behind it. For more, see this website. [map]
Norton Simon Museum
Pasadena, CA

The Norton Simon Museum was established in 1922 as the Pasadena Art Institute. The name was changed to the Pasadena Art Museum in 1954. The building shown above was completed in 1969. It was designed by local architects, Ladd & Kelsey. In 1975, the museum was renamed after Norton Simon. For more, see these websites: 1, 2, and 3. [map]
Chalet Florist
Petaluma, CA
The Chalet Florist opened here in 1961. The building and sign appear to be from then. [map]
C.H. Baker
Pomona, CA
This C.H. Baker shoe store was here by 1956. The building now houses an antiques store. [map]
Superior Court
Pomona, CA
City Hall
Pomona, CA
Public Library
Pomona, CA
Council Chambers
Pomona, CA
The Superior Court, City Hall, Public Library, and Council Chambers were all designed by Welton Becket and built in 1969. For more, see this website. [map]
RoadsideArchitecture.com

Copyright. All photos at this website are copyrighted and may only be used with my consent. This includes posting them at Facebook, Pinterest, blogs, other websites, personal use, etc.

Tips & Updates. If you have suggestions about places that I haven't covered, historical info, or updates about places/things that have been remodeled or removed, I'd love to hear from you: roadarch@outlook.com.