(hit "refresh" to get the most recent version of this page; click on photos for larger images)
Aloha Optometric Center
Hemet, CA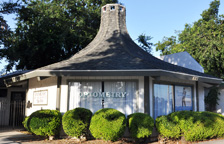 The Aloha Optometric Center building appears to be from the 1960s. I don't know what the original occupant was. [map]
City Hall
Hermosa Beach, CA
This City Hall was designed by Savo Stoshitch and built in 1965. [map]
South Bay Art Department
Hermosa Beach, CA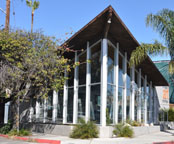 The building now housing the South Bay Art Department was constructed in 1963. It previously housed the King's Gallery, a picture framing store. I don't know if that was the original tenant. [map]
Chalet Liquor
Huntington Beach, CA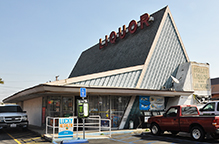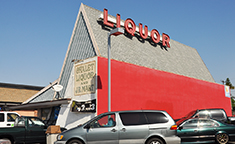 The Chalet Liquor building appears to be from the 1960s. [map]
office complex
Indio, CA

This office complex was built in 1982 but it has a mid-century flair. It houses lawyer and dental offices. [map]
Inglewood City Hall
Inglewood, CA
The Inglewood City Hall were designed by Charles Luckman & Associates. It was built in 1972. [map]
The Forum
Inglewood, CA

2008:

2014:

The Forum was designed by Charles Luckman and built in 1967. The round building served as an arena for sports and concerts. In 2000, the building was acquired by the Faithful Central Bible Church. It continued to be used for live performances. In 2012, the Madison Square Garden Company bought the building. After refurbishing, The Forum reopened in 2014 featuring sports and concerts. For more, see these websites: 1 and 2. [map]
former CLIC Photo
Joshua Tree, CA
I believe this structure in Joshua Tree originally housed a CLIC Photo. It appears to be from the 1960s or 1970s. There is an identical booth like this one in Sandell, TX. There was another one of these booths in Clovis, NM which might indicate that these booths were all over the Southwest. However, this structures are so small and light that they could easily be transported anywhere. This booth was previously located in Yucca Valley, CA. The previous owner said there were lots of these booths around Southern California. Around 2006, the owner of Art Queen purchased the booth and moved it to the back of the property. It was later painted lime green and now houses the Crochet Museum. It had previously been painted brown and beige. [map]
RoadsideArchitecture.com

Copyright. All photos at this website are copyrighted and may only be used with my consent. This includes posting them at Facebook, Pinterest, blogs, other websites, personal use, etc.

Tips & Updates. If you have suggestions about places that I haven't covered, historical info, or updates about places/things that have been remodeled or removed, I'd love to hear from you: roadarch@outlook.com.