(hit "refresh" to get the most recent version of this page; click on photos for larger images)
former Packard showroom
Grass Valley, CA
This former Packard showroom was built in the 1920s. I don't know the original business name but the building housed the C. K. Heffren dealership in 1941 and Troutwine Motors from 1950-1956. The building now houses Packard Flooring. For more, see this website. [map]
Formula 1 Motors
Hayward, CA
The Formula 1 Motors used car showroom was built in 1959. The original occupant was the Buchanan Olds-Cadillac dealership. In the 1990s, the building housed a Mitsubishi dealer. [map]
former showroom
Isleton, CA
This former showroom housed Dunn & Bonetti Dodge from 1922-1981. The building most recently housed the Isleton Speed Shop. It appeared to be vacant when these photos were taken in 2014. For more, see this website. [map]
Drew Ford [gone]
La Mesa, CA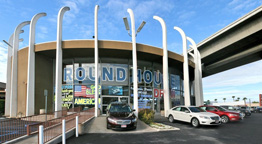 Drew Ford was established in 1927. This "Roundhouse of Values" building was constructed in 1967. The design was inspired by the Ford Rotunda which was built for the 1964 World's Fair. In 2014, the dealership was sold and renamed Penske Ford. The building was demolished in 2018. For more, see these websites: 1, 2, and 3. [photos thanks Gregory May]
former showroom
Lodi, CA
This former showroom appears to be from the 1930s or 1940s. The building housed Swerington-Jentoft Oldsmobile by the 1960s. It later housed B&W Motor Sales. The building later housed Ogren's Auctions. It has been vacant since 2018. [map]
former showroom
Los Banos, CA
This former showroom may have been built in the early 1930s. It housed the Kaljian Motor Co. from at least the mid-1960s until at least the late 1980s. After that, it housed another dealership until at least 2007. It may have been a repair shop after that. The building was vacant when these photos were taken in 2014. It now houses Berkshire Hathaway Home Services. [map]
former showroom
Los Angeles, CA
2013:
2021:
This former showroom was designed by Morgan, Walls & Clements and built around 1927. It was originally a DeSoto dealer. The top part of the facade has been removed. The building housed Diamond Foam & Fabric in 2013. It now houses Design Mix Furniture. For more, see these websites: 1 and 2. [map]
former garage
Los Angeles, CA
2013:
2021:
This is not a showroom but I'll sneak it in here anyway. This former garage was built around 1926. The building was housing Vision Auto Body in 2013. The building has been restored and is currently vacant. [map]
Felix Chevrolet
Los Angeles, CA
Felix Chevrolet was founded in 1922 by Winslow Felix. This building was constructed in 1920 for Tupman Motors, a Ford dealership. It was remodeled in 1946 in the Streamline Moderne style. Felix Chevrolet relocated to this building in 1958. This three-sided, rooftop sign was built then as well. The pole sign for the used car lot had been built around 1956 for Tupman Motors and adapted for Felix. Winslow Felix, the owner of the dealership, was a good friend of cartoonist Pat Sullivan who may have developed the Felix the Cat character. Many believe that Otto Messmer created the character while he was working for Sullivan. With Sullivan's permission, the dealership has used the character as its mascot since the 1920s. The Felix statues were built in 1927. In 2012, the neon on the rooftop sign was replaced with LED tubing. While this was done as a cost-savings measure, many preservationists are upset with this change. For more, see these websites: 1, 2, 3, 4, and 5. [map]
Dahlia Motor Service Building
Los Angeles, CA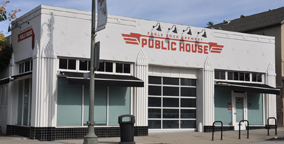 The Dahlia Motor Service Building was designed by Ralph D. Holden and built in 1931. The building also housed Whaley's Ford Service. In 2001, the building began housing Fatty's restaurant. Since 2015, the building has housed the Eagle Rock Brewery. For more, see this website. [map]
Lou Ehlers Cadillac [gone]
Los Angeles, CA

The Lou Ehlers Cadillac showroom was designed by Stiles & Clements and built in 1955. It was originally a Cadillac factory store before becoming Ehlers. The building was demolished in 2008 just after this photo was taken.
Crenshaw Collision Center
Los Angeles, CA
former Crenshaw Motors [gone]
Los Angeles, CA
The Crenshaw Collision Center building was most likely a showroom originally. Does anyone know what was here originally? This photo is from 2013. Since 2015, the building has housed the Pacific Elite Collision Center. [map]

The Crenshaw Motors showroom was built in 1937. The dealership closed in 2007. Shortly thereafter, the neon lettering was removed from the building. These photos were taken in 2008. By 2011, the building had been demolished. For more, see these websites: 1, 2, and 3.
RoadsideArchitecture.com

Copyright. All photos at this website are copyrighted and may only be used with my consent. This includes posting them at Facebook, Pinterest, blogs, other websites, personal use, etc.

Tips & Updates. If you have suggestions about places that I haven't covered, historical info, or updates about places/things that have been remodeled or removed, I'd love to hear from you: roadarch@outlook.com.