(hit "refresh" to get the most recent version of this page; click on photos for larger images)
This California Car Showrooms section is organized alphabetically by city. Long Beach, Pasadena, and San Francisco have their own pages (see the links at the bottom of this page).
Carstens Chevrolet Buick
Alturas, CA

Carstens Chevrolet Buick has occupied this building since at least 1960. The building appears to be from the 1910s or 1920s. [map]
Arroyo Grande Chevrolet
Arroyo Grande, CA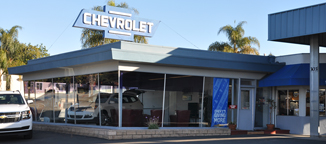 Arroyo Grande Chevrolet was previously known as Christianson Chevrolet and opened in 1953. This showroom appears to be from then. I suspect the rooftop sign had neon originally. [map]
former showroom
Banning, CA
This former showroom previously housed Ramsey Street Ford. That dealership closed in 2010. I don't know what the original business was. The building is probably from the 1940s. When this photo was taken in 2015, the building was housing the California Collision Center. [map]
former
Suburban Pontiac [gone]
Bellflower, CA
former Hensley-Anderson Ford
Bellflower, CA
Suburban Pontiac closed in the mid-1980s. The Pontiac Indian sign was most likely neon originally. This photo is from 2008. In 2011, this detail was removed. In 2017, the building was demolished.

The Hensley-Anderson Ford building was built around 1960. It now houses J&D Corvette. [map]
former Lincoln-Mercury dealership
Berkeley, CA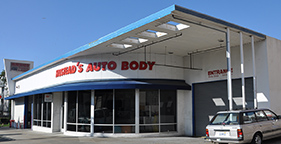 This former Lincoln-Mercury dealership was built in the late 1940s. The building now houses Hustead's Collision Center. This photo is from 2014. In 2015, the building was painted grey. [map]
Beverly Hills Porsche
Beverly Hills, CA
The Beverly Hills Porsche building was constructed in 1929. These photos are from 2012. The building originally housed the Clock Market, a shopping center. Later, it housed the Bill Davis Motor Car Co. which was a Plymouth and DeSoto dealership. In 2017, the building was vacant and the property was fenced off. Development around the building was underway in 2018. The building now houses a Bentley dealership. For more, see this website. [map]
former Beverly Hills Ford
Beverly Hills, CA
2008:
2012:
2020:
The former Beverly Hills Ford showroom appears to have been built in the 1940s. In the mid-1950s, the building housed the Beverly Buick Co. That may have been the original occupant. The building housed Precision Volkswagen in the late 1980s. Sometime between 2008 and 2012, the Beverly Hills Ford sign letters were removed. In 2013, the building's new tenant, Beverly Hills Integrated Medical Plaza, added its own letters to the facade. For more, see this postcard. [postcard scan thanks Alden Jewell] [map]
Concord Mazda
Concord, CA
The Concord Mazda showroom appears to be from the 1960s. [map]
former Massey Cadillac [gone]
Downey, CA
2008:
2012:
Don Massey Cadillac was founded in 1961 in Wayne, MI. I believe Massey purchased this Cadillac dealership in 1984. This dealership was originally built as Bob Spreen Cadillac. At that time, the fountain's car platform revolved. In 2008, only the emblem above it revolved. The dealership closed in 2009. The platform was demolished in 2020.
RoadsideArchitecture.com

Copyright. All photos at this website are copyrighted and may only be used with my consent. This includes posting them at Facebook, Pinterest, blogs, other websites, personal use, etc.

Tips & Updates. If you have suggestions about places that I haven't covered, historical info, or updates about places/things that have been remodeled or removed, I'd love to hear from you: roadarch@outlook.com.