(hit "refresh" to get the most recent version of this page; click on photos for larger images)
Mr. Motorhome RV Center
Elk Grove, CA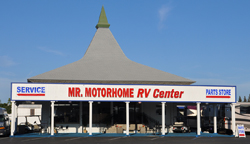 The Mr. Motorhome RV Center building was built from 1965-1966. It originally housed Bob Batey Chevrolet. In 1980, it became Walt Davis Chevrolet. Mr. Motorhome has been here since 2014. For more, see this website. [map]
Autosports International
El Monte, CA
2012 and 2013:
2022:
The Autosports International building probably housed a car dealership originally. These photos are from 2013. The building was vacant from 2016-2020. It now houses Mebo Bath. The blue panels have been painted orange. [map]
former California Car & Truck
Fontana, CA

The California Car & Truck building was probably built for a new car dealership. It was probably built in the 1950s or 1960s. This photo is from 2013. The building now houses Mullen Auto Sales. [map]
James Phelan Building
Fresno, CA

2013:
2017:
The James Phelan Building was built in 1914 as one of the first car dealerships in Fresno. A ramp from the first floor led to the second-floor garage. In the early years, it sold Maxwells, Pierce Arrows, and Hudsons. By 1925, this was Williams & McAlister's Dodge dealership. In 1948, Lester Parks Motors sold Kaiser-Frazer cars here. From 1958-1972, the building housed Fresno Motor Sales which sold Cadillacs and Oldsmobiles. In the mid-1970s, the building was remodeled for offices. The entrance was modified at that time. In 2015, all but the shell of the building was gutted and the entrance was remodeled again. By 2016, it was occupied by multiple retail businesses. For more, see this website. [map]
Renick Cadillac [gone]
Fullerton, CA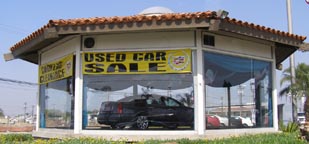 This Renick Cadillac structure was designed by Leason Pomeroy and built in 1978. The "rotunda", as the dealership referred to it, had a revolving turntable floor and could display two cars. The Mission style tile roof matched the dealership's main building. It was demolished in 2017. A new Subaru dealership was built on the property.
Byers Brothers Ford
Gilroy, CA
The Byers Brothers Ford building was constructed in 1930. From the 1950s-1970s, the building housed SoCo Chrysler. It later housed Winston Tire and other businesses. Since 1990, the building has housed Gilroy Car Care. [map]
Glendale Dodge (Star Ford Lincoln) [gone]
Glendale, CA

2008: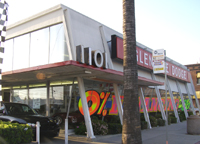 Star Used Cars (now Star Ford Lincoln)
Glendale, CA
2008:
2013:
The Glendale Dodge building with canted windows and steel beam legs was built in 1959 for Bob Smith Dodge-Plymouth. The showroom operated as Glendale Dodge from 1963-1985. The red plastic sign was probably installed in 1963. In 1986, the dealership became Jack Ellis Glendale Dodge. By 2013, the plastic Dodge sign and stainless-steel street numbers had been removed. The building was about to open as the Star Ford Lincoln Service and Parts office. In 2014, this building was demolished and replaced with a larger, boxy building.

The hexagonal building across the street housed Star Used Cars when the 2008 photo was taken. It may have been built in the 1960s or 1970s. By 2013, the building housed the sales office for Star Ford Lincoln's new and used cars. [map]
RoadsideArchitecture.com

Copyright. All photos at this website are copyrighted and may only be used with my consent. This includes posting them at Facebook, Pinterest, blogs, other websites, personal use, etc.

Tips & Updates. If you have suggestions about places that I haven't covered, historical info, or updates about places/things that have been remodeled or removed, I'd love to hear from you: roadarch@outlook.com.