(hit "refresh" to get the most recent version of this page; click on photos for larger images)
former Packard showroom
Long Beach, CA
body shop
Long Beach, CA
This former Packard showroom was built in the 1940s. It was a Cadillac dealer in the 1960s and 1970s. In 1977, the building was housing Pacific Boats. The building now houses Horn's Collision Center. [map]

I believe this body shop was originally a dealership or garage. On this stretch of Anaheim St., there were many auto-related businesses built during the Art Deco period. These photos are from 2013. By 2017, the building was vacant and painted beige. [map]
former Carlyle Nibley Packard showroom
Long Beach, CA
This former Carlyle Nibley Packard showroom was built in 1926. The building appeared to be vacant when these photos were taken in 2013. For more, see this website. [map]
Hancock Motors
Long Beach, CA
The Hancock Motors building was designed by Schilling and Schilling and built in 1928. The company originally sold Hupmobiles. The building now houses CollisionWorks. For more, see this website. [map]
former Ray Vines Chrysler
Long Beach, CA

2008:
2013:
2015: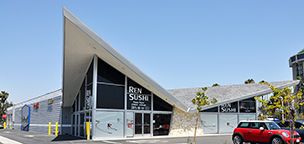 This Ray Vines Chrysler used car dealership was built in 1963. The building may have been designed by Paul B. Clayton. It later housed the R.O. Gould Chrysler-Plymouth dealership. When the 2008 photos above were taken, the building housed Nationwide Auctions. After that, the building housed Worthington Car and Trucks. In 2010, there was talk of demolishing the building. However, the building was saved and adapted for a car wash and the Ren Sushi restaurant. The sign is gone. For more, see these websites: 1, 2, 3, and 4 [scan thanks Alden Jewell]. [map]

This same style building, now gone, was used by Simpson Buick in Downey, CA. There is also another building apparently identical and also built in 1963 in Las Vegas.
RoadsideArchitecture.com

Copyright. All photos at this website are copyrighted and may only be used with my consent. This includes posting them at Facebook, Pinterest, blogs, other websites, personal use, etc.

Tips & Updates. If you have suggestions about places that I haven't covered, historical info, or updates about places/things that have been remodeled or removed, I'd love to hear from you: roadarch@outlook.com.