(hit "refresh" to get the most recent version of this page; click on photos for larger images)
Havenscourt
Colonial
Church
Oakland, CA
Richmond Municipal Natatorium
Richmond, CA
The Havenscourt Colonial Church sign tower is installed behind a traditional looking small church. The "Jesus Saves" letters might be from the 1950s. For more, see this website. [map]

The Richmond Municipal Natatorium, aka The Plunge, was built in 1926. It closed in 2001 and reopened in 2010. The original sign was installed in the late 1920s. It was later converted to neon. No one knows what became of that sign. Much later, there was a Richmond Plunge sign installed on the roof. That sign was removed around 1977. This sign, which was installed in 2010, is a replica of the original. For more, see this website. [map]
Hotel St. James
San Diego, CA
El Cortez Hotel
San Diego, CA
The Hotel St. James was built in 1913. This rooftop sign is supposedly from the 1940s or 1950s. However, I believe it is either much older than that or a replica of the original sign. Early illustrations show a rooftop sign just like this. The hotel is now known as the Ramada Gaslamp Hotel. For more, see these websites: 1 and 2. [map]

The El Cortez Hotel was built from 1926-1927. This sign was added in 1937. The letters are 12 feet tall. The "HOTEL" letters were removed at some point. The sign was restored in 1999. The building is listed on the National Register of Historic Places. The building has been converted into the El Cortez Condominiums. For more, see these websites: 1 and 2. [map]
Huntington Hotel
San Francisco, CA
Palace Hotel
San Francisco, CA
The Huntington Hotel was built in 1922 as the Huntington Apartments. It was converted into a hotel in 1924. Since 2014, it has been known as the Scarlet Huntington. I can't find any vintage photos to indicate when the rooftop sign was first installed. It might be from the late 1920s. For more, see this website. [map]

The Palace Hotel opened in 1909. By the late 1920s, there was a rooftop scaffold sign reading "Palace Hotel". I don't know if that sign was lit with neon or electric bulbs. In 1954, the hotel became the Sheraton-Palace Hotel and a new sign was installed on the roof. In 1995, the Sheraton name was dropped. I assume today's sign is from then. This sign is one of two identical signs installed on the roof. For more, see these websites: 1 and 2. [map]
Ghirardelli Chocolate Company
San Francisco, CA
Don Hotel
Wilmington, CA
The Ghirardelli Chocolate Company was founded in San Francisco in 1852. This sign, with its 19-foot-tall letters, was installed on the roof of their factory in 1915. It was double-sided until 1964. Red and green bulbs are installed in the letter "G" during the Christmas season. In 2020, the letters were removed and replaced with aluminum replicas and LED bulbs. For more, see these websites: 1 and 2. [map]

The Don Hotel was built in 1929. This sign has been there since at least the late 1940s. Since 1999, the building has housed the Don Senior Apartments. For more, see this website. [map]
Jonas Brothers Furs
Denver, CO
Benjamin Moore Paints
Denver, CO
Hi-Ho Motel
Fairfield, CT
The Jonas Brothers Furs rooftop neon sign was built in the late 1920s. The building itself is from 1923 and housed the taxidermy and fur store. The building now houses a nightclub. For more, see this website. [map]

This Benjamin Moore Paints sign is located at the former paint factory building. The building was constructed in 1921. Other sources say it was built in 1933. This sign was probably installed on the roof from the beginning. It was originally a bulb sign. The City of Denver has recognized the sign as a landmark. In 2005, the building was converted into lofts and commercial space. The sign is lit at night. For more, see this website. [map]

The Hi-Ho Motel opened in the 1940s. This photo is from 2009. In 2017, the sign was removed. The wording was changed to "Hotel Hi-Ho" and the neon replaced with red, backlit plastic letters. The top and bottom text panels are now just white strips. The curved panel at the top is gone. [map]
Dolles Candyland
Rehoboth Beach, DE
Dolles Candyland sold saltwater taffy, other candies and chocolates at this Boardwalk location. The company had been at this location since 1927. The store and sign were rebuilt in 1963 after a devastating storm the previous year. It was damaged again by winds in 2000 and replaced again. The sign's letters were repainted at the start of each season. In 2020, the store moved to a new location where the sign cannot be displayed. The fate of the sign is still to be determined. [map]
Merita Bread [gone]
Orlando, FL
Orange Grove Motel
Miami, FL
Robert's Drugs [gone]
Miami, FL
The Merita Bread sign originally had a round clock with hands rather than this digital display. It also read "Bread & Cake". This sign was erected in the early 1960s next to I-4 which had just been built. With the demise of Hostess Foods in 2012, this sign remained but was no longer lit. In 2014, the sign was moved to the Morse Museum of American Art.

The Orange Grove Motel was built in 1950. There was originally a neon panel single-pole sign installed. There are now backlit, modern plastic panels on that sign. This sign must have been added in the 1950s or 1960s. [map]

Robert's Drugs had been established by the early 1950s. I believe this was their first location. The sign was probably installed in the 1950s. This photo is from 2005. By 2007, the sign was gone. The business is also gone now, too.
Hotel Variety
Miami Beach, FL
Cuesta-Rey Cigars
Tampa, FL
The modern Hotel Variety sign was installed in 2020. The general design was based on a vintage sign which was installed on the roof for the Hotel Mayflower. [map]

The Cuesta-Rey Cigars sign is installed on the roof of the J.C. Newman Cigar Company's factory. Cuesta-Rey Cigars date back to 1884. Around 1958, Newman bought out Cuesta-Rey and moved production to this building. This sign was supposedly installed a few years later. For more, see this website. [map]
Overseas Liquor & Lounge
Marathon, FL
2009:
2020:
The Overseas Liquor & Lounge building was originally part of the Overseas Lodge with a restaurant and motel rooms. Around 2017, the neon was replaced with LED tubing. [map]
Coca-Cola
Atlanta, GA
Goody's Kodak
Atlanta, GA
This neon Coca-Cola sign was built to be viewed from I-85. Does anyone know how long it has been here? There was a more famous Coca-Cola disc shaped sign in Atlanta installed downtown in 1948. That sign was removed in 1981. A recreation of the sign was installed in 2003. For more, see this website. [map]

Goody's Kodak is long gone but the double-sided sign remains. In 2016, plans were announced for a new development at this site. The sign will either be restored or recreated. As of 2020, nothing had changed with the building or sign. [map]
Quaker Oats
Cedar Rapids, IA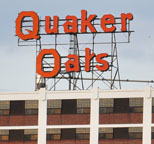 Quaker Oats has been producing cereal here since 1873. I don't know how old this rooftop sign is. In 2021, after damaged from winds, the neon letters were replaced with LED versions. For more, see these websites: 1 and 2. [map]
Iowa Paint [gone]
Des Moines, IA
Travelers Insurance
Des Moines, IA
Colonial Bread
Des Moines, IA
Iowa Paint has been around since 1952. In 2005, the company was bought out by PPG Industries but the sign remained. This photo is from 2006. By 2012, the sign was gone. [photo thanks Glenda Campbell]

This Travelers Insurance sign was built in 1963. It is about 50 feet wide and 40 feet tall. In 1998, Travelers Insurance moved out of this building. The sign was restored by the building's current owner in 2005. It is lit at night. For more, see this website. [map]

Colonial Bread plant closed around 2000. This sign is now owned by the city. It has been restored and I believe it is lit once in a while. "Try It!" flashes on and off. For more, see this website. [first photo thanks Glenda Campbell] [map]
Hotel Yellowstone
Pocatello, ID

The Hotel Yellowstone was built in 1915 as the Yellowstone National Hotel. The sign on the roof then had a different design. This sign was there by the 1930s and may be older than that. The letters may have been replaced later but the design is the same. In 2018, the sign was restored and relit. For more, see this website. [map]
Turf Club
Twin Falls, ID
The Turf Club opened in 1946. The name was a reference to the horse racing track located across the street at the time. The business at that time was a drinking and gambling establishment. This sign was built around 1953 by the Young Electric Sign Company (YESCO) shop in Las Vegas. It is about 45 feet wide. The "Turf Club" letters are lit with red neon. The champagne cocktail coupe glass is about 20 feet tall. It is outlined in blue and contains about 300 bulbs. About one-third of the bulbs inside and above the glass flicker at night to simulate bubbles. The clear bulbs appear golden at night. The stirrer and cherry are lit with red neon. The sign had a major restoration in 1969. To comply with the local sign ordinance, it must be diligently maintained to allow it to continue to be lit. The business has a monthly contract with Lytle Signs. The plastic panel at the bottom of the sign previously read "Fine Food & Dining." It was changed in the late 1970s when the business began offering banquets. For more, see these websites: 1 and 2. [map]
RoadsideArchitecture.com

Copyright. All photos at this website are copyrighted and may only be used with my consent. This includes posting them at Facebook, Pinterest, blogs, other websites, personal use, etc.

Tips & Updates. If you have suggestions about places that I haven't covered, historical info, or updates about places/things that have been remodeled or removed, I'd love to hear from you: roadarch@outlook.com.