(hit "refresh" to get the most recent version of this page; click on photos for larger images)
Fowler Tribune
Fowler, CO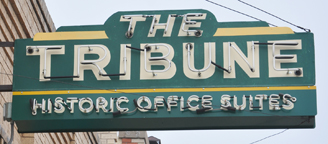 The Fowler Tribune sign might be from the 1940s or 1950s. Around 2015, the neon was removed and the sign was repainted. Around 2021, the neon was restored and the bottom panel was added for the Historic Fowler Tribune Office Suites. For more, see this website. [map]
Riviera Restaurant
Glendale, CO
Doc Holliday's Tavern
Glenwood Springs, CO
Ace-Hi Tavern
Golden, CO
Mountain Muffler
Golden, CO
The Riviera Restaurant sign appears to be from the 1950s or 1960s. When the Las Delicias restaurant moved into the building, they added a panel below the sign or adapted one that was already there. The font of "Riviera" makes me wonder if there was a relationship between this restaurant and the Riviera Motel in Aurora, CO. [map]

The Doc Holliday's Tavern sign is 20 feet tall. It is probably from the 1950s. When the neon is working properly, the pistol's gunfire flashes on and off. Doc Holliday was a famous gambler and gunfighter in the late 1800s. He died of tuberculosis in Glenwood Springs in 1887. For more, see these websites: 1 and 2. [map]

The Ace-Hi Tavern opened around 1945. This sign appears to be from the 1950s and/or 1960s. The "Bar" sign with the martini had neon originally. [map]

Mountain Muffler opened in 1985. This single-sided sign may have been built then. [map]
Trail Riders Motel
Granby, CO
El Palomino Motel [gone]
Grand Junction, CO
Simmons Lock & Key
Grand Junction, CO
The Trail Riders Motel sign is probably from the 1950s. For more, see this website. [map]

The El Palomino Motel was built in 1955. The sign appeared to be from then. It was originally colorful and had a big bulb arrow, a pine tree, and a woman in bathing suit. There was text that read: "Swim, Heated, Filtered" which was probably removed when the pool was filled in with concrete. The bulb arrow was supported with a pole from the horse's head. There was still a trace of that making the horse look a bit like a unicorn. In 2015, the sign was sold to a collector in Minnesota. For more, see these websites: 1 and 2.

Simmons Lock & Key was established in 1945. This sign has been covered over with new panels. The original sign most likely had neon. [map]
Freeman's Cleaners [gone]
Greeley, CO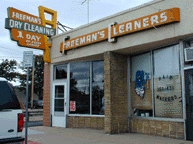 The Freeman's Cleaners sign appears to be from the 1950s. This photo is from 2004. By 2012, the business and sign were gone.
Weld County Garage
Greeley, CO
Bratton's Office Equipment
Greeley, CO
The Weld County Garage opened in 1908. It began selling cars in 1910. The business is still operating. This sign was made in 1949 and installed on the roof of the building. When the dealership moved around 2003, this neon sign was brought along. The sign is 60 feet wide and 12 feet tall. It is installed at the back of the dealership's lot. For more, see this website. [map]

The Bratton's Office Equipment signs appear to be from the 1940s or 1950s. [map]
Western Motel
Gunnison, CO
W Cafe
Gunnison, CO
Ute Trail Motel
Hot Sulphur Springs, CO
The Western Motel sign is probably from the 1950s. It was originally installed much closer to the ground. The painted over piece at the top of the sign originally had a "AAA" endorsement. [map]

I believe the W Cafe sign is from 1958. [map]

Ute Trail Motel was built in 1957 and this sign is most likely from then. The sign was repainted sometime after 2010. This photo is from 2012. For more, see this website. [map]
Hugo Liquors
Hugo, CO
2012:
2022:
The Hugo Liquors sign was built in 1954. In 2017, the sign was restored. [map]
Columbine Inn
Idaho Springs, CO
Kit Carson Fine
Foods & Lounge [gone]
La Junta, CO
The Columbine Inn opened in 1994 and this sign is from then. This photo is from 2012. By 2018, the neon had been replaced with LED tubing. [map]

The Kit Carson Fine Foods & Lounge sign was either removed or destroyed when the Kit Carson Hotel was demolished in 2012. This photo was taken just a few months before that.
Lakeside Amusement Park
Lakeside, CO
Most of these signs at Lakeside Amusement Park are from the late 1940s and early 1950s. For more, see this website. [map]
RoadsideArchitecture.com

Copyright. All photos at this website are copyrighted and may only be used with my consent. This includes posting them at Facebook, Pinterest, blogs, other websites, personal use, etc.

Tips & Updates. If you have suggestions about places that I haven't covered, historical info, or updates about places/things that have been remodeled or removed, I'd love to hear from you: roadarch@outlook.com.