(hit "refresh" to get the most recent version of this page; click on photos for larger images)
Del Norte Grade School
Del Norte, CO
The Del Norte Grade School was built in 1942. [map]
Student Services Building
Fort Collins, CO

The Student Services Building is located at Colorado State University. It was built in 1948 as Braiden Hall, a men's dormitory. The building was designed by Eugene Groves. It became the Student Services Building in 1963. [map]
Northern Hotel
Fort Collins, CO
Fort Collins Municipal Power Plant Fountain
Fort Collins, CO
The Northern Hotel was built in 1873. It was remodeled in the Art Deco style in 1936. I believe this sign was built then as well. For more, see this website. [map]

The Fort Collins Municipal Power Plant Fountain was installed in 1936. [map]
Red Rocks Amphitheatre
Golden, CO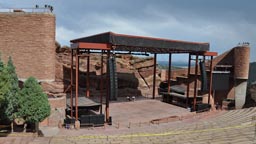 The Red Rocks Amphitheatre was built from 1936-1941. For more, see this website. [map]
Municipal Building
Gunnison, CO
This Municipal Building was designed by Mountjoy & Frewen and built in 1931. [map]
Sedgwick County Court House
Julesburg, CO
The Sedgwick County Court House was built from 1938-1939 as a WPA project. It was designed by W. Gordon Jamieson and R. Ewing Stiffler. [map]
La Jara Elementary School
La Jara, CO

The La Jara Elementary School was supposedly built around 1930. It looks more 1940s to me. [map]
Lakeside Amusement Park
Lakeside, CO
These structures at Lakeside Amusement Park were built during remodeling that began in the 1930s. I believe most or all of these structures were designed by Richard Crowther and built after he moved to Denver in 1948. For photos and information about the signs at Lakeside Amusement Park, see this page. For more, see this website.
Sno White Dry Cleaners
Lakewood, CO
The Sno White Dry Cleaners building was constructed in 1948 in Denver. It was later occupied by the 88 Cent Variety Store. From 1961-1996, the building housed Gil and Ethel Gomez' barber shop and beauty salon. In 1998, the building was moved here to the Lakewood Heritage Center.
RoadsideArchitecture.com

Copyright. All photos at this website are copyrighted and may only be used with my consent. This includes posting them at Facebook, Pinterest, blogs, other websites, personal use, etc.

Tips & Updates. If you have suggestions about places that I haven't covered, historical info, or updates about places/things that have been remodeled or removed, I'd love to hear from you: roadarch@outlook.com.