(hit "refresh" to get the most recent version of this page; click on photos for larger images)
former Firestone
Clearwater, FL
Firestone
Daytona Beach, FL
The former Firestone in Clearwater was built in 1972 as Don Olson Firestone. It has housed a Tires Plus store since at least 2007. [map]

This Firestone in Daytona Beach was built in 1962. [map]
former Firestone
Gainesville, FL

2009:
This Firestone building was built in 1927. It closed in the 1950s. In the 1970s, it housed a nightclub. The building had been vacant since then. From 2012-2014, it was restored. The building is now used as office space. [map]
former Firestone
Melbourne, FL

This Firestone was built in 1970. [map]
former Firestone
Miami, FL
This former Firestone was built in 1929. The scaffolding originally supported a Firestone sign. Walgreens purchased the property around 2001 with the intention of demolishing the building and building a new one. However, preservationists were successful in saving the Firestone building. Five letters from the original sign were supposedly saved and incorporated into this new sign to spell out Walgreens. However, I don't believe that actually happened. None of the letters resemble the original ones for Firestone. The sign's scaffold is 84 feet long and 36 feet tall. For more, see this website. [map]
Firestone
Miami Beach, FL

2020:
2021: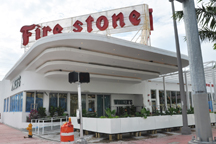 This Firestone was built in 1939. I believe there were originally gas pumps at this location. The store closed in 2016. The building was restored for retail and restaurant use. The rooftop Firestone sign was found too rusty to repair and was replaced with a replica. The replica sign has a diamond between "Fire" and "Stone". The original sign went to a private collector. When the paint was removed from the original sign, it was revealed that the letters had orange faces and navy-blue sides. The new sign's letters are red. [map]
Firestone
Ocala, FL

2009:

2020:
This Firestone was built in 1962. By 2013, the building had been repainted and the neon letters over the bays had been removed. [map]
RoadsideArchitecture.com

Copyright. All photos at this website are copyrighted and may only be used with my consent. This includes posting them at Facebook, Pinterest, blogs, other websites, personal use, etc.

Tips & Updates. If you have suggestions about places that I haven't covered, historical info, or updates about places/things that have been remodeled or removed, I'd love to hear from you: roadarch@outlook.com.