(hit "refresh" to get the most recent version of this page; click on photos for larger images)
former Firestone
Orlando, FL
The former Firestone was built from 1928-1929 and operated as a Firestone Tire store until 1977. The building features an Italianate bell-tower. It was occupied by the Club Firestone nightclub since the early 1990s until 2014. The building now houses Venue 578. [map]
former Firestone
Gainesville, FL
This Firestone building was built in 1927. In the 1970s, it housed a nightclub. The building had been vacant since then. In 2014, it was restored. [map]
Firestone
Miami Beach, FL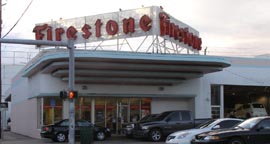 This Firestone was built in 1939. I believe there were originally gas pumps at this location. This photo is from 2009. The store closed in 2016. It was announced that the building would soon house Al's Diner. However, the building was still being renovated in 2018 and signs stated that the building would house "The Diner Miami Beach." In 2019, it was announced that the building would house three food and beverage businesses. The rooftop Firestone sign was found too rusty to repair and was replaced with a replica. The replica sign has a diamond between "Fire" and "Stone". The original sign went to a private collector. When the paint was removed from the original sign, it was revealed that the letters had orange faces and navy blue sides. The new sign's letters are red. For more, see these websites: 1 and 2. [map]
Firestone
Tallahassee, FL
This Firestone was built in 1950. This location originally sold gas. The pumps were covered by a canopy which extended from the discolored part of the red lip in this photo. The building has been painted beige since this 2010 photo. For more, see this website. [map]
Firestone
Daytona Beach, FL
This Firestone is probably from the 1960s. [map]
Firestone
Pensacola, FL

This Firestone is also probably from the 1960s. The freestanding letters probably had neon originally. They are now backlit plastic. [map]
Firestone [gone]
Orlando, FL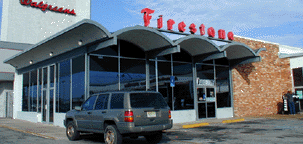 This Firestone has a similar design to the one in Pensacola above. This photo is from 2005. I believe this building was on Orange Blossom Trail and demolished for a Walgreens. There is another Orlando location with a double canopy.
Firestone
Ocala, FL

This Ocala Firestore looks like it's from the 1950s or 1960s. [map]
RoadsideArchitecture.com

Copyright. All photos at this website are copyrighted and may only be used with my consent. This includes posting them at Facebook, Pinterest, blogs, other websites, personal use, etc.

Tips & Updates. If you have suggestions about places that I haven't covered, historical info, or updates about places/things that have been remodeled or removed, I'd love to hear from you: roadarch@outlook.com.