(hit "refresh" to get the most recent version of this page; click on photos for larger images)
Strawberry Lanes
Marysville, WA
Edgewater Hotel
Seattle, WA
Wonder Bread
Seattle, WA
I believe the Strawberry Lanes rooftop sign is still lit at night. [map]

The Edgewater Hotel was built as the Camelot Hotel in 1962. It became the Edgewater Inn soon after that and, later, the Edgewater Hotel. Around 1994, the "E" was replaced with this jaunty version. For more, see these websites: 1 and 2. [map]

This Wonder Bread factory sign was built in 1952. It is 16 feet wide. It was dismantled in 2007 and restored. In 2008, the sign was reinstalled on the roof of the apartment building which replaced the factory. This photo is from 2015. For more, see this website. [map]
Westfair Shopping Center
Yakima, WA
2008:
2015:
The Westfair Shopping Center is now known as the Westfair Plaza and the shops below this sign have all been updated. I believe this sign is from 1965. Sometime after 2012, the "Westfair" part of the sign was removed. [map]
Soo Line
Superior, WI
Harris Ace Hardware
Janesville, WI
The Soo Line sign is installed on top of the train depot. This is either a refurbished sign or a replica. The sign was not there in 1987. For more, see this website. [map]

Harris Ace Hardware is part of the Ace Hardware chain which was founded in 1924 and has more than 4,600 stores in the U.S. I don't know if this sign was locally built and unique or if there were any other signs like this. There is another big Ace Hardware sign in Sioux Falls, SD which uses a similar font style. For more, see this website. [map]
Pabst Brewing Company
Milwaukee, WI

This Pabst Brewing Company was founded in 1844. This sign is located at the former brewing complex. It appears that the letters might be mounted to a pedestrian bridge between the two buildings. I don't know when the letters were installed. In 1996, Pabst moved its brewing operations to La Crosse, WI. These buildings in Milwaukee, vacant since then, will eventually be developed into a mix or residential, office, and retail space. The former corporate offices and visitors center now house Best Place, a bar and gift shop. For more, see these websites: 1 and 2. [map]
Marsh Wheeling Stogies
Wheeling, WV
This Marsh Wheeling Stogies sign remains although the plant has been closed since 2001. The company was established in 1840 and moved to this building in 1908. I don't know when the neon sign was built. For more, see this website. [map]
Meldrum the Mover
Montreal, QC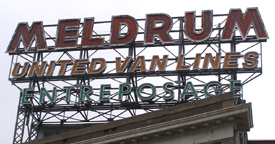 Meldrum the Mover has been around since the 1930s. This sign is from the late 1940s and is lit at night. For more, see this website. [map]
RoadsideArchitecture.com

Copyright. All photos at this website are copyrighted and may only be used with my consent. This includes posting them at Facebook, Pinterest, blogs, other websites, personal use, etc.

Tips & Updates. If you have suggestions about places that I haven't covered, historical info, or updates about places/things that have been remodeled or removed, I'd love to hear from you: roadarch@outlook.com.