(hit "refresh" to get the most recent version of this page; click on photos for larger images)
Androy Hotel
Hibbing, MN
The Androy Hotel was built in 1921. It closed in the late 1970s. In 1995, the building was renovated for senior housing. I don't know when the sign was built. [map]
Hotel Marshall
Marshall, MN
Hotel Marshall has been boarded up for many years but these signs were still there when these photos were taken in 2011. By 2013, the rooftop sign was gone. [map]
Gold Medal Flour
Minneapolis, MN
North Star Blankets
Minneapolis, MN
Grain Belt Beer
Minneapolis, MN
The Gold Medal Flour signs are installed on the roof of the Gold Medal Flour Building. The building now houses the Mill City Museum. The first signs were installed on the roof around 1906. In 1924, the signs were updated to read Gold Medal Foods. They were changed back in the early 1930s. In 1945, the signs were renovated and updated. These are the signs that appear today. The signs are 45 feet tall and 42 feet wide. The letters are about eight feet tall. The sign's restoration in 2000 cost about $250,000. The sign is lit at night and the letters flash. For more, see these websites: 1 and 2. [map]

The North Star Blankets signs were installed on the North Star Woolen Mill tower in 1930. One sign is installed on a steel structure on top the tower. The other is installed on the side of the tower, facing the opposite direction. The signs are about 25 feet wide. The North Star Woolen Mill Company was established in 1864 and, by 1925, it was the largest producer of wool blankets in the country. In 1949, the company relocated to Lima, Ohio. The building remained vacant until 1999 when it was converted into the North Star Lofts. It is listed on the National Register of Historic Places.

The signs' sheet metal letters and stars were built by the Federal Electric Company. The neon tubing was missing for decades. During the condo conversion, the signs were repainted and lit with spotlights. Then, in 2012, the signs became a safety concern when pieces began falling from them. This prompted the approximate $350,000 restoration project in 2015. 70% of the money is coming from The State of Minnesota through the Minnesota Historical Society's Arts and Cultural Heritage Fund. The remainder will be paid for by the North Star Lofts Homeowner's Association.

The scaffold support structure will be completely rebuilt. After the letters and stars are refurbished, they will be relit with LED tubing. The colors will replicate those used originally. The stars will be yellow and white while the letters will be red. The project should be completed by the end of 2015. For more, see these websites: 1, 2, and 3. [map]

The Grain Belt Beer sign is 50 feet wide and 40 feet tall. It has approximately 1,400 light bulbs and about 900 feet of neon tubing. It was built in 1941 and installed on the roof of the Marigold Ballroom. In 1950, when the ballroom was about to be demolished, the sign was moved to its current location on Nicollet Island next to the Hennepin Avenue Bridge. The letters flashed in sequence until the brewery closed in 1970. The sign was restored and relit in 1988 but it had been dark since around 1994. In 2014, the sign was purchased by the August Schell Brewing Co. which planned to restore it. The sign was relit in 2017. The neon was replaced with LED tubing. The incandescent bulbs were replaced with LED bulbs. The restoration cost about $500,000. In the 1940s, there were at least two other similar Grain Belt Beer signs in town but they have been gone for decades. For more, see these websites: 1 and 2. [map]
Pillsbury's Best Flour
Minneapolis, MN
First National Bank
St. Paul, MN
The Pillsbury's Best Flour sign is installed on the roof of the "Pillsbury A Mill". The flour mill was built in 1881 and operated until 2003. As of 2015, the building is being converted into lofts. The Pillsbury Company was founded in Minneapolis in 1872. A similar sign was installed here in the 1920s. This photo shows the sign in 1927. It was replaced with the current sign around 1940. It featured flashing letters. In 2015, the sign was restored and relit. The neon was replaced with LED tubing. For more, see these websites: 1 and 2. [map]

The First National Bank sign is installed on top of the First National Bank Building. The three-sided sign is 50 feet tall. It is referred to as the "Big Red One" by locals. The building was completed in 1930 and the sign was installed at that time. The sign's red neon flashed at night. This photo is from 2011. In 2016, the sign's neon was replaced with LED tubing. It still flashes. For more, see this website. [map]
Western Auto
Kansas City, MO
The Western Auto pie-slice shaped tower was built in 1915 for the Coca-Cola Company. There was a Coca-Cola sign on the roof then. The company moved out of the building in 1922. Western Auto, an auto parts company, had offices in the building since the 1920s. The company bought the building in 1951. In 1952, this 73-foot-tall sign was installed on the roof. It features 2,500 bulbs and 1,000 feet of neon tubing. The neon-outlined arrow is animated with chasing and scintillating bulbs. In 1998, Western Auto was bought by Advance Auto. The company vacated the building but the sign remained. In 2004, the building was converted into condos known as the "Western Auto Lofts". At that point, the sign was only partly functional. In 2018, the sign was restored. About one-third of the neon needed to be replaced. The incandescent bulbs were replaced with LED versions. For more, see this website. [map]
Southern Cleaners [gone]
Hattiesburg, MS
Devil Dog Manufacturing
Zebulon, NC
The Southern Cleaners' building was for sale in 2010 when this photo was taken. However, the company still seemed to be in business. By 2014, the building had been demolished and the sign was gone.

Devil Dog Manufacturing is still in operation. The company produces jeans. [map]
Marcal Paper Mills [gone]
Elmwood Park, NJ
Marcal Paper Mills had been making tissues, toilet paper, and paper towels here since 1939. The sign was installed in 1948. There were two of these signs of the roof. They were angled for visibility from I-80. The sign was turned off in 2009 and then restored in 2014. In 2019, the building and sign were destroyed in a fire.
Forks Tavern & Restaurant [gone]
Pennsville, NJ
Flash Cleaners [gone]
Rutherford, NJ
The Forks Tavern & Restaurant has been closed for many years but this rooftop sign remains. In 2015, plans were announced to demolish the building and the nearby gas station. By 2016, the building and sign were gone.

The Flash Cleaners sign was probably from the 1950s. The neon was missing when this photo was taken in 2011. The sign was still there in 2013. The business was still there in 2016 but the sign was gone.
Vineland Municipal Electric Utility
Vineland, NJ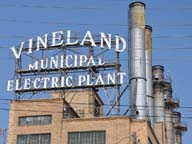 The Vineland Municipal Electric Utility sign went dark for a few years but the neon was restored and relit around 2008. For more, see this website. [map]
| | |
| --- | --- |
| | |
The Kelly's Cafe signs appear to be from the 1950s or 1960s. [map]
RoadsideArchitecture.com

Copyright. All photos at this website are copyrighted and may only be used with my consent. This includes posting them at Facebook, Pinterest, blogs, other websites, personal use, etc.

Tips & Updates. If you have suggestions about places that I haven't covered, historical info, or updates about places/things that have been remodeled or removed, I'd love to hear from you: roadarch@outlook.com.