(hit "refresh" to get the most recent version of this page; click on photos for larger images)
Battiston's
Avon, CT
Mahaiwe
Jewelers [gone]
Canaan, CT
Tom's Cafe [gone]
Cromwell, CT
Battiston's, a dry cleaners chain, was established in West Hartford, CT in 1946. They now have 17 locations. This sign appears to be from the 1950s. I don't know of any other locations that have a vintage sign like this one. This photo is from 2010. By 2015, a new sign was installed. The neon channel letters were replaced with backlit plastic letters. [map]

The Mahaiwe Jewelers sign was probably from the 1950s or earlier. It store closed in 2019. By 2022, the building was gone and so was the sign.

Tom's Cafe had been closed for years when this photo was taken in 2009. By 2011, the sign was gone.
Billy's Package Store
Hartford, CT
Carpet Giant [gone]
Hartford, CT
As-U-Like-It
Cleaners [gone]
Meriden, CT
As-U-Like-It
Cleaners [gone]
Middletown, CT
Billy's Package Store is a liquor store. The sign's arrow probably had neon or bulbs originally. [map]

The Carpet Giant warehouse/showroom was occupied by Graybar and other tenants but this sign was still standing when this photo was taken in 2006. It was still there in 2011 but I believe it was gone by 2015.

Both of these As-U-Like It Cleaners signs and businesses are gone. As-U-Like It was a CT chain. While I think a few of their locations still exist, I don't believe any still have old signs. For more, see this website.
Alfredo's Riverside [gone]
Middletown, CT
Alfredo's Riverside restaurant has been closed since at least 2007. These signs were still there in 2013 but they were gone by 2016. They appeared to be from the 1950s.
Cadillac sign
Milford, CT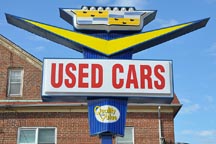 This plastic Cadillac sign was previously located in Westport, CT at O'Keefe Cadillac-Oldsmobile which later became Curran Cadillac. When the dealership closed in 2009, Greg D'Agostino purchased the sign and now displays it at his used car lot, Bel-Air Auto. The sign is about 18 feet tall including the pole. [map]
Stevens Ford [gone]
Milford, CT
Dan Perkins Chevrolet [gone]
Milford, CT
The Stevens Ford rooftop sign was built in 1959. In 2010, the sign was removed in order to demolish the building and replace it with a new one. The owners would like to replace the neon on the sign with LED lighting and reinstall it on the new building. However, the City may not permit it. For more, see this website.

Dan Perkins Chevrolet features a classic "bowtie" neon sign on their roof. In 2010, it was announced that this building would be replaced with a drug store. The sign was removed.
A.D. Perkins
Rubber Stamps
New Haven, CT
The Anchor (now Anchor Spa)
New Haven, CT
A.D. Perkins Rubber Stamps was established in 1876. The company moved to this location in 1951 and this sign was installed then. The tree branches break the neon causing the owners to stop fixing the tubing. For more, see this website. [map]

The Anchor restaurant and bar opened around 1940. The blue porcelain panels are from then. This sign with channel lettering was added later. The bar closed in 2015. The sign was removed and kept by the previous owners. The original facade was restored. The bar now goes by the business' original name, the Anchor Spa. For more, see this website. [map]
Owl Shop
New Haven, CT
The Owl Shop was established in 1934 as a bookstore and expanded to include tobacco sales. At one time, there were five locations. This location was the second store when it opened in 1937. There is another surviving Owl Shop in Worcester, MA which is moving to New Hampshire. [map]
U.S.A. Motel [gone]
Newington, CT
Maple Motel
Newington, CT
This photo of the U.S.A. Motel sign is from 2010. By 2016, the sign had been replaced with a backlit plastic box. This sign is now in a private collection. For more, see this website.

The Maple Motel sign has been repainted recently. I don't know if it is lit at night. [map]
Ocean Beach Park
New London, CT
Ocean Beach Park was established in the early 1900s. No one seems to know when these metal silhouette pole signs were built. They probably pre-date the New England Hurricane of 1938 which wiped out most of the coastline. The Park and boardwalk were rebuilt in the 1940s. The signs depict a fireman and policeman playing checkers, an archery scene, a nurse and child, and people playing horseshoes. There was once a horseshoe pit, a nurse's station, and an archery arcade game in the Park. New London is also known as "The Whaling City". For more, see this website.
Garden Park Motel [gone]
Norwalk, CT
Old Colony Package Store
Old Saybrook, CT
Firelite Shopping
Center [gone]
Orange, CT
The Garden Park Motel had what appears to be a refurbished 1950s sign. The sign was destroyed by high winds in 2010. It was replaced with a plastic box sign. For more, see these websites: 1 and 2.

The Old Colony Package Store sign appears to have been refurbished recently. It is probably from the 1950s. [map]

The Firelite Shopping Center was built around 1960 for a fireplace store at this location. It was adapted for the shopping center. In 2022, the sign was removed and destroyed.
Mitchell Saab [gone]
Simsbury, CT
Mitchell Saab had three vintage signs on display at the back of their building. There was a Mobilgas pegasus sign, a Firestone Tires sign, and an unusual Pontiac sign. I had not seen a black Pontiac sign with this design before. They are usually dark blue and do not have these stripes on the side. It looked original though and doesn't appear to have been repainted. These signs were gone by 2017.
RoadsideArchitecture.com

Copyright. All photos at this website are copyrighted and may only be used with my consent. This includes posting them at Facebook, Pinterest, blogs, other websites, personal use, etc.

Tips & Updates. If you have suggestions about places that I haven't covered, historical info, or updates about places/things that have been remodeled or removed, I'd love to hear from you: roadarch@outlook.com.