(hit "refresh" to get the most recent version of this page; click on photos for larger images)
The Varsity Theatre opened in 1950. Since 1992, the theatre has been run by the City of Davis. It features live entertainment and occasional movies. For more, see these websites: 1 and 2. [map]
Sierra Theatre
Delano, CA
Tower Theatre [gone]
Dinuba, CA
The Sierra Theatre was designed by S. Charles Lee in 1938. However, the design of Vincent G. Raney was the one used. The theatre did not open until 1946. It has been closed for many years but is sometimes used for concerts. For more, see this website. [map]

The Tower Theatre was designed by S. Charles Lee. It is believed to have been built around 1940. In the early 1950s, it became the Maya Theatre. The building now houses the Gospel Light Baptist Church. In 2015, it was announced that the theatre would be demolished for road widening. It was gone by 2017. This theatre was the twin to the Perris Theatre in Perris, CA. For more, see this website.
Dos Palos Theatre
Dos Palos, CA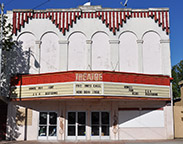 The Dos Palos Theatre has been around since at least 1941. The theatre has been closed since 2008. For more, see this website. [map]
California Theatre
Dunsmuir, CA
2008:
2015:
The California Theatre opened in 1926, featuring movies and vaudeville acts. The upstairs was originally a Masonic Lodge which was later taken over by the theatre. Restoration began in 1991 and the theatre reopened in 2005. In 2006, the theatre closed again. It reopened in 2014. An identical sign was used for the California Theatre in San Jose. For more, see this website. [map]
Valley Theatre
El Centro, CA
La Paloma Theatre
Encinitas, CA
The Valley Theatre opened in 1931 as the United Artists Theatre. It was remodeled in 1952 and reopened as the Crest Theatre. It closed in 1999. In 2008, it reopened as a sports bar and nightclub. The building appeared to be vacant when this photo was taken in 2014. It was still vacant in 2020. For more, see this website. [map]

The La Paloma Theatre opened in 1928 as a silent movie house. The theatre is now used for movies and live performances. For more, see these websites: 1 and 2. [map]
The Eureka Theatre opened in 1939. It was triplexed in 1978 and then closed in 1996. Restoration work has been ongoing since the early 2000s. The theatre is currently used for films and special events. For more, see this website. [map]
Sweasey Theatre
Eureka, CA
The Sweasey Theatre opened in 1920. It was renamed the State Theatre in 1921. It closed in 1973 and was turned into a department store. That store closed in 1995. In 2003, restoration work began to turn the building into a performing arts center. It opened in 2007 as the Arkley Center for the Performing Arts. For more, see these websites: 1 and 2. [map]
Mission Theatre
Fallbrook, CA

2014:
2021:
The Mission Theatre was built in 1946. In the 1990s, it was converted into a live performance venue. Around 2020, the building was painted gray and the sign's neon was replaced with LED rope. For more, see these websites: 1 and 2. [map]
Fortuna Theatre
Fortuna, CA
The Fortuna Theatre was built in 1938. It was restored and reopened in 2000. There are now six screens. For more, see these websites: 1 and 2. [map]
Fox Fullerton Theatre
Fullerton, CA

2008:
2013: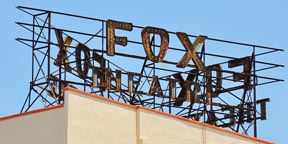 The Fox Fullerton Theatre opened in 1925 as Chapman's Alician Court Theatre. This is one of only a few surviving theatres with an open courtyard in lieu of an enclosed lobby. It was designed by Raymond Kennedy who was responsible for Grauman's Chinese Theatre and the Egyptian Theatre in Los Angeles. In the mid-1950s, the Fox Fullerton Theatre was remodeled. The marquee sign was added at that time. It closed in 1987 and was in danger of demolition. The theatre has been undergoing restoration since 2005. The marquee and box office were removed in 2011. They were not part of the original design and they will be replaced. For more, see these websites: 1 and 2. [map]
RoadsideArchitecture.com

Copyright. All photos at this website are copyrighted and may only be used with my consent. This includes posting them at Facebook, Pinterest, blogs, other websites, personal use, etc.

Tips & Updates. If you have suggestions about places that I haven't covered, historical info, or updates about places/things that have been remodeled or removed, I'd love to hear from you: roadarch@outlook.com.