(hit "refresh" to get the most recent version of this page; click on photos for larger images)
California Theatre
Berkeley, CA
The California Theatre was built in 1920 as the T&D Theatre which featured movies and live performances. It has since been triplexed. For more, see this website. [map]
The Oaks Theatre opened in 1925. It was restored and reopened in 1994. The theatre has been closed since 2010. For more, see these websites: 1, 2, and 3. [map]
United Artists Theatre
Berkeley, CA
The United Artists Theatre opened in 1932 and is still in use as a movie theatre. This same design was used for other theatres. For more, see this website. [map]
Elmwood Theatre
Berkeley, CA
The Elmwood Theatre opened in 1914 as the Strand Theatre. It was remodeled in the 1940s. Sometime after 1952, it was renamed the Elmwood Theatre. For more, see these websites: 1 and 2. [map]
Saban Theatre
Beverly Hills, CA
The Saban Theatre was designed by Simeon Charles Lee and opened in 1930. It was originally named the Fox Wilshire Theatre. There was originally a huge, revolving "FOX" sign on top of the tower. The original paint scheme was buff, black and silver. The theatre closed in 1977. It is now used for live performances and special events. For more, see these websites: 1 and 2. [map]
Fine Arts Theatre
Beverly Hills, CA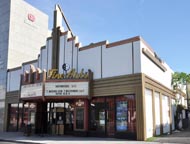 The Fine Arts Theatre opened in 1937 as the Wilshire Regina Theatre. In 1948, it was renamed the Fine Arts Theatre. There was a tall blade sign installed above the marquee which is gone now. In 2015, it became the Ahrya Fine Arts Theatre. For more, see these websites: 1 and 2. [map]
Brawley Theatre
Brawley, CA
The Brawley Theatre opened in 1922 as the Belvedere Theatre. It was renamed Brawley Theatre in 1929. It closed in 1979 after an earthquake. In 2013, restoration of the building began. It was renamed the Brawley Playhouse Theatre. For more, see these websites: 1 and 2. [map]
Delta Theatre
Brentwood, CA
The Delta Theatre was built in the 1930s as a live venue and movie theatre. In the early 1990s, the auditorium was divided into two theatres. Since 2000, it has been known as the CineLux New Delta Theatre. For more, see these websites: 1 and 2. [map]
Hyatt Cinema
Burlingame, CA

2008:
2014:
The Hyatt Cinema was built in 1964 as the Hyatt Music Theatre which was a theatre-in-the-round for live musical productions. It was designed by Raney & Blunk. In 1966, the building was converted into the Hyatt Cinema, a movie theatre. It closed in 2007. With the exception of two small restaurants (Checko's Cafe and Caribbean Gardens), I believe the building remains vacant. For more, see these websites: 1 and 2. [map]
RoadsideArchitecture.com

Copyright. All photos at this website are copyrighted and may only be used with my consent. This includes posting them at Facebook, Pinterest, blogs, other websites, personal use, etc.

Tips & Updates. If you have suggestions about places that I haven't covered, historical info, or updates about places/things that have been remodeled or removed, I'd love to hear from you: roadarch@outlook.com.