(hit "refresh" to get the most recent version of this page; click on photos for larger images)
Bob's Drive-in
Lindsay, CA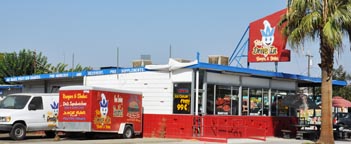 Bob's Drive-in is probably from the 1950s or 1960s. The sign was repainted sometime after 2008. For more, see this website. [map]
Fantastic Burgers
Long Beach, CA
The Fantastic Burgers building looks to be from the 1950s or 1960s. [map]
Tom's Burgers
Long Beach, CA

Tom's Burgers is just south of Fantastic Burgers described above. It also appears to be from the 1950s or 1960s. [map]
Scenic Drive-in
Modesto, CA
The Scenic Drive-in opened in 1956. The owner bought the dog sign from another business and added it to the text sign in 1963. The dog is outlined with white neon. His eyes are yellow and his mouth is red. "Scenic" is lit in green while "Drive-in" is lit with red neon. [map]
Gillman's Frosties
Oakdale, CA

2014:
2017:
Gillman's Frosties opened in 1955. These photos are from 2014. The building and sign were repainted around 2015. In 2017, the sign blew off the roof in heavy winds. It was replaced with a new one. [map]
former Mel's Drive-in
Oakland, CA
This former Mel's Drive-in now houses a hair salon and a dentist's office. [map]
Grinder Haven
Ontario, CA

2008:
2013:
Grinder Haven opened in 1958 as D'Elia's Grinder Haven. The sign's blue paint has faded to green. Sometime after 2016, the sign was painted a darker green and the neon removed. The place closed soon after that. In 2019, the sign's neon was removed and the panels were repainted and adapted for a taco shop. The building is still there. [map]
Gene's Drive-in [gone]
Redding, CA
Gene's Drive-in opened in 1954. The sign used to read "19 cents" over the criss-crossed neon in the center of the sign. Gene's closed in 2017. The building was demolished in 2018. The sign will be restored and installed at the Redding Dragstrip. For more, see these websites: 1 and 2.
George's Drive-in
Riverside, CA
George's Drive-in opened in 1955. The sign is from 1957. This sign in San Bernardino, CA appears to be a match. For more, see this website. [map]
RoadsideArchitecture.com

Copyright. All photos at this website are copyrighted and may only be used with my consent. This includes posting them at Facebook, Pinterest, blogs, other websites, personal use, etc.

Tips & Updates. If you have suggestions about places that I haven't covered, historical info, or updates about places/things that have been remodeled or removed, I'd love to hear from you: roadarch@outlook.com.