(hit "refresh" to get the most recent version of this page; click on photos for larger images)
Plata's Mexican Restaurant
Lenwood, CA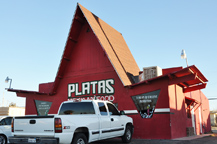 There are three Plata's Mexican Restaurant locations around Barstow. This is the original one. I don't know if this building was always Platas. [map]
Richmaid Restaurant
Lodi, CA

2008:
The Richmaid Restaurant was part of the Richmaid Ice Cream Co. which was founded in 1938. The original restaurant was a drive-in with car hops. The company moved here in 1944. It began large-scale production of its ice cream which was shipped all over the country. The restaurant is still open but the rest of the building is used for other things. The sign was repainted around 2011. The "Ice Cream" text was replaced with "Restaurant." For more, see this website. [map]
Dave's Burgers
Long Beach, CA
Dave's Burgers has been here since the 1950s. In 2012, the pole sign and clock were replaced with replicas. I think the building and awnings were spruced up then, too. [map]
George's 50s Diner
Long Beach, CA

2008 & 2013:
George's 50s Diner was built around 1953 as Grisinger's Drive-in. The building was designed by Wayne McAllister. There was originally car hop service. There were four locations built in Long Beach. This was the second one built. In 2016, a fire destroyed the restaurant interior. In 2018, it reopened. For more, see these websites: 1, 2, and 3. [map]
Thai Dishes
Manhattan Beach, CA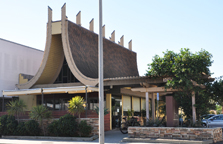 Thai Dishes opened in 1991. This building was constructed then to look like a typical Thai home. [map]
Peter's Cafe
Millbrae, CA
Peter's Cafe was built in the late 1950s or early 1960s as a Ken's House of Pancakes. There were other locations in Menlo Park, Mountain View, Vacaville, and Campbell, CA and Hilo, HI. [map]
El Capri [gone]
Morgan Hill, CA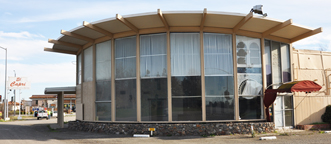 The El Capri Restaurant was built in the 1950s as the Capri BBQ Restaurant. The building had been vacant for many years. This photo is from 2014. By 2016, the building was gone.
former Tacos El Toro
North Hollywood, CA
2013:
2022:
Jim's Burgers
La Puente, CA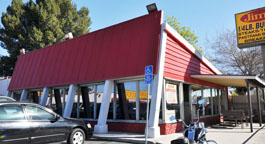 Tacos El Toro was built in 1963. By 2016, the building was housing a Middle Eastern restaurant. It now houses the Noho Cafe. [map]

This Jim's Burgers location is part of a chain. However, this building looks very much like the Tacos El Toro building. I don't know of any other Jim's with buildings like this. [map]
former Kwik Way Hamburgers
Oakland, CA

2008:
2014:

| | |
| --- | --- |
| 2018: | 2020: |
| | |
The Kwik Way Hamburgers chain was established in 1952. There were three Oakland locations. This one opened in 1956 and was the last one built. It was originally known as the Grand Lake Drive-in. It was later renamed the Kwik Way Drive-in. This was the sole surviving location when it closed in 2007. It reopened in 2011. In 2014, the name was changed to the Park Way Drive-in and the signs were adapted. It closed just a few months later and remained vacant. The neon letters were removed and are now in storage at Neon Works in Oakland. In 2016, the building reopened as the Merritt Bakery. In 2019, the place reopened as the Vegan Mob. For more, see these websites: 1 and 2. [map]
RoadsideArchitecture.com

Copyright. All photos at this website are copyrighted and may only be used with my consent. This includes posting them at Facebook, Pinterest, blogs, other websites, personal use, etc.

Tips & Updates. If you have suggestions about places that I haven't covered, historical info, or updates about places/things that have been remodeled or removed, I'd love to hear from you: roadarch@outlook.com.