(hit "refresh" to get the most recent version of this page; click on photos for larger images)
Chart House Restaurant [gone]
Rancho Mirage, CA
This Chart House Restaurant was designed by Kendrick Bangs Kellogg and built in 1978. This building was considered "organic" because of its low profile and the way it surrounded the hillside. Rock from the site was incorporated into the exterior and interior walls. The restaurant was home to Haleiwa Joe's Seafood Grill when these photos were taken in 2008. It later went by the name of GG's Island. In 2012, the building was severely damaged in a fire. It was demolished in 2013. For more, see these websites: 1 and 2.
La Rosita Drive Inn (now Starbucks)
Redlands, CA

2015:
2016: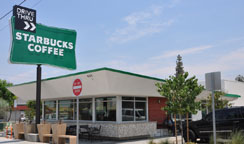 The La Rosita Drive Inn was built in 1960 as a Baker's Drive-in. This building also appears to have been inspired by the original McDonald's design. In 1965, it became Barry's Better Burgers. It opened as La Rosita in 1979 and then closed in 2014. In 2016, the building was demolished and replaced with a similar one for Starbucks. The original sign is underneath the new Starbucks panels. For more, see this website. [map]
Tony's On the Pier
Redondo Beach, CA
Tony's On the Pier opened in 1952 in a small shack. In 1961, the current restaurant was built. The upper octagonal structure was built in 1963 as the Top o' Tony's Bar. The restaurant became known as Old Tony's when they opened another location. That location, Tony's Fish Market, has since closed. The pole sign with the plastic balls is probably from the 1960s. The panel sign is probably modern or else it's been repainted and reworked. For more, see this website.
Jim-Denny's
Sacramento, CA
Jim-Denny's was established in 1934. The restaurant moved to this location in the 1940s. The interior features 10 stools. The restaurant is closing in 2020 and will be put up for sale. For more, see these websites: 1, 2, and 3. [map]
Pancake Circus
Sacramento, CA
The Pancake Circus opened in 1961 as Al & Bud's Platter. The building was designed by Sooky Lee. It has been the Pancake Circus since 1970. For more, see this website. [map]
Hana Tsubaki Restaurant
Sacramento, CA
Flapjacks Diner
Sacramento, CA
The Hana Tsubaki Restaurant has been here since at least the 1980s. I don't know if this was the original occupant. The building appears to be from the 1960s. [map]

Flapjacks Diner was built around 1966 as Sam's Big Top restaurant. It was the second building with this Armet & Davis design. The first building is gone now. This building later housed a Denny's, Walt's and then later Country Waffles. As Flapjacks Diner, the building was devastated by fire in 2016. It reopened in 2018. [map]
Gazzolo's Sausage Co.
Restaurant & Delicatessen
San Bernardino, CA
Pedro's Tacos
San Clemente, CA
Gazzolo's Sausage Co. Restaurant & Delicatessen has been here since at least the 1960s. [map]

The Pedro's Tacos building originally housed Hutton's Real Estate. It was designed in the mid-1950s by Hugh Kaptur. There were originally slanted beams in front of the building. For more, see this website. [map]
RoadsideArchitecture.com

Copyright. All photos at this website are copyrighted and may only be used with my consent. This includes posting them at Facebook, Pinterest, blogs, other websites, personal use, etc.

Tips & Updates. If you have suggestions about places that I haven't covered, historical info, or updates about places/things that have been remodeled or removed, I'd love to hear from you: roadarch@outlook.com.