(hit "refresh" to get the most recent version of this page; click on photos for larger images)
The Apple Pan opened in 1947. The restaurant is famous for its burgers and pies. The sign on the building might be original. This pole sign could be from the 1960s. For more, see this website. [map]
Astro Family Restaurant
Los Angeles, CA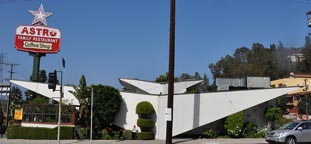 The Astro Family Restaurant was originally built as Donly's. It was designed by Armet & Davis and built in 1958. Before it became the Astro, the restaurant was known as Conrad's. For more, see this website. [map]
Carney's
Los Angeles, CA
Carney's
Studio City, CA
The Carney's restaurant in Los Angeles opened in 1975. The second location in Studio City opened later. The restaurants are housed in former Union Pacific Railroad passenger train cars. [Los Angeles map]; [Studio City map]
Chroni's Famous Sandwich Shop
Los Angeles, CA
2008:
2013:
Chroni's Famous Sandwich Shop opened in 1945. The restaurant moved to this location in 1953. The pole sign was brought with the business and installed here. It is about 15 feet tall. Originally, the dog's tongue lapped at the giant hot dog and his tail wagged. The neon tubing was removed around 1985. The sign was repainted in 2008 just after the photo above was taken. The owner considered replacing the neon. However, an estimate of $4,000 and the fear of vandalism prevented him from doing so. [map]
Clifton's
Los Angeles, CA
2012:
2015:
2019:
Clifton's was the second cafeteria built in Clifford Clinton's chain of eight theme restaurants. It was built in 1935. The restaurant was renamed Clifton's Brookdale in 1939. This is the only survivor of the chain and remains the largest cafeteria in the world. The restaurant closed in 2012 for renovations by a new owner. It reopened in 2015. The facade was restored and the forest themed interior was preserved. For more, see these websites: 1 and 2. [map]
RoadsideArchitecture.com

Copyright. All photos at this website are copyrighted and may only be used with my consent. This includes posting them at Facebook, Pinterest, blogs, other websites, personal use, etc.

Tips & Updates. If you have suggestions about places that I haven't covered, historical info, or updates about places/things that have been remodeled or removed, I'd love to hear from you: roadarch@outlook.com.