(hit "refresh" to get the most recent version of this page; click on photos for larger images)
Rock & Roll Diner
Oceano, CA
The Rock & Roll Diner was built with two former Amtrak train cars around 1978. One was a Pullman dining car from 1946 and the other was a Budd Car lounge car from 1947. The original name of the restaurant was the Oceano Railroad Company. For more, see this website. [map]
Flying Bridge Restaurant
Oceanside, CA
The Flying Bridge Restaurant was built in 1956 as Coffee Dan's. There were other Coffee Dan's locations in Southern California, San Francisco, Phoenix, and Albuquerque. Originally, the Flying Bridge Room was the cocktail lounge area of Coffee Dan's. Later, the name of the entire establishment was changed to the Flying Bridge. The restaurant closed in 2008 and it has been vacant since then. There were plans to demolish the restaurant and adjacent motel for a new Hyatt Hotel. However, that deal fell through and, in 2013, a new owner signed a ten-year lease. As of 2015, the building stills remains vacant. The Guesthouse Inn is now known as the Rodeway Inn. In 2019, plans were approved by the City to build a new hotel on the property. This building will probably be demolished in 2020. [map]
Gorilla Barbeque
Pacifica, CA
P-Town Coffee and Tea
Pacifica, CA
This property was used by the Ocean Shore Railroad as the Vallemar station from 1905-1921. The station itself was adapted as a restaurant. I believe both of these train cars were brought from other locations and never actually used here.

The Gorilla Barbeque opened in 2006. It is housed in a railroad boxcar. It housed the Commuter Express restaurant in the 1990s. [map]

P-Town Coffee and Tea is just a tiny bit north of Gorilla Barbeque. It is housed in a caboose and has been a coffee business since 2011. It housed a gift shop in the 1990s. The caboose was built in 1935. [map]
Elmer's Restaurant
Palm Springs, CA
The first Elmer's Restaurant opened in Portland, OR in 1960. There are now 24 locations in Oregon, Washington, and Idaho. This is the only location in California. The building appears to be from the 1950s or 1960s -- or at least built in that style. I don't know if there was another restaurant here originally. [map]
former Black Oak Pancake House
Paso Robles, CA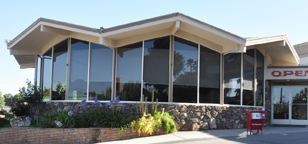 The former Black Oak Pancake House appears to be from the 1960s. The building now houses Margie's Diner. For more, see this website. [map]
former O'Neill's Streamline Diner
Perris, CA
O'Neill's Streamline Diner was originally located north of Perris. The main section of the restaurant was built from a 1906 Santa Fe passenger car. The nose was added to make it look like a 1930s Union Pacific passenger train. It closed in 1943 and was moved further south. In 1948, it reopened as the Liberty Bell Cafe. That restaurant closed in 1982. In 1987, the building was moved to the Orange Empire Railway Museum where it is located today. [map]
Dal Rae Restaurant
Pico Rivera, CA

2008 and 2012:
2014:
The Dal Rae Restaurant opened in 1958. In 2014, the neon letters on the tall sign was replaced with backlit plastic. The smaller parking sign was replaced with a new one with a backlit plastic panel. There was another Dal Rae downtown location which opened in 1951. That location closed in 1968. For more, see these websites: 1, 2, and 3. [map]
former Mission Family Restaurant [gone]
Pomona, CA
The Mission Family Restaurant was built as the Hull House Restaurant in 1958. It became the Mission Family Restaurant in 1971. The restaurant closed in 2013. The property was fenced off in 2014-2015 in preparation for bulldozing. The fencing was gone in 2016. In 2018, it was announced that the building would soon house a 7-Eleven store and that 75% of the exterior would be preserved. However, in 2020, the building was severely damaged in a fire and was demolished.
Magic Lamp Inn
Rancho Cucamonga, CA
| | |
| --- | --- |
| | |
The Magic Lamp Inn sign is believed to be the only one in the country featuring a real gas flame. Lucy and John's Italian restaurant was built in 1941. It closed in 1955 after a devastating fire. The building was then sold to John Clearman, famous later on for his North Woods Inn chain in Southern California. Three of these restaurants with faux snow-covered roofs are still operating. Clearman took the burnt shell of the Lucy and John's building, remodeled it, and opened it as the Magic Lamp Inn in 1957. The building was faced with brick and Spanish tile was added to the roof. The interior was styled as a Bavarian steakhouse with dark wood and upholstered booths. The Lucy and John's rooftop sign was adapted with the new name. The new sign in the shape of an Aladdin's lamp was installed. Instead of the steel oil lamp's spout springing forth a genie, it features an actual gas flame. The sign is inspected annually by the fire department for gas leaks and safety. The sign is turned on and off manually each night with two switches: one for the neon and the other for the flame. For more, see these websites: 1 and 2. [map]
RoadsideArchitecture.com

Copyright. All photos at this website are copyrighted and may only be used with my consent. This includes posting them at Facebook, Pinterest, blogs, other websites, personal use, etc.

Tips & Updates. If you have suggestions about places that I haven't covered, historical info, or updates about places/things that have been remodeled or removed, I'd love to hear from you: roadarch@outlook.com.