(hit "refresh" to get the most recent version of this page; click on photos for larger images)
Vince's Spaghetti
Ontario, CA
Vince's Spaghetti opened in 1945. This sign is probably from the 1950s. For more, see this website. [map]
Custom RV Sales
Ontario, CA
Thunderbird Lanes
Ontario, CA
The Custom RV Sales sign previously advertised for Carl's Acres of Trailers. It now advertises for Stellar Trailers. I believe this sign was originally built in the late 1960s or early 1970s for Bonanza Homes, a nationwide mobile home dealership. There are only about six surviving signs like this left including this one in Sulphur Springs, TX. There is an abandoned one in San Bernardino in very bad shape. This sign in Ontario is the best-preserved one remaining. The top part of the sign, above the cowboy's waist, originally revolved. For more, see this website. [map]

This Thunderbird Lanes sign has a 17-foot-wide wingspan. It was originally installed on an 80-foot-tall pylon. The Thunderbird Lanes was built in 1960 and closed around 1991. It was demolished in 1996 but this sign was saved. It is now located at the Museum of History and Art in Ontario. For more, see this website.
Selman Chevrolet
Orange, CA
Angel Motel
Orange, CA
South Side Market
Orange, CA
The Selman Chevrolet sign is probably from the 1950s or 1960s. [map]

The Angel Motel sign appears to be from the 1950s. For more, see this website. [map]

The South Side Market building has been vacant since at least 2008. The sign is probably from the 1950s. The sign was removed around 2014 and restored. It was previously painted brown. [map]
Rod's Plaza Beverages
Orange, CA
The Rod's Plaza Beverages liquor store opened in 1949 and closed in 2020. The building now houses Bosscat Kitchen & Libations but the signs have been kept in place. For more, see this website. [map]
Orange Cove Hardware [gone]
Orange Cove, CA

This Dutch Boy Paints sign at Orange Cove Hardware was located around the corner and down the block. I assume that it was located on front of the building originally. I had not seen another Dutch Boy Paints sign with the letters mounted on rails like this. Usually, the business name was located where this sign reads "Dutch Boy Painter Products." This photo is from 2014. The sign was removed in 2016 when the store closed.
Williams TV
Oroville, CA
City of Paris
Oroville, CA
The Williams TV sign appears to be from the 1950s. [map]

The City of Paris department store opened in 1920. Although the store is long gone, this sign remains. It is probably from the late 1920s or 1930s. It was removed in 2022 to be refurbished and later reinstalled. [map]
Wagon Wheel Bowl [gone]
Oxnard, CA
Wagon Wheel Restaurant & Motel [gone]
Oxnard, CA

2012:
2023: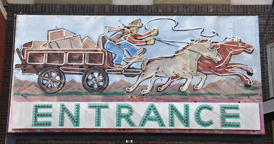 The Wagon Wheel Bowl was designed by Arthur Froehlich and built in 1953. When it closed in 2015, it was the last business still operating which was part of Wagon Wheel Junction. The Wagon Wheel Restaurant & Motel sign panels with the coach and horses came from the Tom-Tom Club which had operated in Oxnard, CA.

The 40-acre Western-themed complex was built in the 1940s. The other buildings, including the Wagon Wheel Restaurant & Motel, were built in 1947. The restaurant closed in 2005 and the motel in 2006. These buildings remained vacant until 2011 when they were demolished. The bowling alley continued operating until 2015. It was demolished in 2016. Other previous businesses at Wagon Wheel Junction included the Roller Gardens roller skating rink, a shopping center, the Wagon Wheel Steakhouse, the El Ranchito Mexican Restaurant, and the tiki style Trade Winds Restaurant.

Both of these signs were removed in 2016. In 2023, one of the coach and horses panels was repainted and installed over a brewery entrance at the new development. I don't know where the other panel and bull nose are. The upper text panels are in storage at the Valley Relics Museum in Van Nuys, CA. The Wagon Wheel Bowl sign is believed to be in storage. The complex once had a huge, animated Wagon Wheel Junction sign shaped like a wagon wheel next to Highway 101. That sign has been gone since around 1980. For more, see these websites: 1 and 2.
Winters Tavern
Pacifica, CA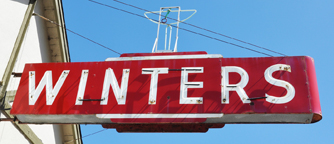 The Winters Tavern sign may be from the 1940s or 1950s. For more, see this website. [map]
U Save Liquor
Pacifica, CA

This U Save Liquor store was part of a chain with about 50 locations in northern California. This sign is probably from the 1960s. There are similar signs at other locations in Fresno, Merced, Redwood City, San Jose, and Vacaville. [map]
Drugs
Palm Springs, CA
This Drugs sign is located in the lobby of the Parker Hotel. The sign was purchased at an auction in the Midwest. It was probably built in the 1920s or 1930s. The letters are studded with glass, screw-in buttons which were backlit with bulbs originally. The sign has been updated inside and is now lit with a fluorescent tube.
Colt's Lodge
Palm Springs, CA
These modern female and male diver signs are located next to the pool at Colt's Lodge. Vintage signs with female divers indicated that a motel had a pool.
Cardinal Hotel
Palo Alto, CA
The Cardinal Hotel was built in 1924. There were originally two rooftop signs and a projecting sign on the side of the building at the ground floor. This canopy sign may have been installed then or shortly thereafter. The vertical sign and the neon on the side of the building may have gone up decades later. There were originally small, horizontal panels at the top of the vertical sign that read "New." For more, see these websites: 1, 2, 3, and 4. [map]
RoadsideArchitecture.com

Copyright. All photos at this website are copyrighted and may only be used with my consent. This includes posting them at Facebook, Pinterest, blogs, other websites, personal use, etc.

Tips & Updates. If you have suggestions about places that I haven't covered, historical info, or updates about places/things that have been remodeled or removed, I'd love to hear from you: roadarch@outlook.com.