(hit "refresh" to get the most recent version of this page; click on photos for larger images)
The photos on this page were moved here from my Signs section to accompany an article which I wrote for the Society for Commercial Archeology's Journal magazine. This page and article provide information about and examples of vintage signs with depictions of working men.
C.W. Services
Long Beach, CA
Pool's Welding
Milan, IL
The C.W. Services sign previously advertised for Bill Williams Welding which opened in 1945. The sign may have been built then. C.W. Services bought the business in 2001. The sign has not been lit since at least that time. There are no plans to restore it. The sign is about ten feet tall and is perched on top of a billboard installed on the roof. [map]

Pool's Welding was established in 1975. This sign might be from then. [map]
Capital Industries
Seattle, WA
2008:
2015:
Capital Industries was established in 1953. This sign was built by the National Sign Corporation in the late 1950s. It was originally a revolving pole sign. The text on one side read "Capital Industries" while the other side read "Metal Fabricators." The panels are about 12 feet wide. It is unknown if the neon sparks emitting from the welder's torch were ever animated. The sign was moved a couple of times before it stopped revolving in the early 2000s. In 2014, the sign was removed from the pole and rebuilt for about $50,000. National Sign created new aluminum panels and added new neon tubing. The sign was installed as two separate panels on the sides of the Capital's buildings. [map]; [map]
Sheet Metal Service Co. [gone]
Oklahoma City, OK
2006:
2011:
The neon Sheet Metal Service Co. sign was built in 1949 and featured an animated hammering man. Sometime after 2006, it was replaced with this plastic box sign. The neon sign is now at the Hard Rock Casino in Tulsa, OK. The man on the sign has been reworked so that he now lifts a beer mug to his lips.
Palace Shoe Service
Rockford, IL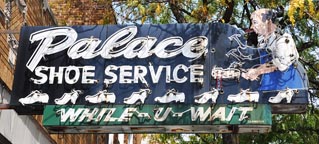 Palace Shoe Service was established in 1926. The name came from the nearby Palace Theatre which was demolished in 1984. This sign was built in 1950 and is about eight feet wide. It was moved from the store's previous location to the current one. The cobbler on the sign represents the owner at that time, John Antunicci. When the sign was lit, the cobbler's arm moved in three-part animation. Two red neon sparks lit up when the hammer hit the shoe. The current owner has received estimates of $15,000-$20,000 to restore the sign which is way than he can afford. [map]
Wink's Shoe Repair
San Diego, CA
2014:
2018:
The Wink's Shoe Repair sign was built in 1949. It features an animated, hammering elf. When the hammer hit the shoe, neon sparks flew, and the elf reacted by closing his eye. The "winking" eye was a recessed, small light bulb that flashed on and off. In the 1950s, Wink's had 30 locations. This sign was moved to its current spot in 1960. After 1962, the store operated under different names: Dituri's Shoe Repair, the Shoe Palace, and, finally, Chito's Shoe Repair. In 2014, Chito's relocated nearby. The sign had been declared a historic resource and could not be moved to Chito's new location. The owner of Chito's had a new neon sign built for the window. The sign is mounted on a plastic sheet. It was never animated but had multi-colored neon. It is no longer lit.

The Wink's sign was removed in 2015 for restoration. It was reinstalled in 2016 where it now hangs above Holsem Coffee. The sign is on a timer and is lit at night with yellow, red, white, pink, green, and blue neon. However, the eye is static now and the three-part animation is much slower than it was originally. For more, see this website. [map]
Braunger
Steak Company
Sioux City, IA
Mid-State Meat Co.
Bend, OR
When the Braunger Steak Company moved to its current location around 1982, the sign from the previous tenant was adapted. It originally had oranges, bananas, and other produce. The butcher was modeled after the store's owner, Paul Braunger. The sign is still lit with the butcher's knife chopping in three-part animation. The neon colors are white, red, pink, yellow, and blue. In 2012, the readerboard beneath the sign with manually changeable letters was replaced with a digital display. For more, see this website. [map] The Mid-State Meat Co. building was constructed in 1935. This sign appears to be from the 1950s. It is believed that the company closed in the 1980s but this sign remains. It was most likely built as a projecting sign since the panel against the building appears to be navy blue porcelain enamel like the one which faces the street. The text panel is about 12 feet long while the panel with the butcher sawing a beef shank is about four feet tall. The tubing holes indicate that this sign was never animated. This sign is not landmarked in any way and could disappear at any time. For more, see this website. [map]
Dellert's Paint Company
Springfield, IL
The Dellert's Paint Company was established in 1943 and this sign was installed by 1944. It was designed by the owner, Paul Dellert. The sign is about 16 feet wide. The painter's arm moves in two-part animation. The neon has always been maintained. For more, see this website. [map]
Scarborough Lumber & Building Supply
Boulder Creek, CA
2008:
2014:
2020:
The Scarborough Lumber & Building Supply sign is believed to have been built in the 1940s for Santa Cruz Lumber. In 1985, the store became Scarborough Lumber and the name on the sign was changed at that time. It was an easy fix to change the names since the names were so similar. The original tubing holes were used. In 2008, the sign was repainted and the neon was restored. However, it was only lit for a few years. The owner became frustrated with the transformers which kept blowing out. When the sign operated, the neon was static. The bulbs on the chainsaw were lit sequentially to create the appearance of movement. The sign is about 15 feet wide. In 2020, the sign was being restored again. When these photos were taken, the bulbs and neon tubing had not been installed yet but the panels had been repainted. The neon and bulbs were still missing in 2021. For more, see this website. [map]
Hamilton Lumber
Stanwood, WA
Sawmill Saloon
Virginia, MN
Lumberjack Tavern [gone]
Orick, CA
The Hamilton Lumber rooftop sign was probably built in the 1950s. When the business moved to its current location in 1962, the sign was brought along. The sign is about seven feet wide. At night, the sign is lit with red, green, and white neon. The man's arm, hand, and saw cut the piece of wood in two-part animation. The sign was restored around 2000 by Meyer Sign of Mt. Vernon, Washington. [map]

The Sawmill Saloon opened in 1970. [map]

The Lumberjack Tavern housed the Hawg Wild Bar & Grill when this photo was taken in 2008. The neon martini was folded down. in 2016, the sign was removed and put in storage. The building is no longer used as a bar.
Franklin
Equipment Rental
Chambersburg, PA
Diversified Exteriors
Parkesburg, PA
Strong
Mobile Homes
Erie, PA
AmQuip
Twin Oaks, PA
Franklin Equipment Rental features this larger-than-life painted sign near the store's entrance. [map]

This Diversified Exteriors sign looks like a new one. However, the roofer might be from an older sign. It appears that his arm used to move up and down. [map]

Strong Mobile Homes was established in the early 1940s. This sign is believed to be from the late 1950s. The sign was moved to this location around 1981. The vacuum form plastic panels on the top of the sign were replaced at that time. The original panels depicted an older model mobile home and had neon. The metal, strong man panels are original. James Blose, a local junior high school teacher, was the model for the strong man. This photo is from 2010. In 2017, the strong man was repainted. [map]

This AmQuip sign is visible from I-95. AmQuip is a crane rental company. Does anyone know how long this sign has been here? [map]
Giles & Ransome
Bensalem, PA
Giles & Ransome sells and services construction equipment. This sign was made in the late 1940s for the company's headquarters in Philadelphia. In 1960, the sign was moved to Bear, DE but was vandalized and removed. It was restored in 1999 by Len Davidson and is now at the company's suburban Philadelphia facility, visible from the Pennsylvania Turnpike. The porcelain enamel sign panels are 9 feet by 13 feet. There are 90 neon tubes and 16 transformers. The complex animation features a driver shifting gears. The Caterpillar tractor's treads also move. For more, see this website. [map]
More Working Men Signs:
Caruso's Restaurant (Tucson, AZ)
Bun-N-Burger (Alhambra, CA)
Midway Building Materials (Glendale, CA)
Piedmont Lumber: 1, 2 (Lakeport, CA) [gone]
Canter's Delicatessen (Los Angeles, CA)
janitor (Los Angeles, CA)
Supply Sergeant (Los Angeles, CA)
French Cleaners (Oakland, CA)
Original Kasper's Hot Dogs (Oakland, CA)
Gunther's Ice Cream (Sacramento, CA)
Sam's Hof Brau (Sacramento, CA) [gone]
Peninsular Pest Control Service (Jacksonville, FL)
Kahlbach Oil (Menlo, IA)
Wolf's Bakery (Evergreen Park, IL)
Hi-Way Bakery (South Chicago Heights, IL)
Oyster Bar (Fort Wayne, IN)
Crystal Preserves (New Orleans, LA)
Butcher Boy (Malden, MA) [private collection]
Hawkes Plaza (Westbrook, ME)
Marcel's Flower Shop (Detroit, MI) [gone]
Dawn Donuts (Flint, MI)
Ross Miller Cleaners (Kansas City, MO)
Federhofer's Bakery (St. Louis, MO)
Timber Bar: 1, 2 (Big Timber, MT) [map]
Master Cleaners (Albuquerque, NM) [gone]
Roswell Motor Supply (Roswell, NM)
Rio Pecos Ranch Truck Terminal (Santa Rosa, NM)
Anderson Dairy (Las Vegas, NV)
Pabst Blue Ribbon (Las Vegas, NV) [gone]
Mello-Creme Donuts (Lima, OH)
Friedman's Army Navy Store (Nashville, TN)
Smitty's Body & Glass (Parsons, TN)
baker (Austin, TX) [private collection]
Esquire Cleaners (Dallas, TX) [gone]
England Plumbing Supply (Salt Lake City, UT)
Dixie Photo Shop (St. George, UT)
Master Muffler (various cities, UT)
C.F. Sauer Company Extracts (Richmond, VA)
McGavin's Bakery (Bremerton, WA)
Jim's Shoe Repair (Calgary, AB) [gone]
Aacson Industries (Chilliwack, BC)
Chez Plumet (Canton-de-Granby, QC)

Pizza Chef signs (various locations)
Pancake signs (various locations)

If you know of any signs with depictions of working men that are missing from this page, I'd love to hear from you.
RoadsideArchitecture.com

Copyright. All photos at this website are copyrighted and may only be used with my consent. This includes posting them at Facebook, Pinterest, blogs, other websites, personal use, etc.

Tips & Updates. If you have suggestions about places that I haven't covered, historical info, or updates about places/things that have been remodeled or removed, I'd love to hear from you: roadarch@outlook.com.