(hit "refresh" to get the most recent version of this page; click on photos for larger images)
Cole's French Dip
Los Angeles, CA

2012 and 2014:
2022:
Cole's French Dip opened in 1908. These signs are probably from the 1950s. They were restored in 2008. The sign reads "Originators Since 2008" under the "Since 1908" add-on panel. However, I believe the panels originally read "Checks Cashed" in that spot. In 2022, a replica of the projecting sign was built and installed. The sign on the building was removed in 2022 and is supposedly being restored. For more, see these websites: 1 and 2. [map]
Pig 'N Whistle [gone]
Los Angeles, CA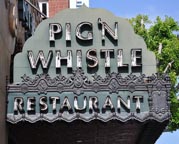 The Pig 'N Whistle opened in downtown Los Angeles in 1908. This Hollywood location opened in 1927. I believe this canopy is the original. However, the "Pig 'N Whistle" panel was replaced at some point and the lettering was redone. The "Restaurant" part of the sign originally read "Cafe". In 2021, the restaurant closed and the building was being renovated for Mr. Tempo. Despite landmarking, the letters and signs were all removed. Some of the letters are now at the Valley Relics Museum. For more, see this website. [map]
Dallas Drive-in Cleaners
Los Angeles, CA
2008:
2013:
The Dallas Drive-in Cleaners sign had been stripped of neon and bulbs by 2008. By 2013, it had been repainted for a barber shop.
Capri Restaurant
Los Angeles, CA
Commercial
Exchange Building
Los Angeles, CA
Hotel Clark
Los Angeles, CA
De Mille Manor Apartments
Los Angeles, CA
The Capri Restaurant opened in 1963. This sign was probably adapted from an earlier Italian restaurant at this location. [map]

The Commercial Exchange Building was built in 1924. The 12-story-tall sign, believed to be the tallest in Los Angeles, was installed then. The sign was restored around 2016. This photo is from 2019. [map]

The Hotel Clark was built in 1914. This sign was probably added in the 1930s or 1940s. There were also rooftop, neon scaffold signs which are long gone. The building was used for low-rent housing for decades. It became a hotel again in 2019. For more, see this website. [map]

The De Mille Manor Apartments were built in 1926. This sign is probably from then or shortly thereafter. [map]
Million Article Thompson
Los Angeles, CA

2013:
2019: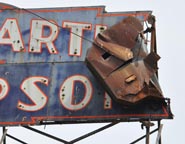 Million Article Thompson was a hardware store. The store is long gone but the sign remains. The sign was installed in 1932. Around 2019, the right panel's right side was damaged, possibly by wind. For more, see this website. [map]
Weber Baking Co.
Los Angeles, CA
Golden Gopher
Los Angeles, CA
This Weber Baking Co. sign is mounted on the roof of the company's former bakery. The sign was built in the 1950s. It measures approximately 28 feet by 19 feet and originally flashed with bulbs and neon. For more, see this website. [map]

The Golden Gopher opened in 1905 as the Golden Sun Saloon. It reopened in 2004 as the Golden Gopher. I assume this entire sign is from then. [map]
Broadway Bar
Los Angeles, CA
The Broadway Bar opened in 2005. This sign is modern. [map]
Philippe the Original
Los Angeles, CA
Philippe the Original was established in 1908. The restaurant claims to have invented the French Dipped sandwich, by accident, in 1918. These signs were probably built in 1927 when new owners took over the restaurant. In 1951, the restaurant moved and brought these signs along. There is also a parking sign on the side of the building and a neon clock inside. For more, see these websites: 1 and 2. [map]
RoadsideArchitecture.com

Copyright. All photos at this website are copyrighted and may only be used with my consent. This includes posting them at Facebook, Pinterest, blogs, other websites, personal use, etc.

Tips & Updates. If you have suggestions about places that I haven't covered, historical info, or updates about places/things that have been remodeled or removed, I'd love to hear from you: roadarch@outlook.com.