(hit "refresh" to get the most recent version of this page; click on photos for larger images)
Poor Red's Bar-B-Q
El Dorado, CA
2014:
2017:
Poor Red's Bar-B-Q opened in 1948. This sign may be from then. The sign was restored in 2016. For more, see this website. [map]
Rancho Liquors [gone]
El Sobrante, CA
Oaks Club Room Parking
Emeryville, CA
Rancho Liquors opened in 1950 as Tom's Liquors. It became Rancho Liquors, a bar and liquor store, in 1961. This sign is probably from then. It was repainted from red to brown in 2008. Around 2015, the letters, gun, and bullets were removed from the sign. As of 2016, the panels are still but the neon is gone and they have been painted over.

The Oaks Club Room Parking sign appears to be from the 1960s. [map]
These signs at the Neon Works sign shop have been collected over the years by Jim Rizzo. I believe all of them were originally installed in San Francisco. For more, see this website.
Delco Tire Co.
Encino, CA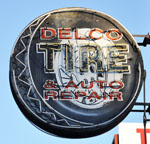 The Delco Tire Co. was originally known as Delta Tire. The name was changed around 1970. For more, see this website. [map]
Valley Inn
Escalon, CA
Escalon Club [gone]
Escalon, CA
Bender's Escalon Home Bakery
Escalon, CA
Holiday
Wine Cellar
Escondido, CA
The Valley Inn bar opened around 1929. By the early 1950s, there was a rectangular sign with a neon cocktail glass panel installed on top. The Valley Inn sign that is there now is probably from later in the 1950s. For more, see this website. [map]

The Escalon Club sign was installed by the early 1950s. The sign read "Bottle Shop" at the bottom which was later changed to "Coffee Shop". The bar closed in 1998 after the roof collapsed during a rainstorm. This photo is from 2008. The sign has been removed.

Bender's Escalon Home Bakery opened in 1931. This sign may have been built then. The "Restaurant" text originally read "Escalon" and there was a rectangular neon sign reading "Bender's" installed beneath this sign. An insurance agency has operated in the space since 1995 and the sign has been left in place. [map]

The Holiday Wine Cellar opened in 1965. This towering sign is probably from then. [map]
Deer Park Winery & Auto Museum
Escondido, CA
The Deer Park Winery & Auto Museum contains three buildings full of antique automobiles, vintage signs, and other collections. The winery was founded by Robert Knapp. His various collections were first put on display in 1979. Knapp added to his collections until his death in 2009. His son is still adding to the collections. For more, see this website.
RoadsideArchitecture.com

Copyright. All photos at this website are copyrighted and may only be used with my consent. This includes posting them at Facebook, Pinterest, blogs, other websites, personal use, etc.

Tips & Updates. If you have suggestions about places that I haven't covered, historical info, or updates about places/things that have been remodeled or removed, I'd love to hear from you: roadarch@outlook.com.