(hit "refresh" to get the most recent version of this page; click on photos for larger images)
The photos on this page were moved here from my Signs section to accompany an article that I wrote for the Society for Commercial Archeology's Journal magazine. The signs below are organized alphabetically by state.
Bonfire Club [gone]
Gordon, AL
Frick's Butane
Texarkana, AR
The Bonfire Club has been here since at least 1950. This photo was taken in 2010. The sign was still there by 2017 but gone by 2020.

Frick's Butane was established in 1935. The company moved to its current location in 1956. This sign appears to be from the 1960s. [map]
The Flame
San Diego, CA
2014 and 2016:
2020:
2021:
The Flame opened around 1954. There was a different sign with a larger flame there originally. The Garden of Allah, an Egyptian themed restaurant, operated on this site in from 1946-1954 when it was destroyed by a fire. "The Flame" was a reference to that fire. The building's facade was remodeled in 1955 to its current look. This sign was also installed then. In 1984, it became a lesbian bar. I believe this bar closed in 2013. In 2017, the sign was removed while the building was remodeled to add apartments above the bar. The sign was reinstalled around 2020. For more, see this website. [map]
Torch
Room Lounge
Norwalk, CA
Blue Flame
Pico Rivera, CA
Atlanta Gas
Light Company
Macon, GA
Coker Fuel Inc.
Sebring, FL
The Torch Room Lounge sign might be from the 1950s or 1960s. [map]

This SoCalGas Blue Flame sign was originally erected in 1960 on top of the 13-story tall Southern Counties Gas Company building in downtown Los Angeles. At the same time, a giant neon flame was installed on the side of the building between the third and fifth floors. The 46-foot-tall, steel and acrylic rooftop flame was internally lit with neon. It was built by the Triple A Neon Co. In 1970, Southern Counties Gas merged with Southern California Gas, becoming SoCalGas. During the 1970s energy crisis, the flame sign was turned off. In 1986, it was restored and relit. Five years later, SoCalGas' headquarters moved and the sign was put in storage.

In 2012, the flame sign was installed at the SoCalGas training facility in Pico Rivera. Since the height of the sign violates the city sign code, a permit was obtained by declaring it an icon for which there is no height limit. It is set back from the street, at ground level, with an underground steel support structure. Before the installation, the T-Graphics Sign Co. replicated the faded acrylic faces and replaced the internal neon with LED bulbs. The sign is lit in the same four-phase, inside-to-outside, sequence as it was originally. For more, see these websites: 1, 2, 3, and 4. [map]

The Atlanta Gas Light Company was established in 1856. This location and sign may be from 1947. [map]

Coker Fuel Inc. was established around 1958. This sign was installed around 2012. I don't know if it was moved from somewhere else or if it was built as a new sign. [map]
Wimpee Fuel Oil
Jacksonville, FL
2009:
2021:
This Wimpee Fuel Oil sign is probably from the 1950s. In 2016, the sign was damaged in a hurricane and removed. It was still on-site and covered with a tarp in 2019. In 2020, a Florida Cracker Kitchen opened in the building. The sign is now displayed inside. [map]
Torch Lounge
Boise, ID

2014: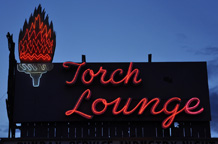 2022: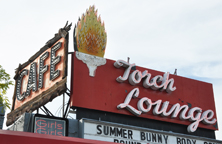 The Torch Lounge has been here since at least 1946. The business is now a strip club. The sign has apparently been reworked many times. The Torch Lounge sign panel was painted red around 2016. [map]
Grasso Plaza
St. Louis, MO
Dowdle Gas
De Kalb, MS
Dowdle Gas
Meridian, MS
Dowdle Gas
York, AL
The bottom part of the Grasso Plaza sign has been updated. The flame part of the sign is probably from the 1950s or so. For more, see this website. [map]

The Dowdle Gas was founded in 1956 in Columbus, MS. Over the years, more offices opened in Mississippi, Alabama, Tennessee, Georgia, and Florida. This sign was probably built in the 1960s. There are other signs like this in Louisville, MS, and probably a few others elsewhere. There were other signs in Columbus, MS; Tupelo, MS; Russellville, AL; Carbon Hill, AL; Philadelphia, MS; and probably elsewhere which are gone now. There's an adapted sign in Summerdale, AL. I don't believe any of these signs ever had neon. The Dowdle Gas Company was bought by Inergy in 2005 but the local offices continued to operate with the Dowdle name. Around 2014, these locations were sold to Suburban Propane. Most or all of these signs have been replaced with plastic box signs for Suburban Propane. The only surviving signs appear to be at vacant offices. [De Kalb map]; [Meridian map], [York map]
Mr. Barbecue
Winston-Salem, NC
Mr. Barbecue opened here in 1964. In the 1970s, the neon flame replaced a real gas-lit flame. [map]
Rochester Fire Equipment Co.
Rochester, NY
Fireside Inn
Reno, NV
The The Rochester Safety Equipment Company opened in 1943. The sign is most likely from 1956 when the business name was changed to the Rochester Fire Equipment Company. It may have been built by Electro-Ad. The sign's flames originally flashed on and off. However, that feature had to be stopped many years ago to comply with the city's sign code. This photo is from 2010. Around 2013, the sign was taken down and repainted by Nu-Lite Neon Sales & Services. The neon tubing was also replaced by E-Lite Neon Signs. The sign is still lit at night. There is also a neon "skeleton sign" in the window which reads "Fire Extinguishers." For more, see this website. [map]

The Fireside Inn was built in 1967 and this sign is from then. The flame has not been lit since at least 2010. It was probably never animated. [map]
Blue Flame Restaurant
Clairton, PA
The Blue Flame Restaurant signs are probably from the 1950s or 1960s. [map]
Flame Steakhouse
& Lounge
Aberdeen, SD
Summit Fire Protection
Sioux Falls, SD
Flame Steakhouse & Lounge opened in 1944. This flame sign is installed on top of a plastic readerboard sign. It might be from the 1960s. It looks like there might be an original panel under this one. [map]

The Summit Fire Protection sign is apparently modern. It was built for Sigler Fire Equipment Co. by 2009. Sigler was established in 1944. Summit bought out Sigler in 2019 and adapted the bottom part of this sign around 2021. [map]
Lone Star
Gas Company
Grand Prairie, TX
Lone Star Gas Co.
Hillsboro, TX
Beef House
Garland, TX
The Lone Star Gas Company in Grand Prairie opened here in 1962 and this flame-shaped sign was installed on the roof then. There were originally freestanding letters with the company's name along the building's roofline. The company moved in 2000 and left the sign behind. The sign was restored and declared a city landmark. The curved, three-sided flame is three feet tall. It originally revolved on its eight-foot-tall base. It may have also flashed or been lit in sequence. The sign is stationary now but is lit at night. [map]

This neon flame sign in Hillsboro appears to be identical to the one in Grand Prairie. This one must have also revolved. These signs were mass-produced for the Lone Star Gas Co.'s local offices. [map]

The Beef House restaurant sign has been here since around 1973. I believe this sign was built for the Steak House in Dallas, TX. The flame part of the sign originally revolved. [map]
El Paso
Natural Gas Company
El Paso, TX
Clem Mikeska's Bar-B-Q
Temple, TX
Cascade Natural Gas
Longview, WA (now Kelso, WA)
The El Paso Natural Gas Company "weather beacon" flame sign is identical to the one in Milwaukee, WI. They were built by the Federal Sign and Signal Company. The 21-foot-tall, plexiglass and steel signs were internally lit with 1,800 feet of neon in the same weather-forecasting color pattern. The El Paso sign was installed on top of the company's headquarters in 1955. The 18-story-tall building has been commonly referred to as the Blue Flame Building since then. Because El Paso's climate is fairly unvarying, the sign was most commonly lit in blue. When the sign was first installed, local advertising featured this poem: "When the flame is BLUE, no change is due. When the flame is RED, warmer weather's ahead. When the flame is GOLD, cooler weather foretold. A FLICKERING FLAME means probable rain."

In 1996, the company moved to Houston and the flame was turned off. From 2017-2020, the building was converted into low-income housing known as the Blue Flame Apartments. The flame was relit in 2021. It is now internally lit with 5,000 LED bulbs. For more, see this website. [map]

There are still a few other still-operating "weather beacon" signs in the country including the Weather Ball in Flint, MI.

Clem Mikeska's Bar-B-Q was established in 1965 in Temple. The restaurant moved to this location in 2008. This sign might be the original or a replica of it. There are two other locations now in Belton and Cameron, TX. [map]

The Cascade Natural Gas sign was installed at the Longview office in the late 1950s. Typical of the time period, it is a mixed media sign lit with neon and fluorescent tubing behind acrylic panels. It is about five feet in diameter and is believed to be a one-off sign. In 2019, the Longview office closed and the sign was removed. In 2020, it was restored and installed on a pole at the Kelso office.
JS West Propane
Sonora, CA
Blue Flame
Gas Service [gone]
Sault Ste. Marie, ON
Flames Eatery & Bar
San Jose, CA
JS West Propane was established in 1909. There are about 7 offices in Central California but I believe this is the only one with a neon flame sign. The sequentially lit flame is installed on top of a plastic panel sign with a readerboard. It is probably from the 1960s. For more, see this website. [map]

I can't tell if the Blue Flame Gas Service sign was modern or vintage. This photo is from 2011. By 2018, the sign was gone.

The Flames Eatery & Bar opened around 2007. The modern sign was built by the Arrow Sign Co. I believe it was installed after 2009. 1 and 2. [map]
More Flame Signs:
Torch Cafe (Tuskegee, AL)
Clark Gas Co. (Muscle Shoals, AL)
Arkansas Louisiana Gas Company Building (Pine Bluff, AR)
Screaming Banshee Pizza (Bisbee, AZ)
Rice Bowl Restaurant (Bakersfield, CA)
Crestview Lanes: 1, 2, 3 (Carmichael, CA)
Sequoia Gas Co. (Fortuna, CA)
Magic Lamp Inn (Rancho Cucamonga, CA)
Condes' Restaurant (Universal City, CA)
Firelite Shopping Center (Orange, CT) [gone]
Jimbo's Pit BBQ (Tampa, FL)
Dixie LP Gas (Martinez, GA)
BAC Cinema (Belleville, IL) [vintage; gone]
Klemm's Candlelite Cafe [map]
Decock Bottled Gas (Escanaba, MI) [gone]
Axel's Bonfire (St. Paul, MN) [gone]
St. Clair Broiler (St. Paul, MN) [gone]
Flame Theatre (Wells, MN)
Triangle Motor Inn (Jacksonville, NC)
The Flame (Las Vegas, NV)
Starfire Motel (North Tonawanda, NY)
Cotton-Eyed Joe's Barbeque (Claremore, OK)
Richardson Fuel Company (Nowata, OK) [gone]
Automatic Heat: 1, 2, 3 (Eugene, OR) [gone]
gas company (Portland, OR) [vintage; gone]
Equitable Gas Co. (Pittsburgh, PA) [vintage; gone]
Tiki Lounge (Pittsburgh, PA)
The Hearth Restaurant (Martin, TN)
Lone Star Gas (Dallas, TX) [gone]
Charcoaler Drive-in (El Paso, TX)
Lone Star Gas Company (Fort Worth, TX)
The Corral (Victoria, TX)
Lee's Mongolian Bar-B-Q (Ogden, UT)
Red Carpet Inn (Harrisonburg, VA) [gone]
Olympic Inn (Aberdeen, WA) [gone]
Flame Ballroom: 1, 2 (Seattle, WA)
Frontier Room (Seattle, WA) [gone]
Washington Energy (Seattle, WA)
Wisconsin Gas Building (Milwaukee, WI)
Steak Pit (Washburn, WI)

If you know of any other flame signs, I'd love to hear from you.
RoadsideArchitecture.com

Copyright. All photos at this website are copyrighted and may only be used with my consent. This includes posting them at Facebook, Pinterest, blogs, other websites, personal use, etc.

Tips & Updates. If you have suggestions about places that I haven't covered, historical info, or updates about places/things that have been remodeled or removed, I'd love to hear from you: roadarch@outlook.com.