(hit "refresh" to get the most recent version of this page; click on photos for larger images)
Watson's Drive-in
Denison, TX
Watson's Drive-in has been here since the mid or late 1950s. This restaurant was part of the Watsonburger chain established by Charlie Watson. The original location was in Denison but I don't know if this is same one. It does appear to be the oldest and the only one offering car hop service. There were at least three other Watsonburgers in Texas (Bonham, Garland, and Frisco) and another one in Oklahoma (Ardmore). All of those are gone now. For more, see this website. [map]
This Watsonburger was the 14th location in the chain. It is still operating. [map]
former Watsonburger
Sherman, TX

2011:
2018:

This Watsonburger was built in 1971. These photos are from 2011 just before this location closed. The building was still vacant in 2014. In 2015, Wannaburger? moved into the building. The roof was painted red and the striped rods on the roof were painted yellow making the building look a lot like a McDonald's. The sign was also adapted. [map]
former Watsonburger
Durant, TX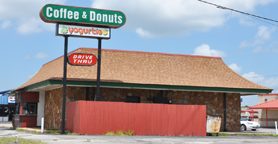 This former Watsonburger was still open in 2008 but vacant in 2013. By 2014, the building was housing Coffee & Donuts. [map]
Mr. Frosty
Denton, TX
Mr. Frosty opened in 1954 as the Frosty Drive N. In 1964, the walk-up stand was replaced with a new building to include indoor seating. There used to be a chicken car parked on the lot. The name was changed to Mr. Frosty around 2010. A neon root beer mug and burger sign was replaced with "Mr.". For more, see this website. [map]
Charcoaler Drive-in
El Paso, TX
The Charcoaler Drive-in was established in 1961. It was the first drive-in in El Paso with a speaker system. It had been at this location since 1976. In 2017, the drive-in closed. It was purchased by new owners and reopened later than year. In 2018, it was announced that the Charcoaler would be moving. Evidently, those plans changed. The Charcoaler is still operating at the same location. For more, see this website. [map]
Theo's Drive-in
Grand Prairie, TX
Theo's Drive-in opened in 1958. The restaurant features an interlocking canopy that has been there since the beginning. I have never seen another one like it. For more, see these websites: 1 and 2. [map]
Bun n Barrel
San Antonio, TX
Health Camp
Waco, TX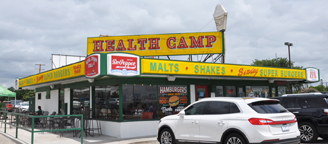 Mr. Burger
Beaumont, TX
Mr. Burger opened in 1962. I don't know if this drive-in was related to the Mr. Burger chain. The building under the canopy appears to be a bricked-up former Valentine Burger Bar model. By 2021, the Mr. Burger text panel was missing. [map]
Jaime's Dairy Treat
Richmond, TX
The Jaime's Dairy Treat opened in the 1950s. This sign appears to be from them. I don't know if this was the business' original name. The sign has obviously been repainted and had neon at one time. The building looks like another Valentine structure like the one shown at Mr. Burger directly above. [map]
former Mack Eplen's Drivateria
Abilene, TX
Mack Eplen's Drivateria opened in 1958. At that time, there were 21 ordering stations with an electronic ordering system. When the food was ready, customers would drive to the pick-up window. Apparently, this location added canopies later on and, most likely, car hops. In later years, the drive-in was known as the Briarstone Drivateria. The steeple-shaped building was apparently added later, most likely in the 1960s. The original building was box-like. The steeple is close in design to the pagoda roof that Kentucky Fried Chicken used but this one is much steeper. The building now houses the United Methodist Service Center. For more, see these websites: 1, 2, and 3. [map]

There was another Mack Eplen's Drivateria in town on Treadway Street which is gone now. That location was apparently the first one since it was housing Casey's 3-Way Drive-in by 1956. After Casey's, it was known as the Torch Drivateria. Before the Drivaterias, there was a Mack Eplen's Restaurant.
RoadsideArchitecture.com

Copyright. All photos at this website are copyrighted and may only be used with my consent. This includes posting them at Facebook, Pinterest, blogs, other websites, personal use, etc.

Tips & Updates. If you have suggestions about places that I haven't covered, historical info, or updates about places/things that have been remodeled or removed, I'd love to hear from you: roadarch@outlook.com.