(hit "refresh" to get the most recent version of this page; click on photos for larger images)
Cee N Dee's Bar-B-Que
Amarillo, TX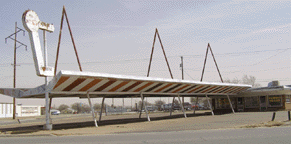 Cee N Dee's Bar-B-Que is long gone. Originally, this building was occupied by Twing's Drive Inn which opened in 1957. The three arches over the canopy are very similar to some used for some Whataburger locations. This photo is from 2006. The building behind the canopy now houses Dos Coronas Reyna De Cheladas. [map]
Sooner Dairy Lunch
Norman, TX
The Sooner Dairy Lunch opened in 1954. In 1958, the drive-in moved to this location. There were carhops originally. [map]
Snapka's Drive-Inn
Leopard St.
Corpus Christi, TX
Snapka's Drive-Inn
Weber Rd.
Corpus Christi, TX
The first Snapka's Drive-Inn opened in 1948. The Leopard St. location opened in 1953. The Weber Rd. location opened in 1956. There were two other locations which have closed. For more, see this website. [Leopard St. map]; [Weber Rd. map]
Top Notch Hamburgers
Austin, TX
Top Notch Hamburgers opened as Burkhart's Motor Dining in 1962. The building and canopy are from then. It became Top Notch in 1971 and a new sign was built. The restaurant still features car hops. For more, see these websites: 1 and 2. [map]
The Pig Stand drive-in chain was founded in Dallas in 1921. By 1925, there were six locations in Dallas. By the mid-1930s, there were more than 120 locations in Texas, California, Louisiana, Mississippi, New York, Florida, Oklahoma, Arkansas and Alabama. Facing competition from other fast food restaurants, all but the Texas locations were sold off. In 2006, all but one of the remaining dozen or so locations closed.
former Pig Stand #24
Presa St.
San Antonio, TX

2011:
2019:
The Pig Stand on Presa St. opened in 1922. The building has apparently been rebuilt or substantially remodeled since then. In the early 1990s, the owner discovered "The Big Pig" structure sitting in a junkyard. It was restored and moved to this location's parking lot. The Pig is 12 feet tall, seven feet wide, and 10 feet long. It is not known where the Pig was installed originally. Some believe it was originally built for a Pig Stand. Others believe it was used as a car hop shelter at another drive-in.

The Presa St. location closed in 2006. The building remained vacant until 2010 when Frank's Hog Stand took over. The place has housed several restaurants since then. By 2014, the Big Pig had eyes instead of holes. By 2018, the building was housing Burger Culture. That closed in 2019 and the building is vacant again. For more, see these websites: 1 and 2. [map]
former Pig Stand #41 [gone]
Beaumont, TX
The Pig Stand in Beaumont opened in 1941. It closed in 2006. These photos are from 2011. In 2014, the building was designated one of Texas' Most Endangered Places by Preservation Texas. The building remained vacant until it was demolished in 2016. The neon signs on the roof were saved by a collector. For more, see these websites: 1 and 2.
Mary Ann's Pig Stand [gone]
San Antonio, TX
Mary Ann's Pig Stand opened as Pig Stand #29 in 1927. Due to the construction of I-35, sometime after 1956, the restaurant was rebuilt at this location. When the restaurant closed in 2006, long-time employee Mary Ann Hill bought it. It reopened in 2007 and was the last operating Pig Stand. However, it closed in 2023. I believe the "Coffee Shop" sign, which is now in a private collection, came from a Kip's Big Boy. It appeared to be an exact match of this sign in El Paso. For more, see this website.
Keller's Hamburgers
Harry Hines Blvd.
Dallas, TX

2011:
Keller's Hamburgers
Northwest Highway
Dallas, TX
This Keller's Hamburgers on Harry Hines Blvd. opened in Dallas in 1950. The neon sign was built in the early 1990s to replace and simulate the vintage, damaged one. By 2014, this sign had been replaced with a backlit plastic letter sign. [map]

The Keller's Hamburgers on Northwest Highway still has the vintage sign. For more, see this website. [map]

The original location from 1950 closed in 2000. The other location on Garland Rd. appears to be a modern restaurant and does not have carhops and drive-in canopies.
Prince of Hamburgers [gone]
Dallas, TX
The Prince of Hamburgers claimed to be the oldest, continuously operating, drive-in in the country. They opened around 1927 and closed in 2005. The Prince featured car hops and homemade root beer. The sign and canvas awnings were saved by a private collector. The building was demolished and replaced with a strip mall. For more, see this website.
RoadsideArchitecture.com

Copyright. All photos at this website are copyrighted and may only be used with my consent. This includes posting them at Facebook, Pinterest, blogs, other websites, personal use, etc.

Tips & Updates. If you have suggestions about places that I haven't covered, historical info, or updates about places/things that have been remodeled or removed, I'd love to hear from you: roadarch@outlook.com.