(hit "refresh" to get the most recent version of this page; click on photos for larger images)
Hut's Hamburgers
Austin, TX
Hut's Hamburgers was established at a different location in 1939. This building was constructed in 1939 for "Sammie's Drive-In". In 1947 and 1954, dining rooms were added. The building was used by "Eli's Lounge" and "Picante Mexican Restaurant" from 1964-1969. In 1969, Hut's Hamburgers moved here. Hut's closed in 2019. In 2021, Sammie's Italian restaurant moved into the space. The building has been painted red and the sign was adapted. [map]
Dot Coffee Shop
Houston, TX
The Dot Coffee Shop opened in 1967. The roofline and sign must have been modeled after Denny's restaurants. This sign was removed in 2017 during highway expansion. It was back in 2018. For more, see these websites: 1 and 2. [map]
Vick's Famous Hamburgers [gone]
Corpus Christi, TX
Burger Bar
Cleburne, TX
Vick's Famous Hamburgers was established in 1976. There are two locations but I don't know which one was built first. The peak on this roof was similar to Pizza Hut's buildings. However, the peak was too tall and the building too small. In 2018, Vick's moved to another location and this building was demolished.

The Burger Bar opened here in the 1950s. The Coca-Cola bottle and hamburger signs cover up what is probably the former business' sign. Before Burger Bar opened, the building housed a taxi stand and a used car office. [map]
El Hut Cafe
El Paso, TX
former Wimpy's Hamburgers
Amarillo, TX
I don't know what restaurant the El Hut Cafe building housed originally. It housed the Caribe Mariscos restaurant until around 2015. This photo is from 2017. [map]

This former Wimpy's Hamburgers building was constructed in 1963. It now houses Gorditas El Comal. A very similar building houses a Wimpy's Grill in Durham, NC, now remodeled. [map]
Melios Brothers Char Bar
Dallas, TX
former Horne's
Gainesville, TX
The Melios Brothers Char Bar was built as the Char Bar in 1969. The Melios name was added in 1971. The restaurant closed in 2019. The building now houses Son of a Butcher. [map]

This former Horne's would have had a yellow roof originally. This location was built in the late 1960s or early 1970s. There were five other locations in Texas. This location had probably closed by the mid-1980s. It later houses The Warehouse, a flea market. The building has been vacant since at least 2006. For more about the chain, see this website. [map]
Jack'n Jill Donuts
Temple, TX
There are Jack'n Jill Donuts stores all over Texas. This is the only one that I have seen in a building like this. It may not have been the original occupant. Most locations have 1960s/1970s plastic signs like this. I don't know when the location was established but I believe the only location with a neon sign is in Waco, TX. [map]
S&S Meat & Seafood Market
Marshall, TX

The S&S Meat & Seafood Market building may have been built in the 1960s or 1970s. It housed Maverick Meats in 2008. It now houses Antojitos CDMX Mexican restaurant. I don't know what was here originally. These butterfly roof buildings were often used for car dealerships. However, this one is a little small for that. The building design looks very much like a Biff-Burger. There were at least five locations in Texas but I don't know if there ever was one in Marshall. [map]
House of Pies
Kirby Dr.
Houston, TX
House of Pies
Westheimer Rd.
Houston, TX
The House of Pies chain originated in Southern California in 1965. There are only three still-operating locations: one in Los Angeles and these two in Houston. The Kirby location opened in 1967. There are also two modern locations in Houston. [Kirby map]; [Westheimer map]
Williams Fried Chicken
Dallas, TX
The Williams Fried Chicken was established in 1987. This building was constructed in 1968. I don't know what restaurant was here originally. [map]
USA Donuts
Dallas, TX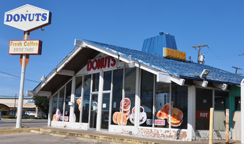 USA Donuts has occupied this building since at least 2008. It may have been a restaurant originally. [map]
former Brinks Coffee Shop
Dallas, TX
The former Brinks Coffee Shop was designed by Paul & Paul and built in 1964. The pole sign shapes are original. By 2009, the building was housing a laundromat. Since 2020, the building has housed Lucky's Hot Chicken. For more, see this website. [map]
Star Burgers [gone]
Liberty Hill, TX
Fast Stop [gone]
Austin, TX
Dale's Grand Burger [gone]
Amarillo, TX
Star Burgers was built around 1980. I believe this was the only location. This photo is from 2011. The building was damaged by a fire later that year. It was demolished in 2012.

This Fast Stop gas station convenience store originally housed a Holiday House restaurant. It was there by 1963. This photo is from 2011. In 2013, the building and gas station in front of it were demolished. For more, see this website.

Dale's Grand Burger looked like it was built in the 1960s or 1970s. The roof was somewhat similar to those used by Fotomat but this roof was bigger and did not have the distinct three layers of shingles. The building was demolished around 2018.
Burger House
Dallas, TX
Burger House opened in 1951. There are seven other locations but this is the original one. For more, see these websites: 1 and 2. [map]
RoadsideArchitecture.com

Copyright. All photos at this website are copyrighted and may only be used with my consent. This includes posting them at Facebook, Pinterest, blogs, other websites, personal use, etc.

Tips & Updates. If you have suggestions about places that I haven't covered, historical info, or updates about places/things that have been remodeled or removed, I'd love to hear from you: roadarch@outlook.com.