(hit "refresh" to get the most recent version of this page; click on photos for larger images)
Krispy Chicken
Waco, TX
Krispy Chicken opened here in the 1970s. In 1959, there was a Hob-Nob Drive-in at this site. I believe that was a different building. By 1968, there was a McDonald's Hamburgers (no relation to the McDonald's chain) here which was the first of two locations. This McDonald's was still operating there in 1973. I believe this building was built in the 1960s by McDonald's. I'm told that the McDonald's chain paid them to change the name to Krispy Chicken but that is probably a myth. [map]
Kim's Restaurant
Waco, TX

2011:
2020:
Kim's Restaurant opened in 1956. Kim's had four other locations but this is the only one left. This location was built in 1963 and the sign is from then. In 2014, new owners renovated the building and reopened the restaurant. The sign was restored with a few changes. The plastic panel at the bottom now reads "Steak Fingers" in neon. The "Hamburgers Etc." panel is flat plastic not the original corrugated plastic. [map]
Earl Abel's Restaurant
San Antonio, TX

2006 [demolished location]:
2011 [new location]:
Earl Abel's Restaurant opened its first drive-in in 1933. Soon, there were a total of seven locations. During World War II, Earl Abel sold off all of them except this location. This one had opened in 1940 and offered drive-in service with car hops as well as indoor seating. In 2006, the restaurant closed and the building was demolished. In 2007, the Earl Abel's name and recipes were sold and the restaurant reopened a couple miles away. The neon sign was restored and reinstalled at the new location. In 2017, the restaurant moved to another location. Apparently, the sign did not make the move. For more, see these websites: 1, 2, 3, and 4. [map]
Runaway Train Cafe
Brownwood, TX

The Runaway Train Cafe opened in 2005. It is housed in a former railroad car. [map]
Winner Winner Rotisserie and Fine Foods
Austin, TX
The 1949 railroad dining car in the top photo has housed Winner Winner Rotisserie and Fine Foods since 2018. It is part of the Texas Compound Development which was established in 1984 with the acquisition of a Santa Fe Railroad Depot. The building was moved here in 1986. Other railroad and oilfield buildings as well as four other railcars have been added to the property. The railcars are available for lease. For more, see this website. [map]
Although Gnome Cones is not vintage, I'm including it anyway since its interior is so special. This snow cone and ice cream business opened in 2019. The first location in Argyle, TX opened as a walk-up stand in 2017. There are other Gnome statues like this in Vero Beach, FL, Garden City, ID, Los Angeles, CA, Denver, CO, and probably elsewhere. For more, see this website. [map]
Jim's Restaurant #1
San Antonio, TX
Jim's Restaurant #3
San Antonio, TX
Jim's Restaurant #4
San Antonio, TX
Jim's Restaurant #6
San Antonio, TX
Jim's Restaurant #10
San Antonio, TX
Jim's Restaurant #14
San Antonio, TX
Jim's Restaurant
Austin, TX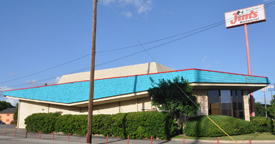 The Jim's Restaurants chain traces its origins to a hamburger stand which opened in 1947. G. "Jim" Hasslocher's stand grew to become the Frontier Drive-In. Apparently, Jim's Restaurants originated in the 1960s. Jim's #6 opened in 1971. There are now 15 locations in San Antonio, three in Austin and one in Helotes. The locations shown here appear to be from the 1960s or 1970s. The Austin location was built in 1974. For more, see this website. [#1 map]; [#3 map]; [#4 map]; [#6 map]; [#10 map]; [#14 map]; [Austin map]
RoadsideArchitecture.com

Copyright. All photos at this website are copyrighted and may only be used with my consent. This includes posting them at Facebook, Pinterest, blogs, other websites, personal use, etc.

Tips & Updates. If you have suggestions about places that I haven't covered, historical info, or updates about places/things that have been remodeled or removed, I'd love to hear from you: roadarch@outlook.com.