(hit "refresh" to get the most recent version of this page; click on photos for larger images)
East Coast Custard
Parma Heights, OH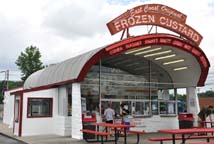 This East Coast Custard has occupied this former Arby's since 1985. This was the company's first location. There are now five others. For more, see this website. [map]
This Arby's in Kent featured the original sign and building when these photos were taken in 2011. The front part of the building had been altered to create a dining room but the original floor was still there. The "Delicious" on the sign had been changed to "Drive-Thru". Around 2016, the sign was replaced with a small, modern plastic sign. The building looked to be the same. In 2021, this location closed and the sign was removed. The building is currently vacant. [map]
former Arby's
Portland, OR
former Arby's [gone]
King of Prussia, PA
This former Arby's has housed the Mr. Oscar Hair Stylist since at least 2007. [map]

This former Arby's in King of Prussia was adapted for Starbucks. I believe this Starbucks moved to a new location in 2013. By 2015, this building was gone.
former Arby's
San Antonio, TX
This former Arby's in has housed El Paraiso Ice Cream since at least 2006. It still has the original steer and brands tile floor. [map]
Arby's
Dayton, OH
Arby's
Bartlesville, OK
Arby's
El Paso, TX
Arby's [gone]
Arkadelphia, AR
Arby's
Laurel, MD
Arby's
Mission Hills, CA
Arby's
Denver, CO
Arby's
Phoenix, AZ
Arby's
Tulsa, OK
Arby's
Tulsa, OK
Arby's
Gainesville, FL
Arby's
Clearwater, FL
Arby's
Athens, GA
Arby's
Hollywood, CA
Arby's
Canoga Park, CA
Arby's
Conway, AR
Arby's
North Las Vegas, NV
Arby's
Orem, UT
Arby's [gone]
Ventura, CA
Arby's [building gone]
Wichita Falls, TX
These are just some examples of Arby's hat signs which were first built in 1964 by the Peskin Sign Co. in Ohio. The original covered wagon buildings at these locations are long gone. The Laurel sign is from the late 1960s. It is the only one I have seen with the "Sandwich" on the bottom part of the sign and without the "Is Delicious" wording. The original signs had the "Is Delicious". These hat signs were phased out in 1976 in favor of a more cartoonish logo and plastic signs. I believe the neon hat signs came in two sizes. The ones in Bartlesville and Arkadelphia are examples of the smaller size. El Paso, Phoenix, and Gainesville have the big signs. Tulsa has examples of both sizes. [Dayton map]; [Bartlesville map]; El Paso, TX

In 2022, the Arkadelphia sign was removed for road widening. I don't think that it will be reinstalled. [map]

[Laurel map]; [Mission Hills map]; [Denver map]; [Phoenix map]

The neon on the first Tulsa sign shown above was removed in 2022 and replaced with LED rope. [map]

[Tulsa map]; [Gainesville map]; [Clearwater map]; [Athens map]

The Hollywood location opened in 1968. The bulb border was replaced with neon at some point. [map]

The Canoga Park location has closed and is fenced off. The plastic letters on the building have been painted over and the bottom of this hat sign has been tagged. [map]

[Conway map], [North Las Vegas map], [Orem map]

This Arby's in Ventura featured the large model neon sign. The building had been remodeled and the original tile floor was gone. In 2015, it was announced that this Arby's would be moving. In 2019, this location closed and the sign was demolished. In 2021, the building was demolished.

This Arby's in Wichita Falls was built in 1970. It featured the original sign, building and tile floor. Around 2001, the original yellow roof was painted red upon the insistence of corporate headquarters. In 2017, the building was demolished and replaced with a modern box. The neon was removed from the sign and replaced with backlit plastic letters. [map]
former Arby's [gone]
Kansas City, MO
former Arby's [gone]
Austin, TX
former Arby's
Norfolk, VA
Arby's [gone]
Reno, NV
This Arby's sign in Kansas City and building were adapted by Texas Tom's. Additions were made to all sides of the covered wagon building. The location is now closed and the Arby's hat sign was removed in 2010. There was at least two other Texas Tom's with adapted Arby's hat signs but this was the last one. For more, see this website. [photo thanks Glenda Campbell]

This Arby's sign in Austin was adapted by the Hat Creek Burger Co. This photo is from 2011. In 2014, the restaurant remodeled and the sign was removed. For more, see this website.

While this Arby's building in Norfolk is gone, this hat sign was adapted for a loans business. This photo is from 2010. By 2014, the neon had been replaced with backlit plastic. By 2022, the property was housing a used car dealership and the sign was stripped. [map]

This Arby's building in Reno was modern. This location had what seemed to be a modern and unique chasing bulb and neon sign. I've never seen one like it anywhere else. This photo is from 2008. By 2011, the location had closed and the sign was gone.
More Arby's Hat Signs:
Forestdale, AL
Benton, AR
Wilmington, DE
Wilmington, DE
Bradenton, FL
Lakeland, FL [gone]
Miami, FL
Countryside, IL
Galesburg, IL
Indianapolis, IN
Muncie, IN
Warsaw, IN
Auburn Hills, MI
Bay City, MI
Flint, MI
Flint, MI
Lansing, MI
Lapeer, MI
Redwood Charter Township, MI
Raleigh, NC [gone]
Winston-Salem, NC
Las Cruces, NM
North Las Vegas, NV
Niagara Falls, NY [gone]
Syracuse, NY
Cincinnati, OH
Mansfield, OH
Miami, OK [gone]
Feasterville, PA
Meadville, PA
Williamsport, PA
Knoxville, TN
Waco, TX
Hampton, VA
Norfolk, VA
Richmond, VA
Richmond, VA
Richmond, VA [gone]
Spokane, WA
Tacoma, WA
Ashwaubenon, WI
Cudahy, WI [gone]
Casper, WY

There are probably dozens of other examples of these signs scattered around the country. If you know of any others, I'd love to know about them.
Chuck Wagon
Wheat Ridge, CO

2004:
2012: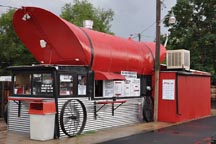 This Chuck Wagon was built in 1961 to resemble a Conestoga Wagon. It has housed numerous businesses over the years including The Grill Next Door, O'Brien's Wings & Things, and Silver's Burgers-N-Wings. The building housed Big Mama's Burritos in 2012. By 2019, it was housing El Jefe. By 2020, the covered wagon feature had been painted black. [map]
Taco Loco Wagon
Dallas, TX

2006:
2011:
2017: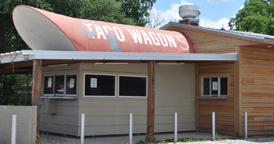 The Taco Loco Wagon was supposedly built around 1945-1955. I believe it was originally part of the "Chuc Wagun" chain (see links at the bottom of this page). The building's size and design are also so similar to the Chuck Wagon in Denver described above that they were probably related.

This location was previously known as the Taco Wagon and the Fajitas Wagon. In 2011, the building was undergoing renovation. It reopened later that year. A canopy was added which bisects the building beneath the covered wagon top feature. The place looked closed by 2016 and remains vacant. For more, see this website. [map]
former Chuckwagon Restaurant
Jamestown, ND
The Chuckwagon Restaurant building was operating by 1986. It has been used for storage by the adjacent Frontier Bar & Grill for many years. Does anyone know more about the Chuckwagon? [map]
former Arnold's Chuck Wagon Inn
Granby, CO

2012:
The Arnold's Chuck Wagon Inn was built by the 1950s. It had a simple "Cafe" sign on the roof originally. The covered wagon sign replaced it sometime in the 1950s. The covered wagon continues to be used as an entrance. The name was changed later to the Chuckwagon Cafe & Bar. In 2022, the building began housing Fitch Ranch Meats & Market. The covered wagon was enlarged and a bull statue was installed then. For more, see these websites: 1 and 2. [map]
More Covered Wagons:
Wagon Ho! (Birmingham, AL; gone)
Chuck Wagon Cafe (Grand Junction, CO; gone)
The Chuck Wagon (Wilmington, DE; gone)
Covered Wagon Restaurant (Chicago, IL) [gone]
World's Largest Covered Wagon (Milford, NE)
Covered Wagon (Elysburg, PA)
Flying T Chuck Wagon (Rapid City, SD) [vintage; gone]
Prairie Schooner Steakhouse (Ogden, UT)
Cowboy Coffee (Packwood, WA) [map]
Covered Wagon Tavern (Spokane, WA) [vintage; gone]
Dilly Wagons: 1, 2, 3 (various locations; vintage/gone)
RoadsideArchitecture.com

Copyright. All photos at this website are copyrighted and may only be used with my consent. This includes posting them at Facebook, Pinterest, blogs, other websites, personal use, etc.

Tips & Updates. If you have suggestions about places that I haven't covered, historical info, or updates about places/things that have been remodeled or removed, I'd love to hear from you: roadarch@outlook.com.