(hit "refresh" to get the most recent version of this page; click on photos for larger images)
Steve Canyon
Idaho Springs, CO
Miner
Idaho Springs, CO
This Steve Canyon statue was installed here in 1950 as a tribute to the service men and women of World War II. The statue is about nine feet tall and was carved from limestone. Canyon was a comic strip Air Force hero. In 2017, the statue was moved to Courtney-Riley-Cooper Park. For more, see these websites: 1 and 2. [map]

This Miner statue stands in front of a house. It has been there since at least 2001. The statue's right hand and part of his left arm have been missing since 2005. He originally held a pickaxe in his left hand and maybe a lantern in his right hand. These photos are from 2012. I'd love to know anything about this statue. For more, see this website. [map]
Gold Prospector
Denver, CO
This Gold Prospector statue is 12 feet tall and made of copper. The "Old Prospector" was created by Alphonse Pelzer in 1891. The statue was modeled after John William Straughn. It was originally installed on top of the Mining Exchange Building. It was moved to street level around 1963 when the building was demolished. For more, see this website. [map]
Neptune [gone]
Colorado Springs, CO
Lumberjack
Westcliffe, CO
This statue of Neptune was installed on the roof of Neptune's Lakeside Cafe when this photo was taken in 2012. The restaurant has closed and I assume that this sign is gone.

This Lumberjack is located next to the Sangre de Cristo Gallery. [map]
Lumberjack
South Fork, CO
Coal Miner
Walsenburg, CO
This Lumberjack sculpture is 24 feet tall and is entitled "Biggin". It was carved from a log by Ron McDowell in 1987. The Lumberjack is installed in front of the Hungry Logger restaurant. [map]

This Coal Miner is about eight feet tall and was carved from wood by Walter Way. In 2006, another miner statue was installed in Walsenburg at the Mining Museum. [map]
Sleeping Giant
Denver, CO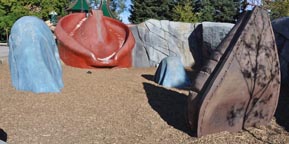 This Sleeping Giant is located at Bear Creek Park, aka Sombrero Hat Park. The concrete sombrero functions as a slide for children. It was built in the mid-1970s. The knees and cowboy boot were added in 2009. [map]
Bedrock USA
Cripple Creek, CO
This Bedrock USA sculpture group of Flintstones characters is located on private property. There are also several dinosaur sculptures here that were apparently created by the same person. [map]
Alice in Wonderland
Englewood, CO
This Alice in Wonderland sculpture group is installed in Samson Park next to the Fiddler's Green Amphitheatre. The bronze sculptures were produced by Harry Marinsky in 1994.
RoadsideArchitecture.com

Copyright. All photos at this website are copyrighted and may only be used with my consent. This includes posting them at Facebook, Pinterest, blogs, other websites, personal use, etc.

Tips & Updates. If you have suggestions about places that I haven't covered, historical info, or updates about places/things that have been remodeled or removed, I'd love to hear from you: roadarch@outlook.com.