(hit "refresh" to get the most recent version of this page; click on photos for larger images)
Most Precious Blood Catholic Church
Denver, CO
Iglesia Luterana Familia de Cristo [gone]
Denver, CO
The Most Precious Blood Catholic Church was dedicated in 1954. [map]

The Iglesia Luterana Familia de Cristo was built in 1965. This photo is from 2012. The building was still there in 2015 but gone in 2016.
Harvey Park Baptist Church
Denver, CO
2012:
2023:
The Harvey Park Baptist Church was built in 1957. Around 2015, it was renamed the Forefront Church. Unfortunately, the windows are now covered up. [map]
Augustana Lutheran Church
Denver, CO
The Augustana Lutheran Church was dedicated in 1959. [map]
Greek Orthodox Cathedral
Denver, CO
JEWISHcolorado
Denver, CO
The Greek Orthodox Cathedral was built in 1972. [map]

This JEWISHcolorado building is part of a complex of buildings from mid-century modern to contemporary. These buildings with the concrete barrel arches were built in 1962.
Temple Emanuel
Denver, CO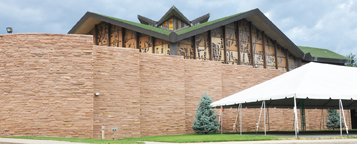 Temple Emanuel was designed by Percival Goodman and built in 1956. [map]
former Grace Lutheran Church
Denver, CO
The Grace Lutheran Church was designed by Baume & Polivnick and built in 1958. Since 2000, the building has housed the Friendship Baptist Church. [map]
Calvary Temple Church
Denver, CO
The Calvary Temple Church was designed by Ralph Peterson in 1958. The smaller building, shown in the second row above, features a parabolic roof. [map]
former Episcopal Diocesan Center
Denver, CO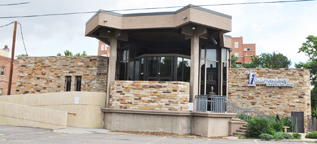 The Episcopal Diocesan Center was built around 1968. The building now houses the Independence Institute. For more, see this website. [map]
Church of the Risen Christ
Denver, CO
The Church of the Risen Christ was designed in 1969 by James Sudler. For more, see this website. [map]
RoadsideArchitecture.com

Copyright. All photos at this website are copyrighted and may only be used with my consent. This includes posting them at Facebook, Pinterest, blogs, other websites, personal use, etc.

Tips & Updates. If you have suggestions about places that I haven't covered, historical info, or updates about places/things that have been remodeled or removed, I'd love to hear from you: roadarch@outlook.com.