(hit "refresh" to get the most recent version of this page; click on photos for larger images)
Zacheis Planetarium
Alamosa, CO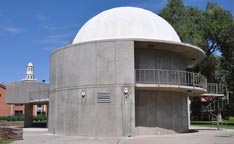 The Zacheis Planetarium is located at Adams State College. It was built in 1964. [map]
5th Avenue Professional Building
Denver, CO
The 5th Avenue Professional Building is probably from the 1960s or 1970s. It is used for office space. [map]
Fiske Planetarium
Boulder, CO
Fiske Planetarium is located at the University of Colorado campus. It opened in 1975. The geodesic dome is 65 feet in diameter. [map]
Best Western
Durango, CO
This Best Western hotel was built as the Mountain Shadows Motel in 1964. The motel has been recently remodeled. This geodesic dome pool cover appears to be from the 1960s or 1970s. For more, see this website. [map]
Alexander Film Services
Colorado Springs, CO
The Alexander Film Services building appears to be from the 1960s or 1970s. The business closed just a few months after these photos were taken in 2012. I don't know if Alexander Film was the original occupant of this flying saucer shaped building. By 2014, the building had been painted yellow. [map]
Astrox Corporation
Colorado Springs, CO
The Astrox Corporation designs missiles, rockets, and aircraft. The company is based in College Park, MD but also has or had a branch here. The building either now housed the Genesis Baptist Church of Colorado Springs or shared it with Astrox when these photos were taken in 2012. It appears to have been built in the 1960s or 1970s. The building appeared vacant in 2012. For more, see this website. [map]
dome building [gone]
Pueblo, CO
This dome building was just east of I-25, north of Pueblo. It had been neglected for some time with the paint peeling away to reveal the foam underneath. These photos are from 2004. It was still there in 2010 but gone by 2012.
Melon Dome
Rocky Ford, CO

The Melon Dome gym was built in 1963. It is located at Rocky Ford High School. Rocky Ford is known for its sweet melons. [map]
RoadsideArchitecture.com

Copyright. All photos at this website are copyrighted and may only be used with my consent. This includes posting them at Facebook, Pinterest, blogs, other websites, personal use, etc.

Tips & Updates. If you have suggestions about places that I haven't covered, historical info, or updates about places/things that have been remodeled or removed, I'd love to hear from you: roadarch@outlook.com.