(hit "refresh" to get the most recent version of this page; click on photos for larger images)
This Dragon is located on Highway 40 in front of the True Value hardware store. It is 30 feet tall and 40 feet long and was installed here in 1999. The dragon was produced by the ESC construction company and breathes fire with the help of a propane tank. However, it wasn't working when I was there in 2006. His red eyes also light up. For more, see these websites: 1, 2, and 3. [map]
These Dragons were created by Ward Eliker and installed in a parking lot in Chinatown in 2009. The four bronze dragons are mounted on stainless steel poles. [map]
These two Dragons are installed at the southern entrance to Chinatown. They were designed by Rupert Mok and installed in 2001. They are lit at night. For more, see these websites: 1 and 2. [map]
Dragon
Seattle, WA
Dragon
Paris, TX
Green Dragon Market
Ephrata, PA
Griffins
Las Vegas, NV
This Dragon in Seattle is located at the entrance to Chinatown. There were 10 of these light pole dragons installed in 2002. They are made of fiberglass and lit from within at night. For more, see these websites: 1 and 2. [map]

The Dragon in Paris statue is installed in front of Paris Junior College. "Pyro" is the college's mascot. The statue was produced by Daon Wall in 2001. [map]

The Green Dragon Market features this giant dragon on top of the sign. [map]

These two Griffins in Las Vegas are installed in front of the Mandalay Bay Hotel & Casino which was built in 1999. [map]
Dragon
Fresno, CA
This Dragon is located next to the track of the Dragon Coaster, a kiddie roller coaster, at Playland amusement park. Playland opened in 1955. I don't know when this Dragon was built.
Dragon
Lake Orion, MI
Dragons
Marshfield, MI
This Dragon in Lake Orion is apparently trailered around town to advertise the annual Dragon on the Lake festival.

The Dragons in Marshfield were created by Clyde Wynia. They are part of the collection of his sculptures known as Jurustic Park. For more, see these websites: 1 and 2.
Dragon
Tampa, FL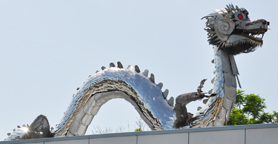 This chrome Dragon statue is installed on the roof of Associated Watch & Jewelry Buyers. It has been there since at least 2007. [map]
Dragon
Lakeland, FL
This three-piece Dragon sculpture is about 30 feet long. It was installed in 2019. It was created by Keith Williams from scrap metal. The sculpture is nicknamed the Dixieland Dragon. For more, see this website. [map]
Cecil the Serpent
Hawthorne, NV

Cecil the Serpent is said to live in Walker Lake. The local legend goes back to the 1800s. In 1964, a water float depicting Cecil was built. It was destroyed in a fire in 1966. This parade float was built around then. He appears each year at the Armed Forces Day Parade, Christmas Parade, and local Mineral County High School games. Cecil is 90 feet long when assembled and breathes smoke. For more, see this website. [map]
Giant Pegasus and Dragon
Hallandale Beach, FL
This Giant Pegasus and Dragon are located in a fountain at Gulfstream Park and Casino. The 110-foot tall Pegasus is killing the 200-foot-long Dragon. The sculpture was installed in 2014 at a cost of $30 million. It is lit at night with lasers. For more, see these websites: 1 and 2. [map]
Knight and Dragon
Regent, ND
This Knight and Dragon metal sculptures were created by Gary Greff around 2020. They are installed next to his Enchanted Castle Hotel. The sculptures are about fifty feet tall. [map]
More Giant Dragons:
Birmingham, AL
Crested Butte, CO
Merritt Island, FL [gone]
McCall, ID
Carbondale, IL
East Bethany, NY
Dayton, OH
Caryville, TN [map]
Nashville, TN
Renton, WA
This Serpent sculpture is installed over a vacant building downtown. Does anyone know anything about it? [map]
Sea Serpent
Crosby, MN
Sea Serpent
Duncannon, PA
The fiberglass Sea Serpent in Crosby was built in 1977 by Creative Display. The statue is 20 feet tall. It is installed in Crosby Memorial Park, next to Serpent Lake. [map]

The Sea Serpent in Duncannon is from the same fiberglass mold as the one in Crosby. The statue has been here since at least 2005. It is located at Burgundy's Restaurant. [map]
Sea Serpent
The Woodlands, TX
This metal Sea Serpent sculpture was installed in Lake Woodlands in 1985. It was built by Marc Rosenthal and originally installed in Houston. The sculpture is entitled "Rise of the Midgard Serpent". It is six feet tall and 35 feet long. [map]
Nessie
Grand Rapids, MI
Nessie, a Loch Ness Monster, was built in 2009 by a group of Grand Rapids artists. The sculpture is composed of five floating pieces. Together, they make Nessie 18 feet tall and 100 feet long. It was built with styrofoam, polystyrene over a wood frame. Nessie's eyes glow red at night, powered by solar panels. In 2010, the sculpture was moved to John Ball Park near the zoo. These photos are from 2011. The statue was originally located on the Grand River in town. For more, see this website.
RoadsideArchitecture.com

Copyright. All photos at this website are copyrighted and may only be used with my consent. This includes posting them at Facebook, Pinterest, blogs, other websites, personal use, etc.

Tips & Updates. If you have suggestions about places that I haven't covered, historical info, or updates about places/things that have been remodeled or removed, I'd love to hear from you: roadarch@outlook.com.