(hit "refresh" to get the most recent version of this page; click on photos for larger images)
Chesterfield
Motor Inn [gone]
Chesterfield, MI
Christmas Motel
Christmas, MI
Santa Claus & Mrs. Claus
Christmas, MI
The Chesterfield Motor Inn sign was probably from the 1950s or 1960s. It was removed in 2016. Parts of the sign may be displayed at the Premier Lanes in town.

The Christmas Motel and sign are probably from the 1950s. By 2018, the sign had been repainted. [map]

This giant double-sided Santa sign is about 35 feet tall. It was built in the mid to late 1960s. It stands next to the Santa's Workshop Gift Shop. The Mrs. Claus sign still had a head on one side in 2008. I believe she was built slightly later. For more, see these websites: 1 and 2. [map]
Cadet Motor Inn [gone]
Coldwater, MI
Mercury
Motel [gone]
Dearborn, MI
Trail Bar
Dearborn Heights, MI
The Cadet Motor Inn opened in 1967. The sign was restored in 1997 and was repainted again in 2005. The soldier's arm was animated in two phases to make him salute. In 2020, the sign was replaced with a backlit plastic sign. For more, see this website.

The Mercury Motel was also known as the Mercury Motor Inn. The motel and the Mercury Coffee Shop on the corner of the building closed in 2006. The building has been demolished and this sign is gone.

The Trail Bar sign is probably from the 1950s. For more, see this website. [map]
Henry Ford Museum
Dearborn, MI
| | | |
| --- | --- | --- |
| Douglas Auto Theatre | Holiday Inn | Howard Johnson's |
| | | |
McDonald's
The Douglas Auto Theatre was located in Kalamazoo, MI. It opened in 1955 and closed in 1985. For more, see this website.

This Holiday Inn "Great Sign" was produced by the hotel chain from 1952-1982. For more, see these websites: 1 and 2.

This Howard Johnson's Simple Simon & Pieman sign was restored by Len Davidson. There were once hundreds of these signs but, in the late 1970s, they were taken down in an attempt to modernize the restaurants. For more, see this section and these websites: 1, 2, and 3.

This animated McDonald's "Speedee" sign is from the 1960s. For more, see this page and this website.
Wilson & Meyer Hardware [gone]
Dundee, MI
Branham's Jewelry
East Tawas, MI
Wilson & Meyer Hardware opened in 1927 and this sign appears to be from then. In 2011, the store closed and the contents were auctioned off. This sign went for $800. The "Hardware" letters on the sign were in high relief but did not appear to be opal glass.

Branham's Jewelry opened in 1959. This sign appears older than that and may have been adapted from a previous jewelry store. The bottom part of the sign previously read "Watch Repair". In 2016, this sign was moved inside the store.
Gust Asp Butcher Shop
Escanaba, MI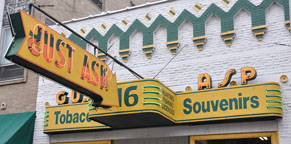 I believe the Gust Asp Butcher Shop has been around since the 1930s. The neon sign text alternates between "Just Ask" and "Gust Asp", the original owner's name. For more, see this website. [map]
Grand Tulane Motel [gone]
Farmington Hills, MI
Vic Canever Chevrolet
Fenton, MI
The Grand Tulane Motel sign was probably from the 1950s. This photo is from 2011. By 2015, the sign had been replaced with a plastic box sign. For more, see this website.

This Vic Canever Chevrolet sign was originally installed at a Chevrolet manufacturing plant in Flint, MI in the early 1930s. It was taken down in 1986 during reorganization by General Motors. The double-paneled, neon sign was then restored and reinstalled here. [map]
8 Wood Motel
Ferndale, MI
Como's Restaurant
Ferndale, MI
Crow's Nest
Ferndale, MI
The 8 Wood Motel was built in 1969. The motel gets its name from its location near the intersection of 8 Mile Road and Woodward Ave. [map]

Como's Restaurant opened in 1961. It closed in 2017. In 2018, the interior was gutted and the place became FOMO's restaurant. The Como's sign is still there but the neon has been replaced with LED lighting. For more, see this website. [map]

The Crow's Nest was erected in 1920 as a traffic signal. This busy intersection was too narrow to risk a policeman standing there to direct traffic so this tower was devised. When the road was widened in 1928, the Crow's Nest was removed. In 2006, this replica was installed. For more, see these websites: 1 and 2. [map]
former Koerts
Glass & Paint
Flint, MI
Top Hat Auto Wash
Flint, MI
former
Citizens Bank
Weather Ball
Flint, MI
The Koerts Glass & Paint store originally housed "Buicktown", a Buick dealership. The "BUICK" lettering is still faintly readable behind "KOERTZ". This photo is from 2006. By 2011, Koerts was gone and the sign had been adapted for Suski Used Cars. By 2015, the sign had been adapted for the CARite auto body shop. [map]

The Top Hat Auto Wash sign is probably from the 1950s. For more, see this website. [map]

The Citizens Bank Weather Ball was installed in 1956. At night, the ball still forecasts the weather with a change in colors (red for hotter, blue for colder, yellow for no change, blinking for rain). The ball is 15 feet in diameter. In 2013, FirstMerit Bank replaced the neon "CB" panels with backlit plastic "FM" panels. By 2018, the panels were changed to read "HB" for Huntington Bank. For more, see this website. [map]
Applegate Chevrolet
Flint, MI
Anthony's
Fine Flowers
Flint, MI
Flint Original Coney Island
Flint, MI
Applegate Chevrolet has been around since 1928. This sign has been there since at least the 1970s. [map]

Gordon Anthony's Florist had been here since 1946. It has been closed since around 2017. [map]

This Flint Original Coney Island sign was initially located downtown. That restaurant opened in 1919. This was not the original sign. The letters on the sign are embossed. When the restaurant was demolished in 1979, the sign was placed in storage. In 2005, Tom Zelevarovski bought the sign for his restaurant: Tom Z's Coney Island (now Tom Z's Original Coney Island). In 2007, the sign was restored. By 2019, the restaurant had closed but the sign was still there. For more, see this website. [map]
Dort Mall [gone]
Flint, MI

2005:
The Dort Mall sign collection was assembled by the Bob Perani, the owner of the mall. He also owned Perani's Hockey World, a chain of hockey stores. Bob passed away in 2012. In addition to the signs, the display included various statues, old bicycles, cars, model planes, boats, a carousel, fishing memorabilia, and all kinds of old goodies. Most of the collection was auctioned off in 2009. The photos above are from before and after the auction. Just about all of the signs in the 2005 photos above are gone. The family has been selling things off over the years. The Roto-Sphere (first photo above) was sold and removed in 2019. I don't think any of the statues, including the Fisk Tire Boy are still there. For more, see these websites: 1 and 2.
RoadsideArchitecture.com

Copyright. All photos at this website are copyrighted and may only be used with my consent. This includes posting them at Facebook, Pinterest, blogs, other websites, personal use, etc.

Tips & Updates. If you have suggestions about places that I haven't covered, historical info, or updates about places/things that have been remodeled or removed, I'd love to hear from you: roadarch@outlook.com.