(hit "refresh" to get the most recent version of this page; click on photos for larger images)
First Baptist Church
Ventura, CA
The First Baptist Church was designed by Robert Stacy-Judd and built from 1928-1932. The Mayan Revival style building was restored in the mid-1980s. It now houses the Ventura Center for Spiritual Living. For more, see these websites: 1, 2, and 3. [map]
Masonic Temple
Visalia, CA
This Masonic Temple was built from 1934-1935. The lamps at the entrance were replaced between the first photo from 2008 above and the second photo from 2013. [map]
Town Center Post Office
Visalia, CA
The Town Center Post Office was designed by William D. Coates and built from 1932-1933. The building is listed on the National Register of Historic Places. For more, see these websites: 1 and 2. [map]
former Tulare County Courthouse
Visalia, CA
The former Tulare County Courthouse was designed by Ernest J. Kump and built in 1935. A new courthouse was built elsewhere in town in 1957. In 2020, the building began housing the Darling Hotel. [map]
Doheny Courtyard
West Hollywood, CA
The Doheny Courtyard was built in the late 1930s. I don't know if this was the apartment complex's original name. For more, see this website. [map]
Eugene C. Jones Veterinary Office [gone]
West Hollywood, CA
The Eugene C. Jones Veterinary Office was designed by Walter Wurdeman and Welton Becket and built in 1938. Despite preservation efforts, the building was demolished in 2019.
Washington Fire Department
West Sacramento, CA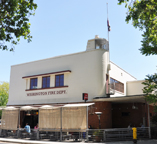 The Washington Fire Department was built from 1939-1940 with WPA funding. The building had been vacant since 1997. In 2016, the building was renovated for Burgers & Brew, its current occupant. [map]
RoadsideArchitecture.com

Copyright. All photos at this website are copyrighted and may only be used with my consent. This includes posting them at Facebook, Pinterest, blogs, other websites, personal use, etc.

Tips & Updates. If you have suggestions about places that I haven't covered, historical info, or updates about places/things that have been remodeled or removed, I'd love to hear from you: roadarch@outlook.com.