(hit "refresh" to get the most recent version of this page; click on photos for larger images)
Thurlow Medical Building
Santa Rosa, CA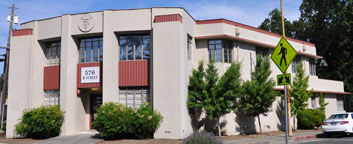 Thurlow Medical Building was built in 1940 for Dr. Alfred Amos Thurlow. It was designed by Clarence Caulkins. For more, see this website. [map]
former Rosenberg's Department Store
Santa Rosa, CA
Park Side Elementary School
Sebastopol, CA
Rosenberg's Department Store was built in 1937. The store closed in 1988 and remained vacant until 1994. It has housed a Barnes & Noble bookstore since then. For more, see this website. [map]

Park Side Elementary School was built in 1935 or 1936. It may have been designed by Herbert & Caulkins. [map]
Analy High School
Sebastopol, CA
Analy High School was founded in 1908. This building is from 1935. [map]
Blue Cross Veterinary Hospital
Signal Hill, CA
Lido Restaurant
South Gate, CA
The Blue Cross Veterinary Hospital was established in 1927. This building was built in 1936. I don't know if this is the original tenant. [map]

I believe the Lido Restaurant was constructed in 1941. I don't know if this was always a restaurant and nightclub. I have read that this was originally a theatre or possibly a bowling alley. [map]
Green's Cleaners
South Gate, CA
2012:
2016:
The Green's Cleaners building was built in 1940. Around 2014, the building was repainted white, green, and black. [map]
former Connell Motor Truck Co.
Stockton, CA

2014:

2018:

The former Connell Motor Truck Co. building featured a garage and a Flying A gas station. It appears to be from the 1930s or 1940s. The building housed a Wilson Way Tire Co. location in 2014. By 2016, Wilson Way Tire was gone. The building had been painted and the property was surrounded by chain link. It appears to be in use but is not open to the public. [map]
Post Office
St. Helena, CA
This Post Office was designed by Louis A. Simon and built in 1940. For more, see this website. [map]
Taft Union High School
Taft, CA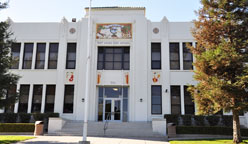 This Taft Union High School building appears to be from the 1920s or 1930s. For more, see this website. [map]
American Legion Post 377
Tujunga, CA
The American Legion Post 377 was built around 1928. [map]
Valley Municipal Building
Van Nuys, CA
RoadsideArchitecture.com

Copyright. All photos at this website are copyrighted and may only be used with my consent. This includes posting them at Facebook, Pinterest, blogs, other websites, personal use, etc.

Tips & Updates. If you have suggestions about places that I haven't covered, historical info, or updates about places/things that have been remodeled or removed, I'd love to hear from you: roadarch@outlook.com.