(hit "refresh" to get the most recent version of this page; click on photos for larger images)
James M. Delmar Field House [gone]
Houston, TX
The James M. Delmar Field House, aka Delmar Stadium, was built in 1958 as a gym. It was later part of a high school sports complex. The building had a parabolic roof. It was demolished in 2013.
Wolf's Department Store and Pawn Shop
Houston, TX
Sears
Houston, TX
Wolf's Department Store and Pawn Shop was built in 1950 for Wellworth Dry Goods. I believe Wolf's moved here in 1955. Originally, there was a neon blade sign. The metal screen and plastic signs must be from the 1960s. [map] This Sears sign doubles as a bus stop shelter. It was built in front of the store when it was built 1950. The store is still open and the sign is lit at night. [map]
former Lifeway Christian Store
Houston, TX
2006:
2018:
This Lifeway Christian Store building appears to be from the 1960s. The sign was removed around 2007. The building now houses the South Main Baptist Church Youth Center. [map]
Blum's Furniture
Houston, TX
Blum's Furniture was built in 1971. [map]
City of Houston Fire Station #7
Houston, TX
former Sav-On Cleaners
Houston, TX
The City of Houston Fire Station #7 was built in 1969. [map]

This Sav-On Cleaners was built in 1965. There were at least four other locations in the chain that used this design. In 2016, the building was housing a dance studio. Before that, this was a trophy shop for several years. In 2018, this building appeared to be vacant. [map]
Jung Center
Houston, TX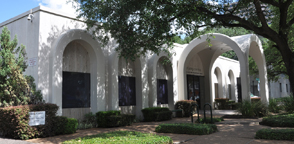 The Jung Center moved to this building in 1974. It was built in 1972 for the Jasper Galleries. [map]
Houston Police Department
Houston, TX
This building served as the Houston Police Department from 1952-1997. The building now serves as the city jail. [map]
More Houston Mid-Century Modern Buildings:
This page is part of the "Misc." section which includes retail and other buildings. For more Houston buildings, see the other sections (banks, churches, etc.) with links below.
RoadsideArchitecture.com

Copyright. All photos at this website are copyrighted and may only be used with my consent. This includes posting them at Facebook, Pinterest, blogs, other websites, personal use, etc.

Tips & Updates. If you have suggestions about places that I haven't covered, historical info, or updates about places/things that have been remodeled or removed, I'd love to hear from you: roadarch@outlook.com.