(hit "refresh" to get the most recent version of this page; click on photos for larger images)
El Tropicano Motor Hotel
San Antonio, TX
Beverly Crest Motor Inn
El Paso, TX
The El Tropicano Motor Hotel was built in 1962. It is now owned by Holiday Inn and known as the Holiday Inn El Tropicano Riverwalk Hotel. [map]

The Beverly Crest Motor Inn building is intact but the original sign has been replaced since this postcard. Since this 2008 photo, the neon channel letters on top of the sign and the neon arrow were replaced with backlit plastic versions. The Beverly Crest panel has also been replaced with a blue and white version. [map]
El Montan Motor Hotel
San Antonio, TX
Cottonwood Motel
La Grange, TX
The El Montan Motor Hotel was built in 1950. It originally had a flat canopy with a smaller sign on top of it. The motel was expanded in 1963. This canopy and sign are probably from then. For more, see this website. [map]

The Cottonwood Motel appears to be from the 1960s. [map]
American Motor Inn Motel
Snyder, TX

former Holiday Motor Hotel
Port Arthur, TX

The Holiday Motor Hotel was built around 1962. I believe the Terrace Restaurant was there from the beginning. The building now appears to be used as apartments. [map]
Drummers Inn
Fort Worth, TX
former Drummers Inn North
Fort Worth, TX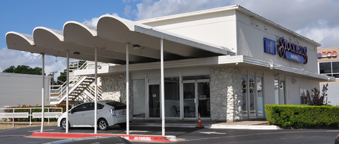 former Drummers Inn
Wharton, TX

This Drummers Inn was built in 1963. This was most likely the first location in the chain. For more, see this website. [map]

The Drummers Inn North has the same canopy design. Originally, the sign looked the same as well. By 2007, the motel had become the Classic Inn. By 2013, it had been named the Stockyards Inn & Suites. Since around 2015, it has been known as the Motel 6 Fort Worth Stockyards. For more, see this website. [map]

The former Drummers Inn in Wharton is now known as the Travelers Inn & Suites. That canopy has always had three rather than four barrel vaults. For more, see this website. [map]

There was another location in Beeville, TX which is now an Executive Inn & Suites. The motel has been significantly remodeled or rebuilt. This office building had three barrel vaults.

All four of these locations originally had pole signs like the one in Fort Worth shown above. I don't know if there were any other locations.
Cabana Motor Hotel
Dallas, TX
The Cabana Motor Hotel was designed by Melvin Grossman and built in 1963. The mushroom canopies served as shelters in the pool area. In 1969, it became the Hyatt House Hotel. In 1976, it became the DuPont Plaza. From 1984-2003, the building housed a jail. In 2019, renovation work began to convert the building back into a hotel and coffee shop. For more, see these websites: 1 and 2. [map]
Statler-Hilton Hotel
Dallas, TX

2011:
2018:
The Statler-Hilton Hotel was designed by William Tabler and built in 1956. It was renamed the Grand Hotel in 1988. The building had been vacant since 2001 before restoration work began in 2011. The hotel reopened as The Statler in 2017 while work was still taking place. For more, see these websites: 1, 2, 3, 4, and 5. [map]
RoadsideArchitecture.com

Copyright. All photos at this website are copyrighted and may only be used with my consent. This includes posting them at Facebook, Pinterest, blogs, other websites, personal use, etc.

Tips & Updates. If you have suggestions about places that I haven't covered, historical info, or updates about places/things that have been remodeled or removed, I'd love to hear from you: roadarch@outlook.com.