(hit "refresh" to get the most recent version of this page; click on photos for larger images)
Casa Maņana Theatre
Fort Worth, TX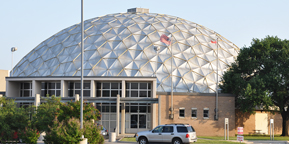 The Casa Maņana Theatre is housed in an aluminum geodesic dome. It is 66 feet tall by 144 feet in diameter. The theatre was built in 1958 and originally featured "musicals in the round". In 2003, the interior was converted to a more traditional live performance space. I believe the additions around the building (see bottom photo above) were constructed then. For more, see these websites: 1, 2, 3, and 4. [map]
Hutchinson County Aluminum Dome
Borger, TX
The Hutchinson County Aluminum Dome was built in 1957. These photos are from 2011. In 2021, restoration work began by the City. It now serves as The Dome and Convention Center. For more, see this website. [map]
College of the Mainland Gymnasium
Texas City, TX

The College of the Mainland Gymnasium was built in 1966. [map]
dome building
Johnson City, TX
This dome building was built in 1963. From 2003-2008, the building housed the Liberty Lighthouse Fellowship. I don't know if it always housed a church. The building appeared to be vacant when these photos were taken in 2019. [map]
Fort Worth Convention Center
Fort Worth, TX
The Fort Worth Convention Center was built in 1968 as the Tarrant County Convention Center. The City bought the building in 1997. The Convention Center has been expanded. This dome structure is known as the Arena. The building will be demolished around 2020. For more, see these websites: 1 and 2. [map]
House of Praise Church
Waxahachie, TX

The House of Praise Church consists of four small domes surrounding a larger one. It was built in 1982 for the Evangel Temple Assembly of God. [map]
dome house
Galveston, TX
dome house
Throckmorton, TX
There are several geodesic dome houses in Galveston. [map]

This dome house in Throckmorton and the ones in Galveston could be any age. Although geodesic domes have been used for residences since the 1950s, there are kits available and they are still being built today. [map]
Christian Science Reading Room
Garland, TX

The Christian Science Reading Room is housed in two interconnected domes. [map]
former Church on the Rock
San Antonio, TX

2011:

2018:

The Church on the Rock, a monolithic dome, was built around 2000. The structure is 125 feet in diameter and 38 feet tall. The church moved to a different location and the building had been vacant since at least 2008. Since 2015, the building has housed the CJCLife church. For more, see this website. [map]
real estate office
El Paso, TX
This UFO-like real estate office and shelter were constructed to sell houses that were never actually built. I believe these structures were built in the early 1960s. When plans to create a lake fell through, these structures were abandoned. Does anyone know more about this place? [map]
RoadsideArchitecture.com

Copyright. All photos at this website are copyrighted and may only be used with my consent. This includes posting them at Facebook, Pinterest, blogs, other websites, personal use, etc.

Tips & Updates. If you have suggestions about places that I haven't covered, historical info, or updates about places/things that have been remodeled or removed, I'd love to hear from you: roadarch@outlook.com.