(hit "refresh" to get the most recent version of this page; click on photos for larger images)
parking garage
Texarkana, TX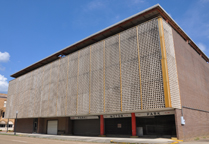 This parking garage is part of an office building. The concrete screen wraps around the corner to the left. The building has been vacant since at least 2007. [map]

The Sedberry Furniture building was built in 1951 as a H.E. Butt Grocery store. It later housed Hicks Rubber which sold tires and appliances. The outline of the vertical letters for "Hicks" is just barely visible on the pylon. [map]
metal slipcover
Rockdale, TX
Sedberry Furniture
Waco, TX
I've seen this same style of metal slipcover used on many buildings in downtown areas of the Midwest and South. This building housed the Rockdale State Bank in 1964 when this slipcover was installed during a remodeling by Fehr & Granger. This building now houses the Lighthouse Apostolic Church. [map]

The Sedberry Furniture building was built in 1951 as a H.E. Butt Grocery store. It later housed Hicks Rubber which sold tires and appliances. The outline of the vertical letters for "Hicks" is just barely visible on the pylon. [map]
Scottish Rite of Freemasonry
Waco, TX
This Scottish Rite of Freemasonry building was built from 1967-1968. It has housed a Masonic library, known as the Lee Lockwood Library and Museum, from the beginning. The sphinx statues are copies of those created in 1913 and located at the Supreme Council Building in Washington, DC. [map]
Waco-McLennan County Library (Central Library)
Waco, TX

2006 & 2011:
2018:
The Central Library branch of the Waco-McLennan County Library was designed by Bush & Witt and built in 1961. These photos are from 2006 and 2011. Later in 2011, the building was remodeled. The entrance has been moved to the side of the building and those details have been lost. The steps and doors were replaced with protruding glass windows. [map]
Howard County Central Library
Big Spring, TX
Pyramid Building [gone]
Cleveland, TX
The Howard County Central Library building was probably built in the 1960s. [map]

This Pyramid Building was probably built in the 1960s or 1970s. It may have started out as a commercial building. It appeared to be used as a residence in later years. It was demolished around 2021.
City Hall
Plainview, TX
This City Hall building appears to be from the 1960s. The drive-thru window on the side of the building makes me suspect that this might have been a bank originally. I suppose it could just have been a payment window for the City though. This City Hall will be moving to another building in 2018. [map]
Moody Coliseum
Abilene, TX
The Moody Coliseum is located at Abilene Christian University. It was built in 1968 and is used for basketball, concerts, and other events. [map]
Robert Mueller
Municipal Airport
Austin, TX
Shelters
Snyder, TX
The Robert Mueller Municipal Airport opened in 1934 and closed in 1999. This control tower was built in 1961. It was restored in 2010. This photo is from 2018. The building that was next to the tower with the scalloped canopy next to it was demolished. For more, see this website. [map]

Several of these Shelters were installed downtown in 1968 as part of a "beautification program". [map]
Auto Brokers
Arlington, TX
2011:
2017:
This pair of buildings housed Auto Brokers, a used car lot, when this photo was taken in 2011. By 1962, these buildings were housing Texas Motors Ford. My guess is that one building was used as the new car office and the other for used cars. By 2015, the used car lot was known as J.R.'s Auto. The signs over the buildings must have revolved at one point. One of them still reads "Hoppy's" on one side and "Village" on the other. I believe I saw another pair of buildings like this somewhere in Texas. [map]
Sylvan Beach Pavilion
La Porte, TX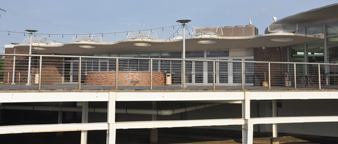 The Sylvan Beach Pavilion was designed by Greacen & Brogniez and built in 1953. [map]
RoadsideArchitecture.com

Copyright. All photos at this website are copyrighted and may only be used with my consent. This includes posting them at Facebook, Pinterest, blogs, other websites, personal use, etc.

Tips & Updates. If you have suggestions about places that I haven't covered, historical info, or updates about places/things that have been remodeled or removed, I'd love to hear from you: roadarch@outlook.com.