(hit "refresh" to get the most recent version of this page; click on photos for larger images)
First United Methodist Church
Cooper, TX
The First United Methodist Church appears to be from the 1950s or 1960s. [map]
First Baptist Church
Olney, TX
First United Methodist Church
Childress, TX
The First Baptist Church appears to be from the 1960s. There was a rolling, curvy canopy which extended from the building next door and in front of the church itself. It was removed sometime after 2013. [map]

The First United Methodist Church was built in 1965. [map]
Immanuel
Lutheran Church
Giddings, TX
Lavon Drive Baptist Church
Garland, TX
Immanuel Lutheran Church was designed by J. Eugene Wukasch and built in 1958. For more, see this website. [map]

The Lavon Drive Baptist Church was built from 1961-1962. [map]
Holy Trinity Lutheran Church
Irving, TX
The Holy Trinity Lutheran Church was designed by J. Eugene Wukasch in 1956. [map]
Foursquare Church
El Paso, TX

2012:
2017: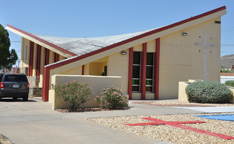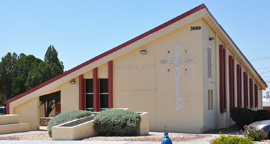 The Foursquare Church has been here since at least 1952. I don't know if that was the same building. This one appears to be from the late 1950s or 1960s. By 2017, the signs had been removed from the building and it might have been vacant. [map]
First Presbyterian Church
El Paso, TX
This First Presbyterian Church was completed in 1958. [map]
Nazareth Hall
El Paso, TX
Nazareth Hall was built in 1963 as a retirement home for the Sisters of Loretto. The copper roof resembles a nun's hat. [map]
St. Paul American Lutheran Church
Freeport, TX
United Christian Presbyterian Church
Coleman, TX
The St. Paul American Lutheran Church was designed by Gabert & Wisdom and built in 1956. [map]

United Christian Presbyterian Church was built in 1962 as the First Christian Church. [map]
Brook Hollow Christian Church
Abilene, TX
The Brook Hollow Christian Church was designed by Don Duncan and built in 1959. [map]
Denton Unitarian Universalist Fellowship
Denton, TX
The Denton Unitarian Universalist Fellowship church was built in 1959. The church was designed by Thomas Polk Miller and Isabel Mount Miller. The roof is a double cantilever design. The interior features moveable partitions and folding doors. The glazed ceramic tiles depict symbols of various religions. They were created by Robert and Paula Winokur. In 2015, the building was badly damaged by an arson fire. It has been restored. [map]
RoadsideArchitecture.com

Copyright. All photos at this website are copyrighted and may only be used with my consent. This includes posting them at Facebook, Pinterest, blogs, other websites, personal use, etc.

Tips & Updates. If you have suggestions about places that I haven't covered, historical info, or updates about places/things that have been remodeled or removed, I'd love to hear from you: roadarch@outlook.com.