(hit "refresh" to get the most recent version of this page; click on photos for larger images)
1688 Meridian Avenue
Miami Beach, FL
The office building at 1688 Meridian Avenue was designed by Morris Lapidus and built in 1961. [map]
Miami Beach City Hall
Miami Beach, FL

I believe the Miami Beach City Hall was built in 1959 just after the Miami Beach Exhibition Hall (now Convention Center) was built. [map]
Volusia County Courthouse Annex
New Smyrna Beach, FL
The Volusia County Courthouse Annex was built in 1969. The building now houses the Southeast Volusia Service Center. [map]
State Attorney's Office
Ocala, FL
This State Attorney's Office features interesting rock work. My guess is that it was built in the 1960s or 1970s. The building now houses the Clerk of Court Annex. Does anyone know anything about this building? [map]
Florida Hospital Diabetes Center
Orlando, FL
The Florida Hospital Diabetes Center was built in 1961. [map]
Plaza Professional Building
Orlando, FL
American
Federal Building [gone]
Orlando, FL
The Plaza Professional Building was built in 1960 for medical offices. [map]

The American Federal Building, aka the Round Building, was built in 1963. The upper glass section was added in the early 1970s. In 2008, it was announced that the building would be demolished. Preservationists saved the concrete screens and hope to install the panels elsewhere at some point. Demolition of the building began in 2014. For more, see these websites: 1, 2 and 3.
City Hall
Pinellas Park, FL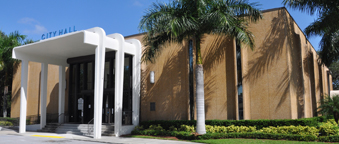 This City Hall was built in 1975. [map]
Pinellas County Utilities
St. Pete Beach, FL

The Pinellas County Utilities building appears to be from the 1960s. [map]
dental office
St. Petersburg, FL
former IBEW Building
St. Petersburg, FL
This dental office was probably built in the 1960s. [map]

This former IBEW Building (International Brotherhood of Electrical Workers) building was probably built in the 1960s. The IBEW was there by 1969. I believe the Sons of Italy has been there since 2006. [map]
RoadsideArchitecture.com

Copyright. All photos at this website are copyrighted and may only be used with my consent. This includes posting them at Facebook, Pinterest, blogs, other websites, personal use, etc.

Tips & Updates. If you have suggestions about places that I haven't covered, historical info, or updates about places/things that have been remodeled or removed, I'd love to hear from you: roadarch@outlook.com.