(hit "refresh" to get the most recent version of this page; click on photos for larger images)
Fun Center [gone]
Treasure Island, FL
The Fun Center was built around 1968. It was demolished in 2007.
Cyclorama
North Port, FL
The Cyclorama was designed by Jack West and built in 1959. The interior features a 360-degree mural depicting the life of Ponce de Leon and his discovery of the Fountain of Youth. The mural was created by Don Putman. The painting is accented with sculptural elements which create a 3-D effect. The Cyclorama closed in the 1970s and has been vacant since then. It is currently being used for storage. The mural on the outside of the building was not original. For more, see this website. This building is just down the road from the Warm Mineral Springs Motel. [map]
abandoned building
Warm Mineral Springs, FL

This abandoned building is located just north of the Warm Mineral Springs Motel. It was probably inspired by Lundy's design. It is not known what it housed originally but was a commercial building. It has been vacant for many years. This photo is from 2009. The building was still vacant in 2016. [map]
Pensacola Public Library [gone]
Pensacola, FL
The Pensacola Public Library was built in 1957. An addition was made to the building in 1967. However, these photos from 2010 show details from 1957. In 2014, the library was completely remodeled or rebuilt and these details have been lost. For more, see this website.
former Haydon Burns Library
Jacksonville, FL
The Haydon Burns Library was designed by Taylor Hardwick and built in 1965. The library closed in 2005 when a new library was built nearby. The building was nearly demolished in 2006. The building was being renovated for office space when these photos were taken in 2009. The building now houses the Jessie Ball duPont Center. For more, see these websites: 1 and 2. [vintage photos top row above thanks Jonathan Lux] [map]
Sanford Auto Company [gone]
Sanford, FL
The Sanford Auto Company, a repair garage, appeared vacant when these photos were taken in 2009. It was demolished in 2011. The building originally housed Butte Knit Clothing, a manufacturing business. It may have been inspired by the Palacio da Alvorada which was designed by Oscar Niemeyer.
Barrier Islands Gazette
Treasure Island, FL
I believe the Barrier Islands Gazette building previously housed a real estate office. Before that, it may have been used as a Chamber of Commerce. Can anyone confirm the history of this building? These photos are from 2009. After that, the building was repainted red and tan and housed a deli. Since 2015, the building houses the Treasure Island and Madeira Beach Chamber of Commerce. For more, see this website. [map]
Civic Center and Auditorium
Fort Walton, FL
The Civic Center and Auditorium were designed by Ricks & Kendrick and built in 1963. [map]
Okaloosa County Courthouse [gone]
Crestview, FL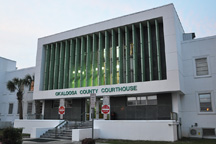 The Okaloosa County Courthouse was originally built in 1918. In 1955, the building was remodeled. The building was demolished in 2017.
RoadsideArchitecture.com

Copyright. All photos at this website are copyrighted and may only be used with my consent. This includes posting them at Facebook, Pinterest, blogs, other websites, personal use, etc.

Tips & Updates. If you have suggestions about places that I haven't covered, historical info, or updates about places/things that have been remodeled or removed, I'd love to hear from you: roadarch@outlook.com.