(hit "refresh" to get the most recent version of this page; click on photos for larger images)
Psychic Readings
Key Largo, FL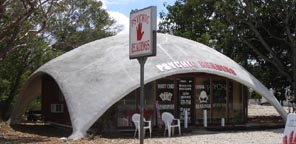 This Psychic Readings building features a tent-like concrete dome. This photo is from 2009. The building previously housed a sandal shop but I don't know what was here originally. By 2015, the building was housing the Salt Hair Salon. [map]
Pool Spa Store
Marathon, FL
storage structure [gone]
Grant-Valkaria, FL
The Pool Spa Store domes appear to be made of fiberglass. I believe they were developed in the 1960s or 1970s. Other identical structures exist in Millers Creek, NC, Eureka, CA, Farmington, NM. [map]

This storage structure, or at least that's what it looks like, was located in front of a residence at the roadside. Does anyone have any idea what these things were used for originally? This photo is from 2009. The structure was still there in 2011 but gone by 2016.
Cash Dome
Cutler Bay, FL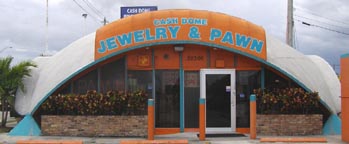 The Cash Dome features an interconnected double dome. The Cash Dome opened here in 1988. The original occupant may have been Chicken Tony's restaurant which occupied the building around 1966. By 2018, the building ws housing a Boost Mobile store. [map]
Heidrich Center
Orlando, FL

Heidrich Center is located at the Bishop Moore Catholic High School. This geodesic dome is also called the Hornet's Nest or simply The Dome. [map]
former Miami Science Museum Planetarium
Miami, FL
Seaquarium Skybreak
Key Biscayne, FL
The Miami Science Museum Planetarium dome was built in 1966. It was actually a double dome with the 65 foot outer shell used as a projection screen. The museum moved to a new location and built a new planetarium. I believe this dome is still at the old location. [map]

The Seaquarium Skybreak is believed to have been designed by Charles McKirahan. Although the Miami Seaquarium opened in 1955, this dome was not built until 1960. It is usually referred to as the Golden Dome and is used for sea lion shows. The structure is 146 feet in diameter and is 55 feet tall. [map]

The same style of dome was built at the Aquatarium in St. Petersburg in 1964. Both domes were built by Kaiser Aluminum. The Aquatarium park was modeled after the Seaquarium. The Aquatarium closed in 1977 and was later demolished.
Chain of Lakes Recreation Complex [gone]
Winter Haven, FL
The Chain of Lakes Recreation Complex was built in 1961 as the Florida Citrus Showcase. The building was more commonly referred to as the Orange Dome. From 1997-2000, the roof was painted to look like a giant baseball. The photos above are from 2009. The building was demolished in 2012.
Ellenton Ice and Sports Complex
Ellenton, FL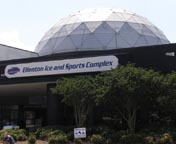 The Ellenton Ice and Sports Complex was previously known as the JP Igloo skating rink. I don't know when the dome was built but it looks 1970s to me. [map]
Dome Home
Pensacola Beach, FL

2005:
2010 and 2019:
Although this is not mid-century modern, I'll include it anyway. This Dome Home, built in 2003, withstood Hurricane Ivan in 2004 remarkably well. The 2005 photos above were taken just four months later. With its shape and foam construction, the home is fireproof and termite-proof as well. The open base, used for parking, also allows storm surge water to pass through and under the house. The stairs which were not there in 2005 had either not been built yet or were gone. The were designed to break-away in hurricanes. This Penscaola Beach Futuro also held up to the storm's 130 mph winds. For more, see these websites: 1 and 2. [map]
RoadsideArchitecture.com

Copyright. All photos at this website are copyrighted and may only be used with my consent. This includes posting them at Facebook, Pinterest, blogs, other websites, personal use, etc.

Tips & Updates. If you have suggestions about places that I haven't covered, historical info, or updates about places/things that have been remodeled or removed, I'd love to hear from you: roadarch@outlook.com.