(hit "refresh" to get the most recent version of this page; click on photos for larger images)
concrete dome
Key Largo, FL
2009:
2020:
This concrete dome was probably built in the 1960s. I don't know what was here originally. Since around 2015, the building has housed the Salt Hair Salon. [map]
Pool Spa Store
Marathon, FL
The Pool Spa Store domes appear to be made of fiberglass. It was installed in 1976 and originally housed a real estate office. I believe these domes were developed in the 1960s or 1970s. Other identical structures exist in Millers Creek, NC, Eureka, CA, and Farmington, NM. [map]
storage structure [gone]
Grant-Valkaria, FL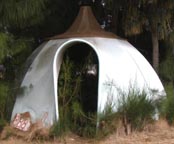 This storage structure, or at least that's what it looks like, was located in front of a residence at the roadside. Does anyone have any idea what these things were used for originally? This photo is from 2009. The structure was still there in 2011 but gone by 2016.
Cash Dome
Cutler Bay, FL

2009: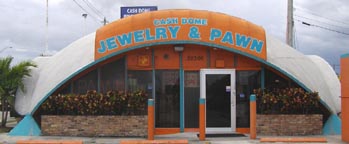 2020 and 2021:
The Cash Dome building was built in 1965 and features an interconnected double dome. The original occupant may have been two restaurants, Chicken Tony's and Hasty Chef, which occupied the building around 1966. It may have also housed an ice cream sundae shop at some point. By the early 1970s, it was housing a real estate office. The Cash Dome opened here in 1988. By 2018, the building was housing a Boost Mobile store and an AUTOBUY. [map]
Heidrich Center
Orlando, FL

Heidrich Center is located at the Bishop Moore Catholic High School. This dome is also called the Hornet's Nest or simply The Dome. [map]
Bethel French Seventh-day Adventist Church
Riviera Beach, FL
The Bethel French Seventh-day Adventist Church was originally a First Methodist Church. It may have been built in the early 1960s. For more, see this website. [map]
former Miami Science Museum Planetarium
Miami, FL
The Miami Science Museum Planetarium dome was built in 1966. The 65-foot-wide outer shell of the dome was used as a projection screen. The museum moved to a new location and built a new planetarium. I believe this building has been vacant since then. [map]
Yaca-Dome
Lake Placid, FL
This Yaca-Dome was designed by Joseph Yacaboni in the early 1970s. The original was built in 1969 in Pittsburgh, PA. They were patented in 1973 and there were 25 others built. There are at least six others in Lake Placid: one here, one here, one here, one here, and two here. There is another in Sebring, FL. For more, see this website. [map]
RoadsideArchitecture.com

Copyright. All photos at this website are copyrighted and may only be used with my consent. This includes posting them at Facebook, Pinterest, blogs, other websites, personal use, etc.

Tips & Updates. If you have suggestions about places that I haven't covered, historical info, or updates about places/things that have been remodeled or removed, I'd love to hear from you: roadarch@outlook.com.